Police dash to save man dangling from overpass in dramatic bodycam footage
YONKERS, N.Y. - This story discusses a suicide attempt. If you or someone you know is having thoughts of suicide, please contact the Suicide & Crisis Lifeline at 988 or 1-800-273-TALK (8255).
Dramatic body camera footage captured the moment police were forced to spring into action to save a man attempting to jump off an overpass in New York.
The footage, which was posted to Facebook by the Yonkers Police Department, shows officers surrounding an unidentified man near the guardrail of a highway overpass and attempting to talk him out of jumping.
"I'm here to help," one officer can be heard saying in the video.
YOUNG WOMAN IS TALKED OUT OF SUICIDE BY A PASSERBY, AN OFF-DUTY PARAMEDIC: 'ARE YOU OK?'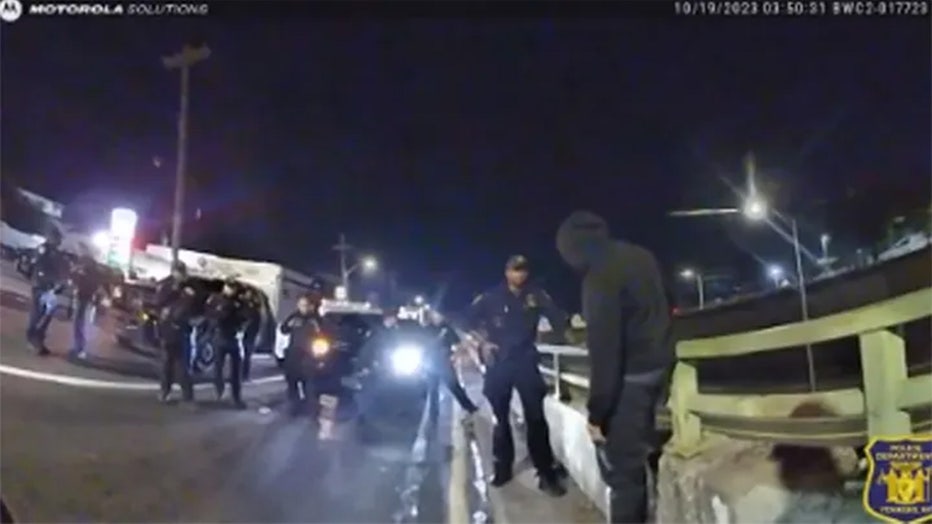 Yonkers police officers attempt to talk a man out of jumping off a highway overpass. (Yonkers Police Department/Facebook)
"Let's talk about whatever's going on, then we'll leave. You understand?" another officer asks. "But we can't leave while you're here, standing next to the railing. It's a dangerous situation. That's why we're here."
The officer then is shown continuing to attempt to talk the man down as he extends his hand out for the distraught man, who at first appears willing to step down but instead suddenly jumps over the railing.
That is when the officers spring into action, reacting within seconds to grab the jumper and prevent him from falling to the highway below. The man's feet can be seen dangling in the air as officers pull him to safety.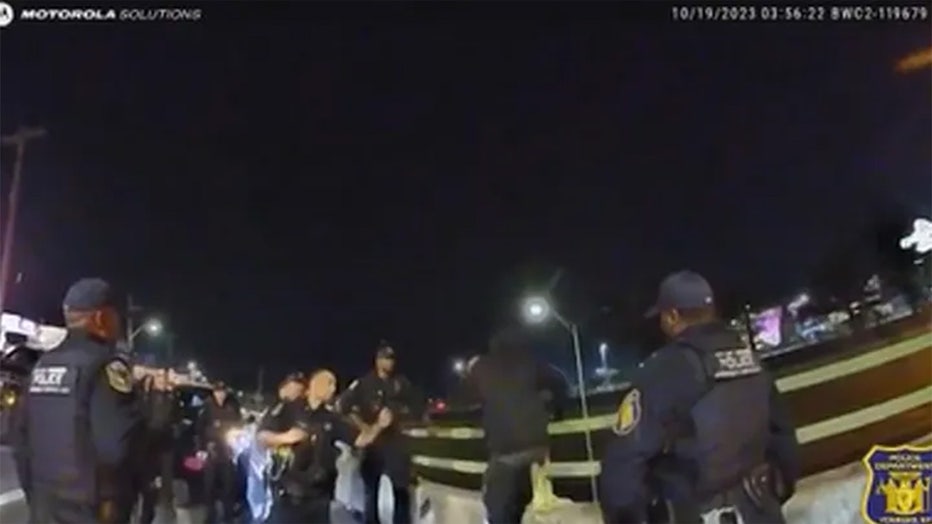 Yonkers police officers react to a man attempting to jump from a highway overpass. (Yonkers Police Department/Facebook)
"Good, compassionate work by our Yonkers Police saved this individual and motorists from potential injury or worse," Yonkers Mayor Mike Spano said in a statement released on the police department's Facebook page. "I applaud our skillful officers who stepped in with precision. Mental health continues to affect communities across the country, and, in Yonkers, we are fortunate to have resources and support to properly train our officers so they can assist those in need."
Meanwhile, Yonkers Police Commissioner Christopher Sapienza credited the officers with "saving a life."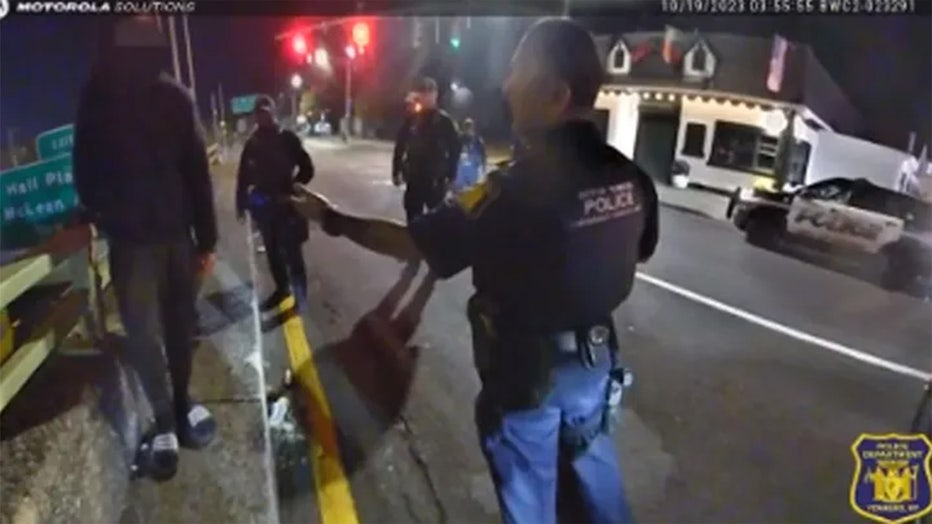 An officer attempts to extend his hand to a man threatening to jump from a New York overpass. (Yonkers Police Department/Facebook)
"The Yonkers Police Department is committed to public safety and helping those in need, regardless of the situation," Sapienza said. "Our Officers did an amazing job attempting to de-escalate this incident and then resorting to taking quick action to prevent what would have certainly been serious injury to the individual, despite the risk of injury to themselves. I applaud all involved in this incident for their amazing work in saving a life."
FOR UPDATES ON THIS STORY, VISIT FOXNEWS.COM.