6-year-old boy killed, mother seriously wounded in hate crime motivated by Israeli-Hamas war, police say
PLAINFIELD, Ill. - A 6-year-old boy is dead, and his mother seriously wounded after they were both stabbed more than a dozen times due to their Muslim faith Saturday in a Chicago suburb.
Around 11:38 a.m., deputies with the Will County Sheriff's Office responded to a home located near the intersection of S. Lincoln Highway and Lily Cache Road in Plainfield for a report of a stabbing.
A 32-year-old woman had called 9-1-1 and stated her landlord had attacked her with a knife, and that she ran into the bathroom and continued to fight off her attacker as she dialed 9-1-1.
When officers arrived at the scene, they located the suspect – identified as 71-year-old Joseph M. Czuba – sitting on the ground outside the home with a laceration to his forehead. He was transported to an area hospital for treatment.
Inside the home, in a bedroom, police said they located two victims who had multiple stab wounds to their chest, torso, and upper extremities. The 32-year-old woman was hospitalized in serious condition with over a dozen stab wounds to her body. Wadea Al-Fayoume, 6, was also stabbed 26 times throughout his body and was pronounced dead at the hospital.
The knife used in the attack was seven inches long and serrated, officials said.
Czuba was treated and released from the hospital, and taken by police for questioning. He was charged with first-degree murder, attempted first-degree murder, two counts of hate crime and aggravated battery with a deadly weapon.
On Monday, Czuba appeared in court shackled and in a jail uniform, looking similar to his booking photo with cuts on his face. A Will County judge ordered him held without pre-trial release.
Investigators said Czuba was intensely interested in the conflict in the Middle East and told his wife that he wanted the mother and son, Palestinian-Americans, to move out. Police said he knocked on their door Saturday morning, argued with the mom and stabbed her and her 6-year-old son while saying anti-Muslim sentiments.
"Detectives were able to determine that both victims in this brutal attack were targeted by the suspect due to them being Muslim and the on-going Middle Eastern conflict involving Hamas and the Israelis," according to the Will County Sheriff's Office.
Members of both the Muslim and Jewish communities have both condemned the brutal slaying.
The boy's paternal uncle, Yousef Hannon, spoke at a news conference Sunday hosted by the Chicago chapter Council on American-Islamic Relations. The organization identified the other victim as the boy's mother.
"We are not animals, we are humans. We want people to see us as humans, to feel us as humans, to deal with us as humans, because this is what we are," said Hannon, a Palestinian-American who emigrated to the U.S. in 1999 to work, including as a public school teacher.
The Muslim civil liberties organization called the crime "our worst nightmare," and part of a disturbing spike in hate calls and emails since the outbreak of the Israel-Hamas war. The group cited text messages exchanged among family members that showed the attacker had made disparaging remarks about Muslims.
"He knocked on the door, attempted to choke her and said 'Muslims must die,'" said Ahmed Rehab, CAIR-Chicago's executive director.
"Palestinians basically, again, with their hearts broken over what's happening to their people," Rehab said, "have to also worry about the immediate safety of life and limb living here in this most free of democracies in the world."
At a press conference Sunday, Muslim leaders stood with the grieving father. Wadea just had a birthday. He loved soccer and basketball. The father said in Arabic "gratitude to God in any situation".
On Sunday night, President Joe Biden released a statement on the killing, denouncing Islamophobia:
"Jill and I were shocked and sickened to learn of the brutal murder of a six-year-old child and the attempted murder of the child's mother in their home yesterday in Illinois.

The child's Palestinian Muslim family came to America seeking what we all seek—a refuge to live, learn, and pray in peace. 

This horrific act of hate has no place in America, and stands against our fundamental values: freedom from fear for how we pray, what we believe, and who we are.  

As Americans, we must come together and reject Islamophobia and all forms of bigotry and hatred.  I have said repeatedly that I will not be silent in the face of hate.  We must be unequivocal. There is no place in America for hate against anyone.

We join everyone here at the White House in sending our condolences and prayers to the family, including for the mother's recovery, and to the broader Palestinian, Arab, and Muslim American communities."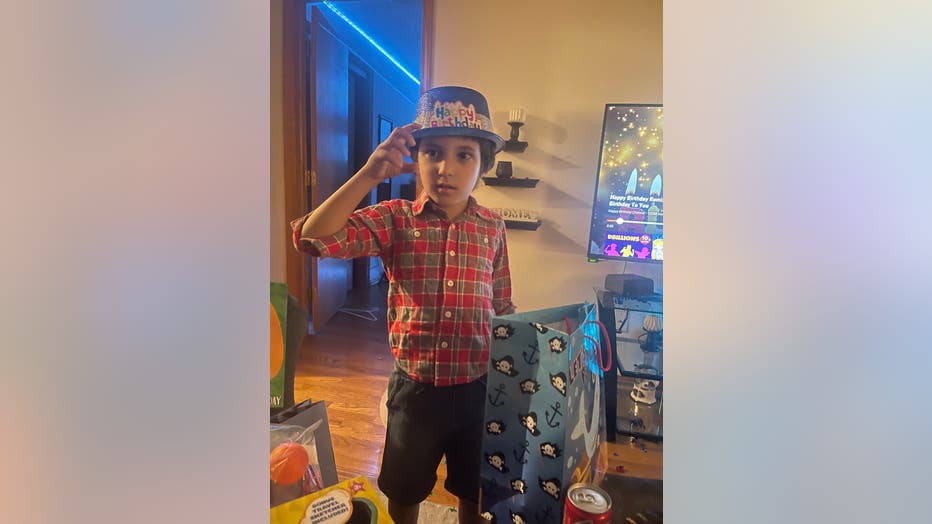 Wadea Al-Fayoume | CAIR Chicago
Gov. J.B. Pritzker also issued the following statement:
"To take a six year old child's life in the name of bigotry is nothing short of evil.
Wadea should be heading to school in the morning. Instead, his parents will wake up without their son. This wasn't just a murder—it was a hate crime.
And every single Illinoisan — including our Muslim, Jewish and Palestinian neighbors — deserves to be free from the threat of such evil.
Today, MK and I join our Muslim and Palestinian brothers and sisters in mourning this tragic loss and praying for the recovery of Wadea's mother. May Wadea Al-Fayoume's memory be a blessing."
The FBI has launched a federal investigation into the boy's death. They are working in tandem with the Will County Sheriff's Office and the Will County State's Attorney's Office.
Note: Police initially said the victim was 8 years old but later clarified that he was 6.
The Associated Press contributed to this report.