Ohio train derailment: Should New Englanders be worried about air quality?
Following the disastrous train derailment in East Palestine, Ohio, officials in Maine have been collecting data to see what impacts — if any — the plume of smoke and chemicals will have on air quality in the New England area. 
Wind patterns in and around New England often travel from west to east and many states are located downwind of Ohio, which usually means whatever pollutants Ohio gets, most of New England could eventually receive as well. 
"We have been often referred to, euphemistically, as the exhaust pipe for the nation because the way typical weather patterns move across the country, and if there's any kind of pollution event that occurs elsewhere, it eventually finds its way to the East Coast, and more often than not, because of the way weather systems move in this area of the country, we get the last of it before it exits into the Maritimes of Canada or the Atlantic Ocean," said Andy Johnson, director of the air quality assessment division for the Maine Department of Environmental Protection.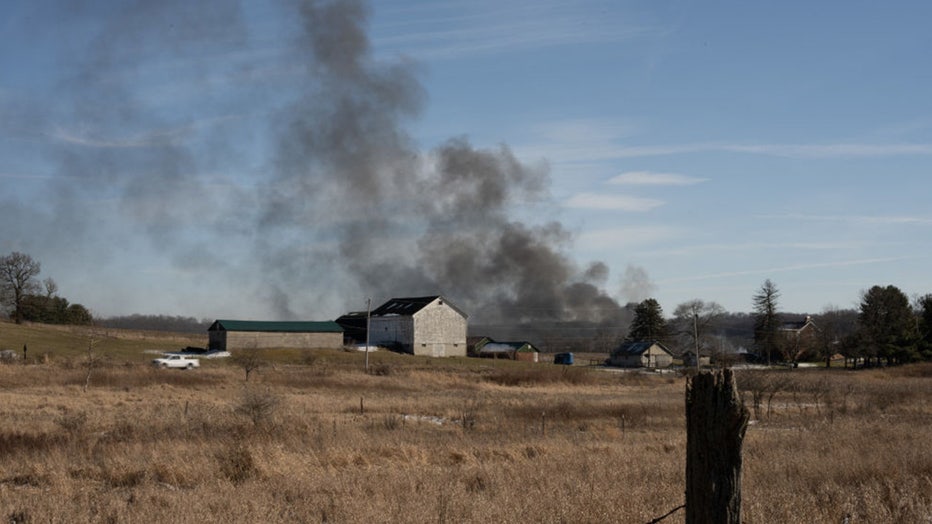 Smoke and flames rise after the train derailment in East Palestine, Ohio, United States.CREDIT: US Environmental Protection Agency / Handout/Anadolu Agency via Getty Images
RELATED: What we know about the Ohio train derailment
But will a train derailment and subsequent chemical smoke from hundreds of miles away have the capability of reaching as far east as Maine? According to Johnson, it's not very likely. 
"When the train derailed, and the cars were on fire, and then they did intentionally vent some of the tanks to prevent explosions in the area, those emissions that got released into the air at that time, would have reached here in a day, two at the most," Johnson said. "We're probably a good 800 miles away from that location, maybe a little more. But the way that the weather systems move, anything that was going to be resulting to be transported here, would have occurred that weekend or early last week." 
Johnson said they have several sites throughout Maine that collect samples to test air quality and they can be manually taken every six days. 
One of those samples came in on Feb. 5, two days after the initial train derailment and subsequent fire, and so far, those results have been unremarkable. 
"If we were going to have any impacts, from the immediate emissions from the accident, then we would have likely seen it during that timeframe that we were sampling," Johnson said. 
RELATED: Upset Ohio residents pack town hall meeting seeking answers over train derailment
Further samples were taken on Feb. 11 and those results won't be in for another two weeks. 
Whatever readings Maine receives from their several detection sites, similar results should be reflected in the states closer inland. 
"What I can share with you is that, for all the monitoring that they have in place, from Pennsylvania, across New Jersey, New York, all of New England, nobody has seen any indication of any elevated levels that they could attribute to the accident," Johnson said. 
"After that, there's no more burning going on, there may still be some residual stuff in the immediate vicinity, but not hundreds of miles downwind," Johnson said. "And you've probably heard the phrase of, 'Solution to pollution is dilution.' Well, in the atmosphere, that's really how it does act, so if you emit something, with time and distance, the concentration of whatever emission you have, has less, and less and less."
While Johnson believes most of New England can breathe easy at this point, they will continue to monitor the air quality.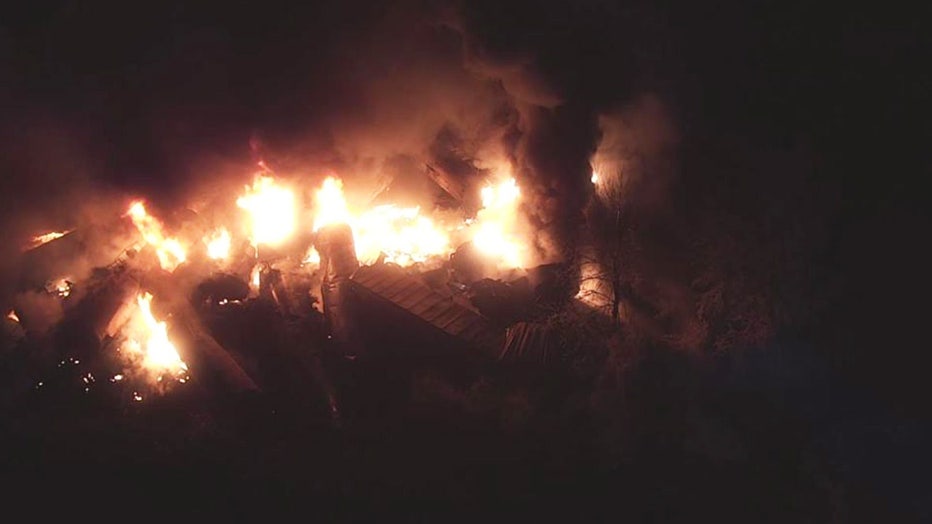 Smoke and flames rise after the train derailment in East Palestine, Ohio, United States.CREDIT: US Environmental Protection Agency / Handout/Anadolu Agency via Getty Images
RELATED: Ohio derailment: Clinic to open as health fears linger
No one was injured when about 50 cars derailed in a fiery, mangled mess on Feb. 3. Officials seeking to avoid an uncontrolled blast evacuated the area and opted to release and burn toxic vinyl chloride from five rail cars, sending flames and black smoke billowing into the sky again.
The Ohio EPA said the latest tests show five wells supplying the village's drinking water are free from contaminants.
At least, 3,500 fish, mostly small ones such as minnows and darters, have been found dead along more than 7 miles (11.2 kilometers) of streams, according to estimates from the Ohio Department of Natural Resources.
Precautions are being taken to ensure contaminants that reached the Ohio River don't make it into drinking water, officials said.
There have been anecdotal reports that pets or livestock have been sickened. No related animal deaths have been confirmed and the risk to livestock is low, Ohio officials said, but the state Agriculture Department is testing samples from a beef calf that died a week after the derailment.
The suspected cause of the derailment is a mechanical issue with a rail car axle. The National Transportation Safety Board said it has video appearing to show a wheel bearing overheating just beforehand. The NTSB expects to issue its preliminary report in about two weeks.
The Associated Press contributed to this report. This story was reported from Los Angeles.