Ohio bus crash leaves 3 dead, 18 hospitalized, officials say
ETNA, Ohio - A charter bus filled with high school students was rear-ended by a semitruck on an Ohio highway Tuesday morning, leaving six people dead and 18 others injured, officials said.
Five vehicles were involved in the crash, including a Pioneer Trails charter bus carrying students and chaperones from the Tuscarawas Valley Local School District in eastern Ohio, said Licking County Emergency Management Agency Director Sean Grady.
Three passengers on the bus, which was carrying a driver and 54 students and chaperones, were pronounced dead at the scene, the Ohio State Highway Patrol said Tuesday night. They were identified as John W. Mosely, 18, of Mineral City; Jeffery D. Worrell, 18, of Bolivar; and Katelyn N. Owens, 15, of Mineral City.
"This is our worst nightmare, when we have a bus full of children involved in a crash," Ohio Gov. Mike DeWine said during a news conference at the scene. "Prayers go out to the families, everyone who was on the bus."
A total of 15 students and the bus driver were brought to area hospitals, while other students were taken to a reunification site, officials said.
All three people in one of the passenger vehicles involved were also pronounced dead at the scene, the highway patrol said. They were identified as Dave Kennat, 56, of Navarre; Kristy Gaynor, 39, of Zoar; and Shannon Wigfield, 45, of Bolivar.
The driver of the other passenger vehicle was also taken to a hospital. Of the drivers of the commercial vehicles involved, one was taken to a hospital with injuries that were not considered life-threatening and the other was treated at the scene, the highway patrol said.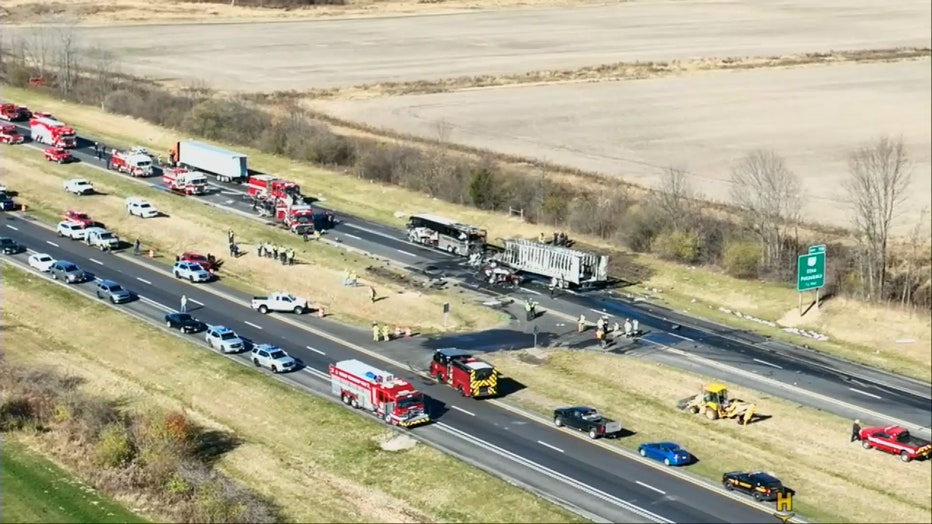 Still from aerial footage after a crash on Ohio highway. (WTTE via FOX)
All of the vehicles were traveling westbound on I-70 in Licking County, about 26 miles (42 kilometers east) of Columbus, about 9 a.m. when the chain-reaction crash happened, and at least three subsequently caught fire as a result of the crash, the highway patrol said. The cause of the crash is under investigation. A team of National Transportation Safety Board investigators was headed to the scene.
The bus was carrying the students and chaperones to an Ohio School Boards Association conference in Columbus, Tuscarawas Valley Superintendent Derek Varansky said.
"Right now, our focus is on getting in touch with our Tusky Valley families who had loved ones on the bus and providing support to our entire school community," Varansky said in a Facebook post.
The conference was canceled after organizers learned of the crash, said spokesperson Jeff Chambers.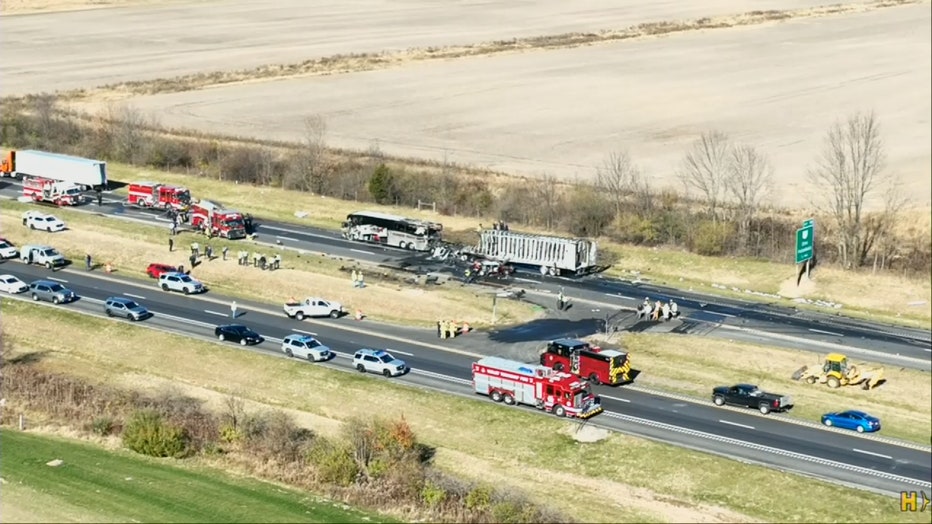 Still image taken from aerial video showing the aftermath of a deadly crash in Ohio.  (WTTE via FOX)
In a written statement, Pioneer Trails offered its condolences to those affected by the crash and said it was cooperating with authorities, but would have no further comment pending the investigation.
The Red Cross sent 30 units of blood to a hospital in the Mount Carmel Health System to help victims, said Marita Salkowski, regional communications director for the American Red Cross of Central and Southern Ohio. A center was set up at a United Methodist Church in Etna where bus passengers not in need of medical attention could go to contact loved ones, she said.
As a line of cars snaked into the Tuscarawas Valley Middle-High School parking lot Tuesday morning, school officials spoke with parents before they went inside to pick up their kids, the Columbus Dispatch reported.
"I'm sick. I'm sick to my stomach," the newspaper quoted parent Laurie Fragasse as saying when she picked up her daughter.
Numerous emergency workers responded to the crash scene, and Ohio Department of Transportation cameras from the area showed smoke coming from the crash site. Police officers were blocking nearby entrance ramps to I-70 East and West, increasing traffic along the road leading to the interstate.
The Ohio collision was the second recent fatal crash in the U.S. involving high school students on a charter bus. In September, two people were killed and several others injured when a charter bus carrying high school students to band camp veered off a New York highway.
___
Seewer reported from Toledo, Ohio. Associated Press writers Ron Todt in Philadelphia; and Bruce Shipkowski in Toms River, New Jersey, contributed to this report.