NYC pro-Palestinian rally: Hundreds swarm Midtown Manhattan's Moynihan Train Hall
Hundreds of pro-Palestinian demonstrators are rallying in front of Midtown Manhattan's Moynihan Train Hall, a major transit hub serving Amtrak and Long Island Railroad.
SkyFOX captured attendees waving Palestinian flags and blocking traffic around 5:30 p.m. No violence has been reported by officials.
Friday marks another night of large-scale demonstrations in New York City since Hamas militants attacked Israel on Oct. 7 and Israel launched its counteroffensive.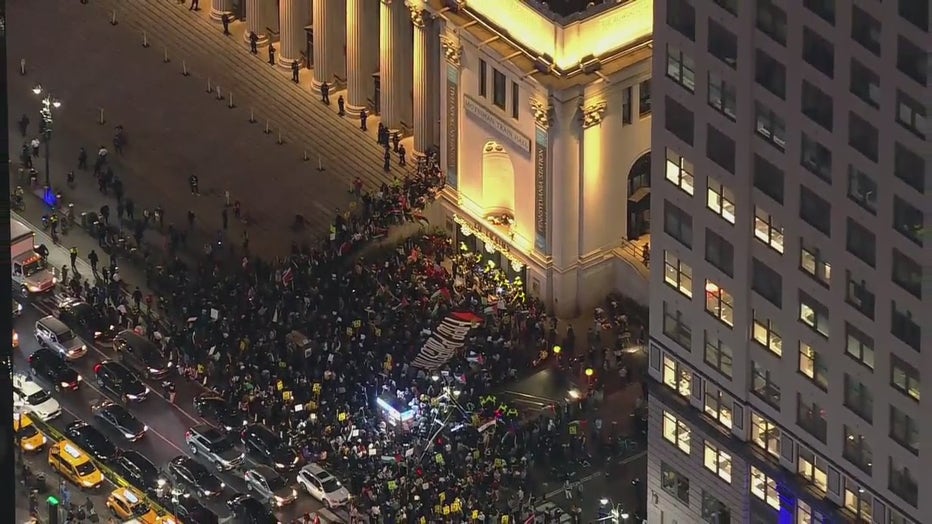 As the Israel-Hamas war rages in Gaza, there's a bitter battle for public opinion flaring in New York City with angry rallies on many college campuses and disruptive protests.
At least two protests in previous weeks led to disruptions at Grand Central Terminal, with officials canceling train services for hours and closing the station's main concourse.
Pro-Palestinian activists had originally organized a rally at Union Square at 3 p.m. "to shut it down."
"The past month has marked a new chapter of struggle in the battle for Palestinian freedom in New York City," an Instagram post promoting the march read.
It was unclear if demonstrators from the Union Square march had joined the Midtown demonstration.
The Associated Press contributed to this report.