Christmas in NYC 2023: Markets, shows, tree lightings, bars to see this holiday season
NEW YORK CITY - Just hear those sleigh bells, ring-ting-tin-gl-ing too, New York City!
Now is your time to soak in the beauty of New York City and see the Rockefeller Center Christmas Tree, shop at the Bryant Park holiday market and see the Radio City Rockettes.
From Fifth Avenue all the way to Central Park, the city is filling with holiday cheer and so much to do.
Here are some NYC must-dos this holiday season: 
1. Rockefeller Center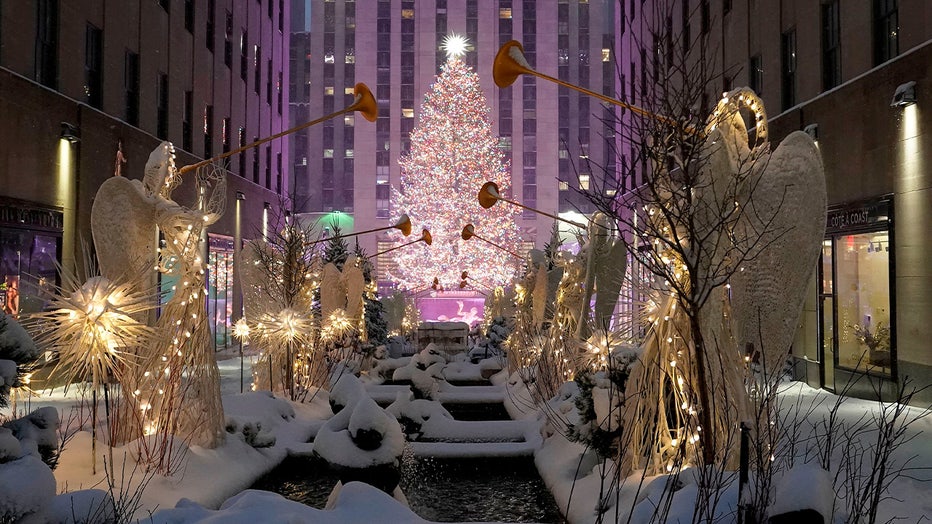 (Photo by TIMOTHY A. CLARY/AFP via Getty Images)
It's time to "rock around" and visit the iconic Rockefeller Center Christmas Tree!
The tree is located at Rockefeller Center Plaza on 49th Street between Fifth and Sixth Avenues.
The tree will be lit daily from 5 a.m. to midnight after a special light-up night ceremony on Wednesday, Nov. 29. 
On Christmas Day, the tree is lit for 24 hours, and on New Year's Eve, it is lit from 5 a.m. to 9 p.m. The tree goes dark for the season at 10 p.m. on Jan. 13.
2. Window Displays
(Photo by Liao Pan/China News Service via Getty Images)
Not only do tourists get to savor the charm of the festive displays in Herald Square and along Fifth Avenue -- even for residents, these scenes evoke a dreamy nostalgia that arrives just once a year. 
Adorned with hundreds of Christmas lights and other winter wonderland decorations, these exquisite holiday windows are so captivating that they alone make a stroll through midtown worthwhile. 
To truly appreciate them up close, it's best to wait until after most of the tourists have retired for the night.
The holiday windows at Bloomingdale's on the Upper East Side are coming back!
Good Day New York's Ryan Kristafer got an exclusive sneak peek at artist Abby Modell's hand-blown glass creations. 
The Candy Wonderland is filled with giant gummy worms, peppermint treats and rock candy all made out of sustainable glass. 
Modell's handcrafted creation will be unveiled Nov. 14 – and the rest of the "Wonka"-themed windows will be revealed the night of Nov. 16 at Bloomingdale's. 
3. Winter Village Display at Bryant Park
(Photo by Liao Pan/China News Service via Getty Images)
Need to do some holiday shopping? Craving hot chocolate?
Bryant Park's Winter Village is now open until Jan. 2 for the holiday season! 
The 17,000-square-foot ice-skating rink, which you can use for free (provided you bring your own skates), always steals the show. 
However, a close second is the Winter Village, brimming with holiday spirit. 
This year, you can explore over 180 new and returning kiosks, all set up in one of New York City's finest parks.
The Winter Village is open Mondays through Fridays, 11 a.m. to 8 p.m., and Saturdays and Sundays, 10 a.m. to 8 p.m.
4. Christmas Spectacular starring the Radio City Rockettes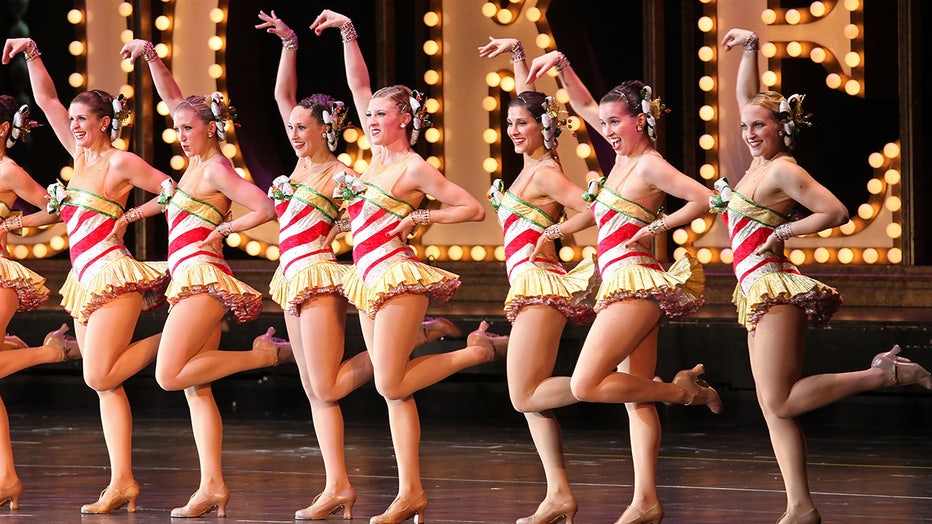 (Photo by Ben Hider/Getty Images)
Kick off the holiday season in true New York fashion by seeing the Radio City Rockettes! The 2023 Christmas Spectacular will again feature the fan-favorite scene "Dance of the Frost Fairies," which was re-imagined in 2022 and features the Rockettes as fantastical winged fairies, performing alongside fairy drones that dance high above the audience. And, of course, Santa will make an appearance.
Performances begin at Radio City Music Hall on Nov. 17 and run through Jan. 1.
To purchase tickets, click here. 
5. Holiday Train show at Grand Central Terminal
After a three-year hiatus, the New York Transit Museum is delighted to announce the return of its cherished Holiday Train Show.
This exhibit showcases Lionel model trains as they journey along a 34-foot-long, two-level, "O" gauge model train layout, winding their way through some of the city's most iconic landmarks, including a miniature Grand Central Terminal.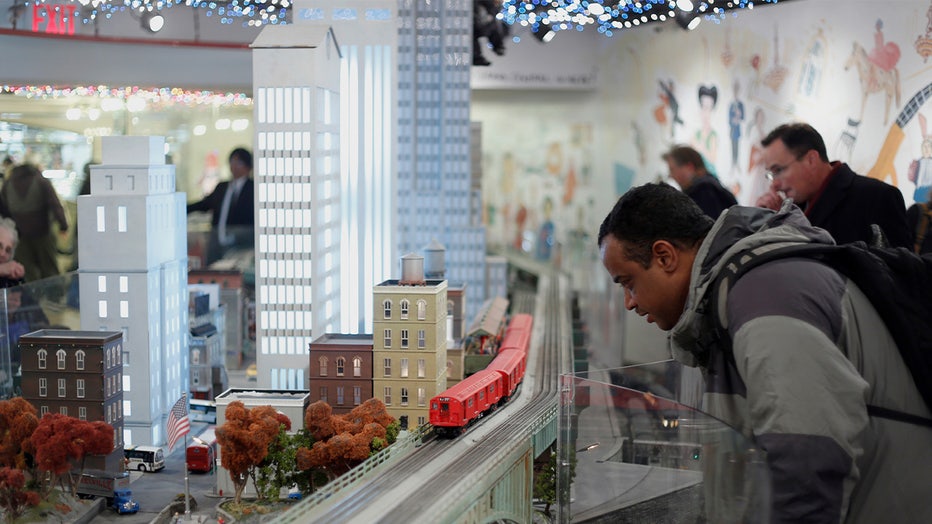 (Photo by Bilgin Sasmaz/Anadolu Agency/Getty Images)
It's a delightful attraction for children and a charming way to spend time at Grand Central before catching the train. You'll find it at the New York Transit Museum Gallery & Store in Grand Central Terminal, Shuttle Passage.
Tickets are priced at $5 per person and must be acquired in advance. They become available three weeks ahead of the desired date on a rolling basis.
6. Watch "Elf" at the Empire State Building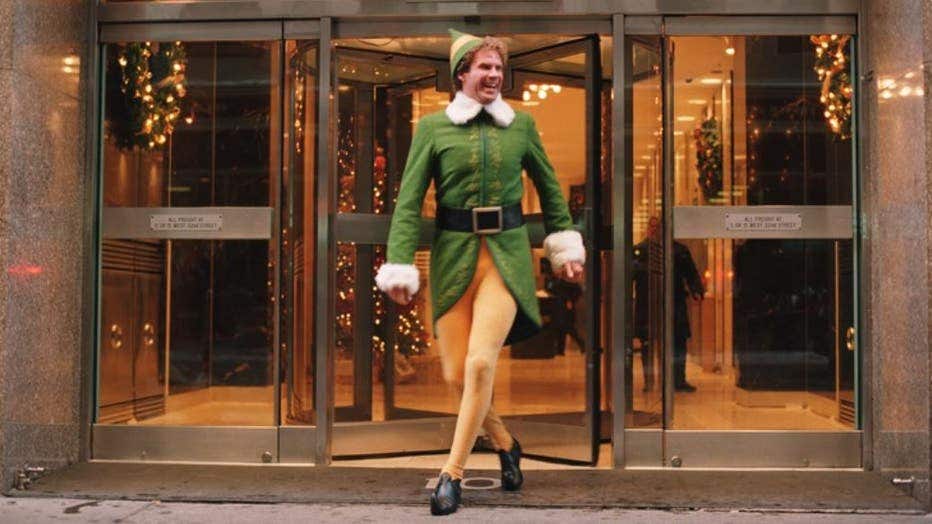 Will Ferrell stars as Buddy the Elf in the 2003 film "Elf." (Credit: Still/Warner Bros. Discovery)
The best way of spreading Christmas cheer is singing loud for all to hear, as Buddy the Elf says. 
"Elf" is celebrating its 20th anniversary this year, and the beloved Christmas movie is playing at the Empire State Building.
How did Buddy wind up in the city, you ask? Watch his journey as he traveled through the seven levels of the Candy Cane forest, past the sea of twirly-swirly gum drops and then walked through the Lincoln Tunnel.
See "Elf" on Sundays, Dec. 3, 10 and 17. 
To buy tickets, click here.
7. Santa's Winter Wonderland
You better watch out, you better not cry… I'm telling you why: Santa Claus is coming to town!
Santa's Winter Wonderland is back and better than ever at the Watermark at Pier 15.
Indulge in a whimsical holiday installation by the waterfront, where you can immerse yourself in the festive atmosphere surrounded by Christmas trees, games and activities suitable for both kids and adults. You have two options to choose from:
General Admission: Enjoy an entirely outdoor experience, complete with complimentary hot chocolate (available in both regular and alcoholic versions) and a delightful treat from Santa's kitchen as you take in the sights and partake in the activities.
Exclusive Glasshouse Seating: Opt for a longer, more enchanting stay as you reserve a seat in our magical heated glasshouse, beautifully illuminated for the season. Here, you can relish a thoughtfully curated holiday menu (including one entrée) featuring delectable dishes, cocktails, and sweet indulgences. To top it all off, don't forget to create your own s'mores using Santa's famous recipe!
To buy tickets, click here. 
8. Holiday Markets
Need more shopping options? No problem! NYC has plenty of other holiday markets throughout the city including:
Grand Central Holiday Fair
Location: Grand Central Terminal, Vanderbilt Hall (89 E 42nd Street)
Hours: 10 a.m. to 7 p.m. (Monday-Saturday), 11 a.m. to 6 p.m. (Sundays), 11 a.m. to 6 p.m. (Christmas Eve)
Dates: Nov. 13 through Dec. 24
Union Square Holiday Market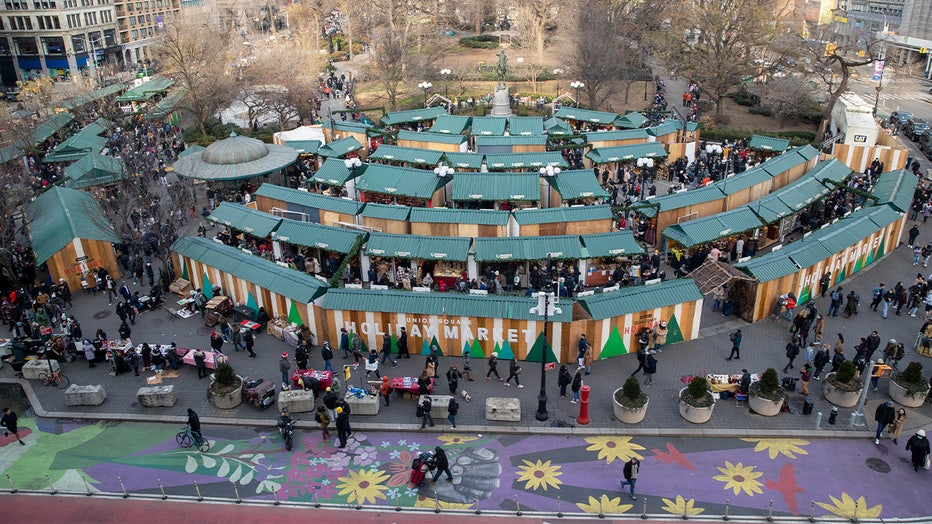 Aerial view of people visiting Union Square holiday market as Christmas approaches on December 19, 2021, in New York City. (Photo by Liao Pan/China News Service via Getty Images)
Location: Union Square
Hours: 11 a.m. to 8 p.m. (Monday-Friday), 10 a.m. to 8 p.m. (Saturday), 11 a.m. to 7 p.m. (Sunday)
Dates: Nov. 16 through Dec. 24
Columbus Circle Holiday Market
Location: Columbus Circle (59th St & Central Park West)
Hours: 11 a.m. to 8 p.m. (Monday-Friday), 10 a.m. to 8 p.m. (Saturday), 11 a.m. to 7 p.m. (Sunday)
Dates: Nov. 28 through Dec. 31
Grand Holiday Bazaar
Location: 100 W 77th St at Columbus Avenue
Hours: 10 a.m. to 5 p.m.
Dates: Nov. 26, Dec. 3, Dec. 10, and Dec. 17
9. Dyker Heights Holiday Lights
  (Photo by ANGELA WEISS/AFP via Getty Images)
The Dyker Heights Christmas Lights exhibit stands out as a top New York City attraction during the holiday season. 
Nestled in Brooklyn, this neighborhood boasts the most extravagant Christmas light displays, featuring life-sized Santas, sleighs and snowmen that adorn the houses. In some instances, you can even hear Christmas carols playing through loudspeakers.
People of all ages gather in this Kings County neighborhood to stroll through its numerous blocks and avenues, making it one of the premier winter activities in NYC. 
It is undeniably one of the most enchanting experiences to be had this Christmas season!
10. Holiday Train Show at the New York Botanical Garden
Let it GLOW at the New York Botanical Garden is returning for its fourth annual illuminated event.
This outdoor light spectacle in the Bronx will illuminate the grounds with a myriad of energy-efficient LED lights and festive installations. After the sun sets, you can stroll along a 1.5-mile vibrant pathway adorned with whimsical and Instagram-worthy installations. 
Food and drinks are available at NYBG's outdoor bars or at the Bronx Night Market Holiday Pop-Up.
GLOW is open on select dates November through January, operating from 5 p.m. to 10 p.m. every night.
To buy tickets click here.
11. Have a drink at Rolf's
Looking for that perfect Instagram story pic? Rolf's German restaurant is all decked out for the holidays with ornaments!
FYI: It's better to go in November since it will be totally packed by December.
If you want to get in, it's best to make a reservation by calling 212-477-4750 between 9 a.m.-4 p.m. on weekdays. 
Rolf's does accept walk-ins but be prepared to wait a while for a table, even if it's just to sit at the bar. 
12. Frosty's Christmas Pop-Up
Frosty's is back and better than ever this holiday season.
If you love holiday cocktails, lights, music and Insta-worthy pictures, Frosty's will "knock your stockings off!"
Frosty's is located at Bacall's and Blue in Midtown.
You must be 21+ and have purchased a ticket to enter.
For more information click here.