NTSB: Medical plane broke apart before crashing in Nevada, killing 5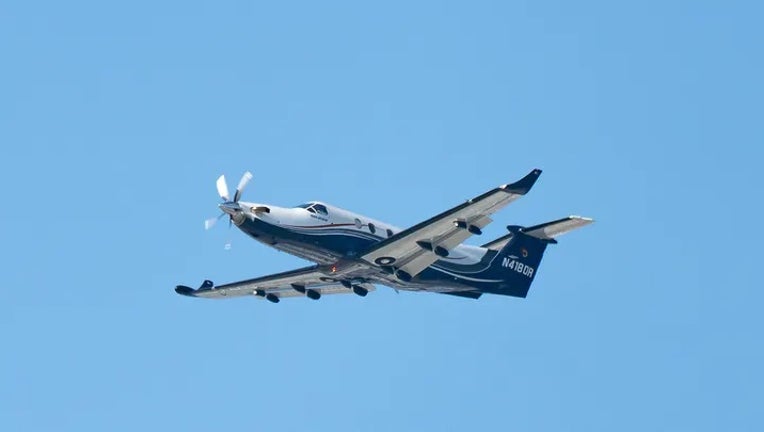 article
STAGECOACH, Nev. (AP - A medical transport flight that crashed in a mountainous area in northern Nevada, killing five all five people aboard the plane including a patient, apparently broke apart before hitting the ground, authorities said Sunday.
The National Transportation Safety Board has sent in a seven-member team of investigators to the site of Friday night's crash near Stagecoach.
"How do we know if the airplane broke up in flight? We found parts of the airplane one-half to three-quarters of a mile away" from the crash scene, NTSB Vice Chair Bruce Landsberg said at a news briefing in Carson City.
Landsberg said in the afternoon briefing that a team spent all day looking for pieces of the downed plane. He added investigators would likely be on site for several days before the wreckage of the single-engine Pilatus PC-12 is moved so investigators can try to determine a possible crash cause. The plane was built in 2002.
RELATED: See the items that TSA took away in one week at Newark-Liberty
"Right now, we just don't know. This is like a three dimensional puzzle," Landsberg said. "It's harder when you don't have the pieces all in one place."
The crash occurred amid a winter storm warning issued by the National Weather Service in Reno for large swaths of Nevada, including parts of Lyon County. It was snowing steadily with winds around 20 mph (30 kph) and gusts up to 30 mph (50 kph).
Visibility was under two miles (3.2 kilometers) with a cloud ceiling about 2,000 feet (600 meters) above ground when the flight left Reno for Salt Lake City, Utah, and went down, according to the weather service.
Care Flight, which provides ambulance service by plane and helicopter, identified the downed aircraft and said the pilot, a flight nurse, a flight paramedic, a patient and a patient's family member all died.
Robin Hays, a Stagecoach resident and a former flight nurse, said she heard the sputtering plane fly over her house before crashing behind her property.
"I knew the plane was in trouble," Hays told the Reno Gazette Journal. "I knew it was going to crash. I was just hoping it wasn't going to crash into my house."
Hays called 911 and went outside but could not see the wreckage because of the blowing snow.
Misty Gruenemay told the newspaper that the wind was howling and the snow blowing hard when she heard what sounded like a whiz and a thump behind her house in Stagecoach. The rural community is home to around 2,500 residents and located about 45 miles (72 kilometers) southeast of Reno.
RELATED: TSA head on record guns at checkpoints in 2022: 'Reflects what we're seeing in society'
Gruenemay said she wanted to help but conditions were terrible and she didn't have a vehicle that could safely travel the unpaved roads buried in 6 inches of snow.
"It was snowing and visibility was horrible. I don't even understand why that plane was allowed to take off," Gruenemay said.
The Lyon County Sheriff's office said authorities began receiving calls about the crash near Stagecoach, Nevada, around 9:15 p.m. and found the wreckage two hours later.
Care Flight officials said it was halting all flights and will work with each of its operations to determine when it will return to service.
According to the Federal Aviation Administration, the plane was registered to Guardian Flight, based in South Jordan, Utah. Care Flight is a service of REMSA Health in Reno and Guardian Flight.
More than half a million medical patients use air ambulance services each month in the U.S., according to the National Association of Insurance Commissioners' website.