Gas balloon in race across nation crashes into power station near Crandall, 2 injured
KAUFMAN COUNTY, Texas - A gas balloon taking part in a nationwide race crashed near Crandall on Monday night after it hit a power station and exploded.
Photos from the area near FM 741 show the balloon in flames on the side of the road.
The Gordon Bennett Gas Balloon Race officials confirmed the balloon belong to a team taking part in its race, which began on Oct. 7 in Albuquerque.
Poland Team 1's balloon piloted by Krzysztof Zapart and Piotr Halas crashed into the power station around 7:25 p.m.
The race says both pilots were injured and were transported to Parkland Hospital in Dallas.
Both are said to be in stable condition.
The crash knocked out power to some people in the area.
According to the contest's flight tracker, the balloon flew over North Texas on Monday afternoon.
Several North Texans reached out to FOX 4 on Monday with photos and videos of a mysterious balloon floating overhead.
FOX 4 viewer George Gomez took video of the balloon from Hurst on Monday afternoon.
The race is called the America's Challenge Gas Balloon Race, and it is modeled after the world's oldest air race, the Coupe Aeronautique Gordon Bennett.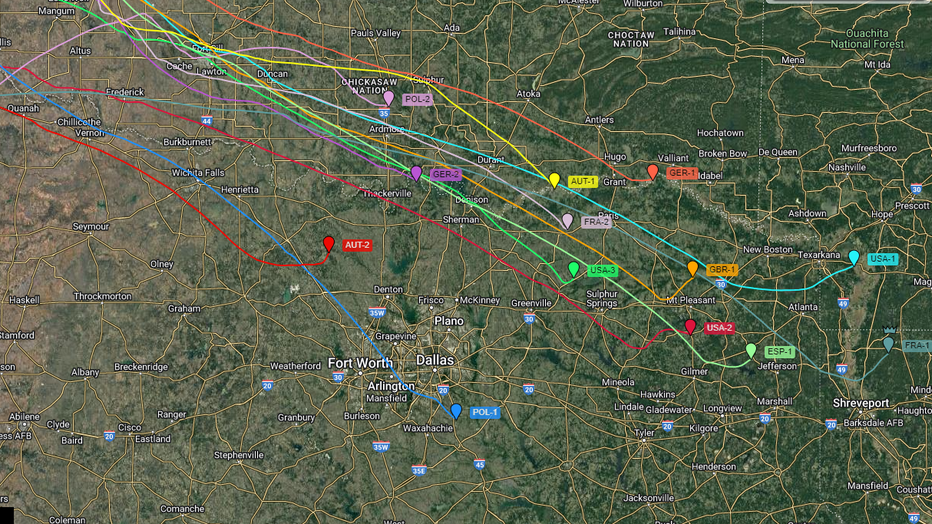 The balloons launched on Oct. 7 from the Albuquerque International Balloon Fiesta. Each balloon gets 1000 cubic meters of hydrogen gas and teams use different strategies to maximize their distance.
The farthest flying balloons are expected to continue for two more days.
This is a developing story. Check back with FOX 4 for updates.