How New York City's historic Irish legacy lives on today
NEW YORK - Here in New York City, the Irish community is one of our largest ethnic groups. Hundreds of thousands of Irish Americans live in the city, enjoying a long history rooted in religion and culture.
To understand Irish history in New York, you need to start at Watson House. It opened in 1885 on State Street in Lower Manhattan. 
"This was the first place these Irish immigrants, particularly the young women, who would consider Watson House their home," explained Rev. Brian McWeeney, the director of the Office of Ecumenical and Interreligious Affairs for the Archdiocese of New York. "They would see it in the 1850's. They came here knowing they would be safe."
The boarding house offered food, shelter and job placement to tens of thousands of young, unmarried, Irish Catholic women who left their families in Ireland to travel by steamship to New York City in the late 1800's.
Watson House opened in 1885 to help Irish women who arrived in New York.
The role of the church
Catholic priests often met the ships to make sure the women made it to Watson House safely. 
"When they came, this was way different from where they came from," continued Rev. McWeeney. "There were some people here who were ready to take them in and help them and comfort them, but others were ready to take advantage of them." 
McWeeney himself is also a first-generation Irish New Yorker. His father arrived in New York City from Galway, Ireland in 1929. Watson House, run by a Catholic priest, was part of the Mission of Our Lady of the Rosary. 
"Oh, the church was very important. The mass was the center of their lives in Ireland. The priest was the well-educated man of the town. When they came here, the church took on that role of protector very easily." 
Starting over in a new world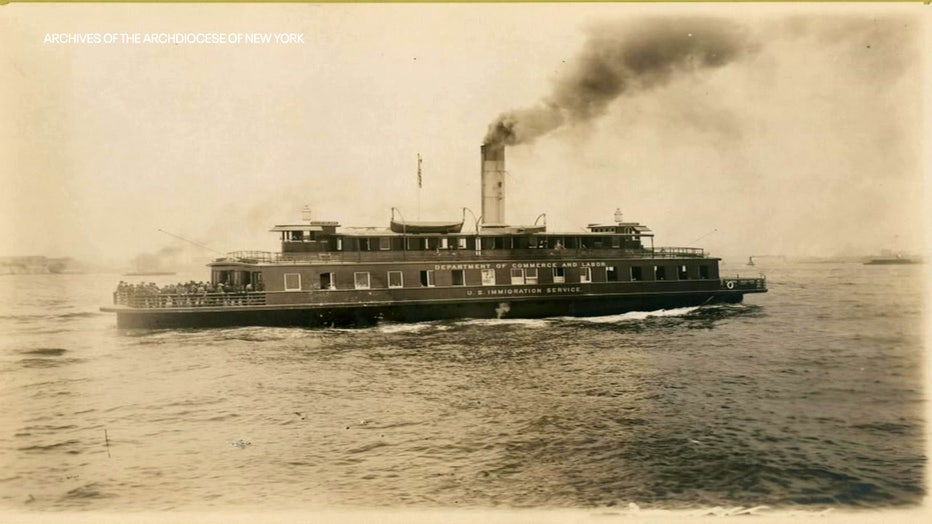 It's estimated that more than one million people left Ireland to escape the potato famine and start a new life in New York City. Married couples might end up living in a tenement on the Lower East Side like the fifth-floor walkup apartment preserved by the Tenement Museum at 97 Orchard Street. 
"Hundreds of thousands of Irish immigrants landed here in New York and many, many of them stayed, so much so that, by 1860, 25% of the city's population is Irish-born," explained David Favaloro, the director of Curatorial Affairs at the Lower East Side Tenement Museum.
"Irish immigrants arrived largely unskilled," he added. "Most Irish men who arrived in the mid-19th century found jobs on construction or doing manual labor."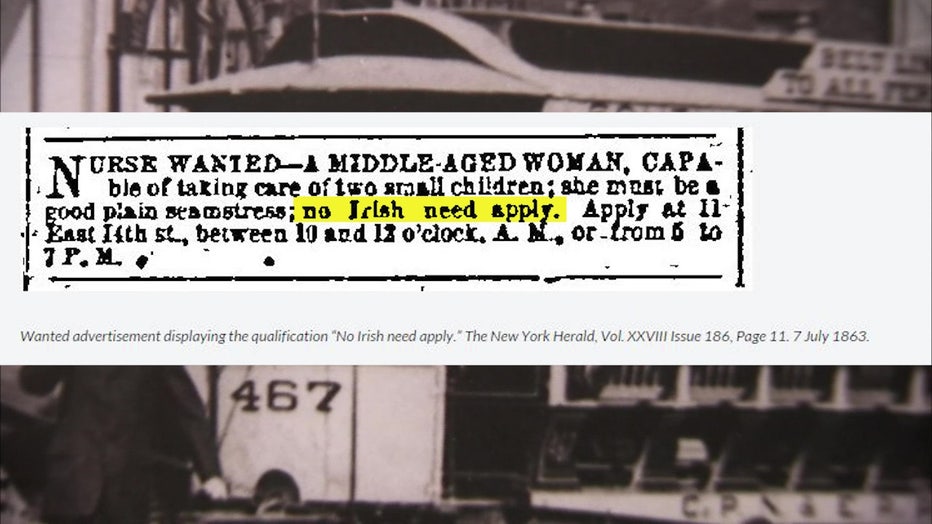 Favaloro says these newcomers from Ireland literally helped shape New York City at the turn of the century – laying bricks for the new Empire State Building and the Brooklyn Bridge.
The Irish immigrants also became involved politics, leading them to municipal jobs in the fire and police departments. 
"The Irish become, in some ways, the grassroots of the Democratic Party political machine," Favaloro noted. 
Challenges and struggles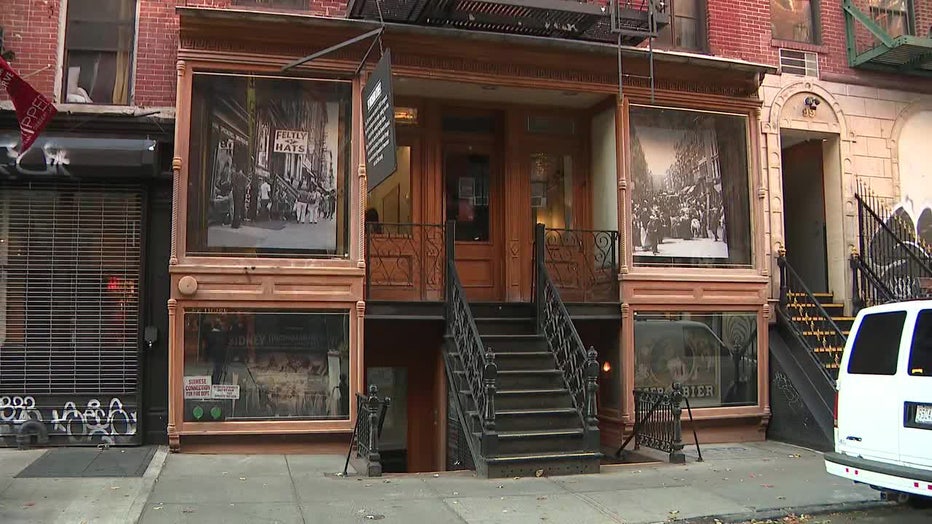 The Tenement Museum at 97 Orchard St.
The museum recreates the 350-square-foot home of Joseph and Bridget Moore, who lived there in the 1860's. 
"This building, 97 Orchard, was built in 1863 without any indoor running water, any indoor toilets," Favaloro said. 
Four of the couple's eight children died in childhood. These newcomers also faced struggles with discrimination. Some classified ads at the time read "Irish need not apply." 
Plus, most of the men coming from Ireland had lived on farms and now had to adapt to a new urban environment.
A toast to the pubs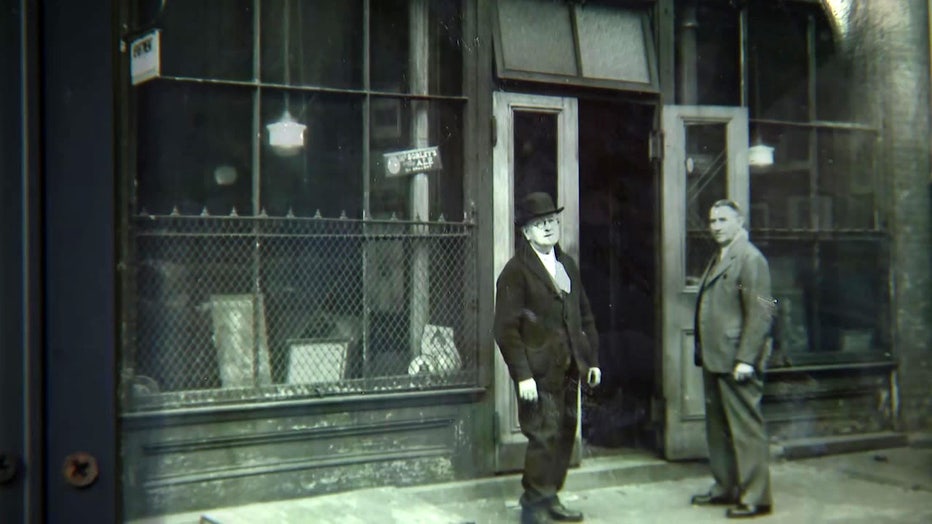 McSorley's Old Ale House opened in 1854.
Irish pubs are also a central figure in Irish history here in New York City. Because Irish families had large families living in tight quarters, the pub for men functioned as a living room. It was a place to gather to network for jobs, socialize or just reminisce about home in Ireland. 
McSorley's Old Ale House is one of the oldest Irish pubs in Manhattan. It was opened in 1854 by Irish immigrant John McSorley. It's still operating today. 
"The history of McSorley's has always been light and dark ale and no women," explained current owner Teresa Maher de la Haba. 
A court battle in 1969 forced the bar to allow women. Now one owns it. Teresa Maher de la Haba inherited the pub from her father. 
"Nothing really changes here unless we have to, unless it's forced upon us," she said.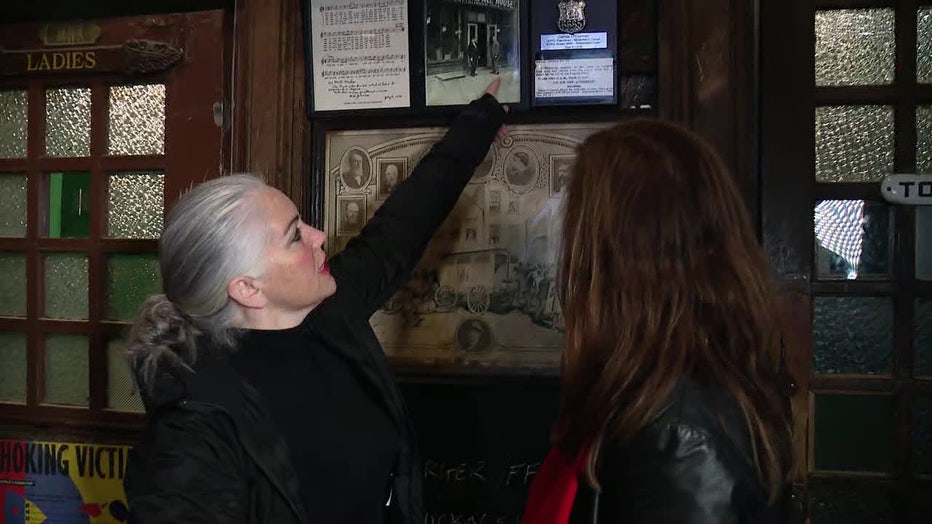 Teresa Maher de la Haba explains her pub's history.
The bar is still home to those who are new to this country. Bartender Shane Buggy left Ireland right after college to come work. He's been here more than 15 years. 
"It's basically walking into a country pub back home," he offered. "No music, no TV's; everyone comes in here to share tables, to get to know everyone beside 'em. Very little social media here at McSorley's. You get to sit beside somebody random and learn something new about a complete stranger."
Hosting the famous and the infamous, it's still a favorite watering hold for the military, cops, firefighters and anyone with a thirst for nostalgia. 
"It's the most historic bar you'll ever walk into, from what we have on the walls to what we represent," Buggy added. "It's a privilege to live here and work for a family, another great Irish family who moved over and have a great success story out of Ireland." 
A personal note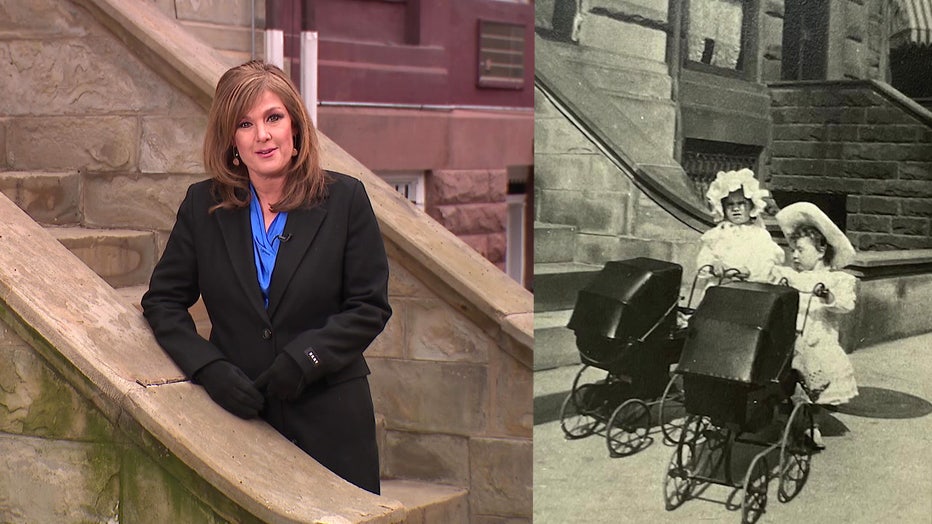 FOX 5's Sharon Crowley outside the brownstone where her grandmother lived.
Another family with roots in Ireland that has lived here in New York City for generations is my own. On West 95th Street is a brownstone where my grandmother lived as a little girl. 
Her father, Dr. Albert Scully, left his family's farm in Ireland in the late 1800's to practice medicine here in New York City. I am told he wrote a letter home to his family once he settled here in New York indicating he wouldn't be returning to the farm in Ireland – he liked it just fine here in New York City.