'New baby alert': Endangered Francois' leaf monkey born at San Antonio Zoo
SAN ANTONIO, Texas - The San Antonio Zoo has welcomed a new addition to its family: a baby Francois' Langur! 
The cute little primate, also known as a Francois' leaf monkey, was born on April 14 to mother Ravalina and father Chay. 
Francois' Langurs are currently an endangered species, making the baby's arrival all the more special. The International Union for Conservation of Nature (IUCN) lists the species as endangered due to habitat loss and poaching. 
"New baby alert! Meet the newest little San Antonio Zoo resident - a baby Francois Langur!," the zoo wrote on social media Tuesday.  
Video footage, posted on the zoo's pages on April 25, show the baby monkey holding onto its mother.
"Like all newborn langurs, this little one will cling tightly to its mother's belly for the first few weeks of life, gradually becoming more independent as it grows," the zoo wrote on social media. 
The monkey's bright apricot-orange hair color is believed to elicit the care-taking instincts of females in the group – a behavior in which other females help the mother by holding, carrying and babysitting the infant, according to experts. Within one year, the newborn's fur will change to the glossy black of the parents. 
RELATED: Tearjerking video: Chimpanzee reunited with newborn baby after nearly 2-day separation
"Francois' langurs are born with bright orange fur, helping troop members keep track of their babies in the dense forest canopy where they live. As the baby grows, its fur will gradually change to the adult black and white coloring," the zoo continued.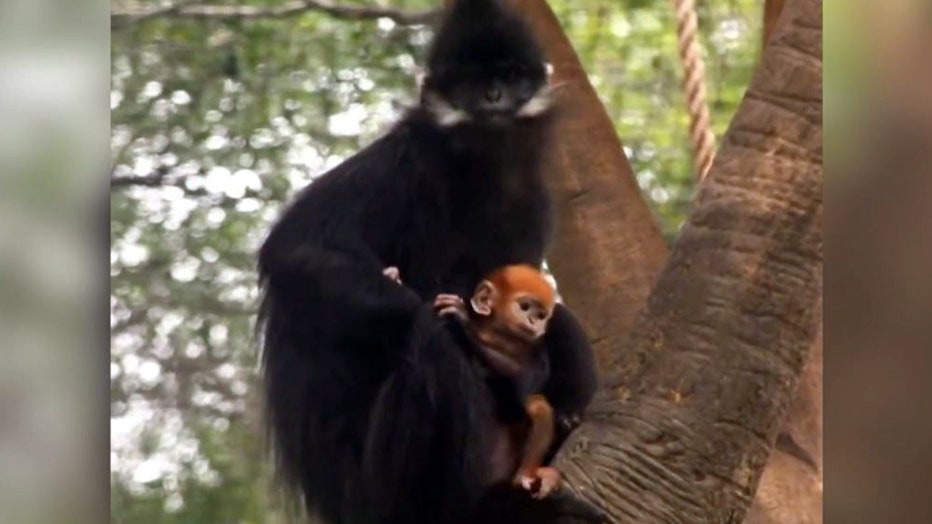 Zookeepers at the San Antonio Zoo in Texas celebrated the recent birth of a Francois' langur, also known as a Francois' leaf monkey, with footage posted on April 25.
A name has not yet been chosen for the newborn, but visitors to the San Antonio Zoo can expect to see the adorable new arrival in the coming weeks, as it becomes more independent and starts exploring its surroundings.
This story was reported from Los Angeles.