NC man wins $2 million lottery nearly 2 years after $1 million win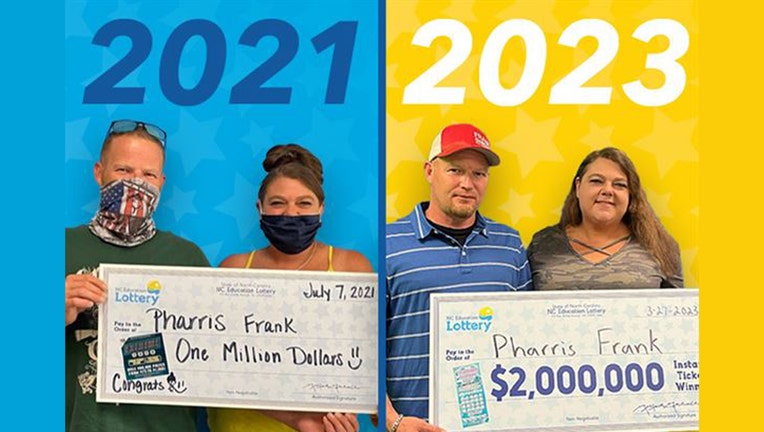 article
RALEIGH, N.C. - A man in North Carolina recently doubled his luck after winning $1 million in a lottery drawing in 2021, followed by $2 million in a scratch-off game this month, state lottery officials said.
Pharris Frank, a 41-year-old from the small town of Advance, said he won the first prize near his home and used the money to help pay for his dream wedding.
Most recently, Frank was working out of town on a construction job and bought the $2 million Diamond Dazzler ticket in Morehead City, lottery officials said.
"I called my wife and told her, 'I did it again,'" Frank said in a statement.
"It's cool because the first time I won it was two miles from my house and this time I was four and a half hours away," Frank added. "What are the chances of me being down there at that exact moment in time?"
On Monday, Frank arrived at lottery headquarters to collect his prize and had a decision to make, according to lottery officials. He could choose to receive the prize as an annuity of $100,000 over 20 years or a lump sum of $1.2 million.
Frank chose the lump sum option and walked away with $855,006 after state and federal tax withholdings.
"It's crazy because the day before I won, my buddy was asking me how it felt to win $1 million," he recalled of the first 2021 lottery prize. "And I told him that I was going to double it."
After this win, Frank said he plans to take his wife on a nice vacation.
Last year, a military veteran in Massachusetts made headlines for winning $25,000 for life – six times. Raymond Roberts Sr. won the Massachusetts State Lottery's Lucky for Life game, which awards $25,000 a year for a minimum of 20 years. But he won the prize six times in a single drawing after buying six tickets with the same numbers.
Roberts told lottery officials it was just "intuition" to buy multiple tickets with those numbers, which are a combination of anniversary dates and birthdays. 
He said he has been playing those numbers in multiple games for more than 20 years.
This story was reported from Cincinnati.