Mug shot shows teen driver accused of intentionally striking Montgomery County officer on I-270
GERMANTOWN, Md. - Authorities have released the mug shot of Raphael Mayorga, the 19-year-old man who was arrested after they say he intentionally struck an officer along a Maryland highway while trying to provoke police into chasing him.
Officers arrested Mayorga Wednesday morning after he barreled into Sgt. Patrick Kepp along the northbound lanes of Interstate 270 near Watkins Mill in Germantown.
Kepp was left partially paralyzed losing use of both his legs. He was taken to the hospital in critical condition Wednesday but was able to speak and had visitors.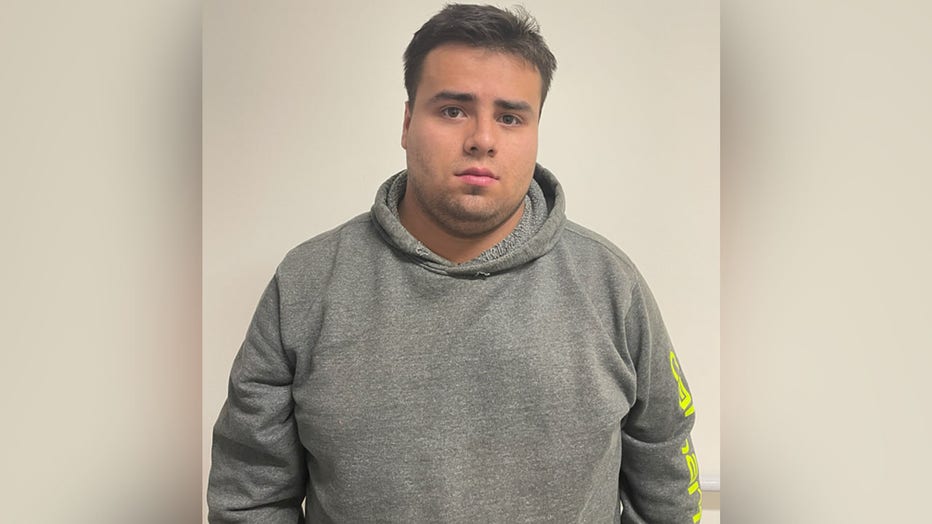 Frederick Raphael Mayorga (Montgomery County Police Department)
Police say they began monitoring Mayorga hours earlier that morning as he drove a green Dodge Challenger in the Clarksburg area.
Montgomery County Police Chief Marcus Jones said Mayorga has been known to provoke officers into chasing him, but officers did not pursue the vehicle Wednesday. Instead, they set up along I-270 in an effort to stop his vehicle.
Jones said Mayorga was seen driving recklessly, swerving and driving at speeds up to 110 mph. After he nearly ran another car off of the road, police made the decision to deploy stop sticks.
Jones told FOX 5 that Kepp parked his patrol car on the side of the northbound lanes and got out to lay down stop sticks. As Mayorga came up the highway and saw Kepp, he intentionally drove toward his patrol car, Jones said.
After striking Kepp, Mayorga continued speeding down the highway until his vehicle was disabled by stop sticks laid out by another officer.
Mayorga was quickly apprehended and faces multiple traffic-related charges in addition to charges of attempted first-degree murder. A second person in the vehicle was also taken into custody but will not be charged. Officers began to immediately render aid to Kepp before he was rushed to the hospital.
Kepp, 36, has been with the department since 2014 serving in the Alcohol Initiative Unit. Officials say he had even arrested Mayorga in May, charging him with several traffic violations including going 136 mph in a 55 mph zone.
Mayorga's bond hearing is scheduled for Thursday.