Morgan State Shooting: 4 students released from hospital; $9K reward offered for info on suspects
BALTIMORE, Md. - Four of the five people who were shot and injured following a homecoming event at Morgan State University have been released from the hospital. 
Baltimore Police Commissioner Richard Worley provided the update Friday during a press conference alongside Mayor Brandon Scott, Morgan State's President David Wilson, and the school's police chief Lance Hatcher. 
Wilson said that he had spoken to the students and that they are doing well physically, but all four of them have experienced "tremendous trauma."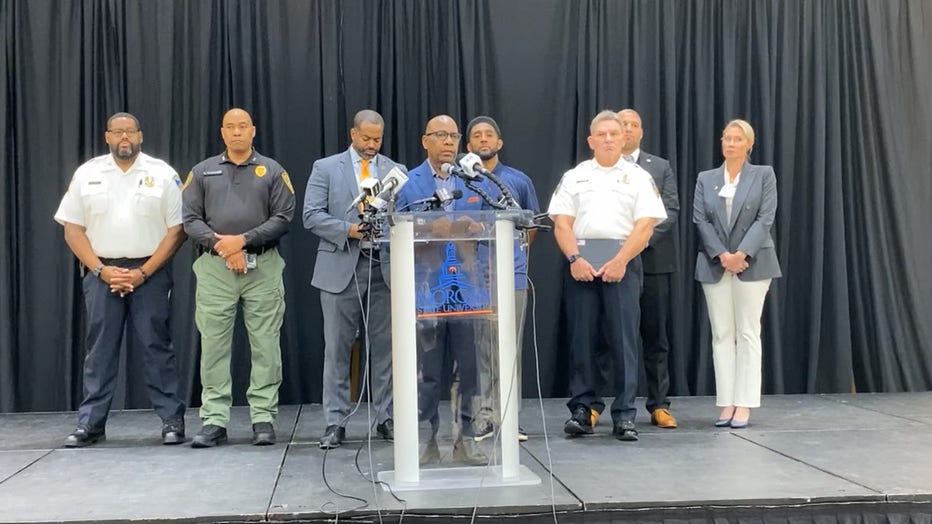 Morgan State University President David Wilson speaks to members of the media Friday - delivering updates on the students who were shot on campus earlier this week. 
He said that the university will offer them one-on-one counseling when they are ready.
Instead of the homecoming pep rally, the concert, and the parade, campus-wide programming geared toward health and welfare is being promoted to students traumatized by the events that occurred following the Mr. and Misses Morgan State coronation ceremony. 
"One thing we did not cancel, and we will not ever cancel is the Morgan spirit," Wilson said. "We are Morgan Strong." 
With the suspects still on the loose, the school felt it was safer to cancel all the remaining homecoming events. 
Commissioner Worley said during the press conference that by using ballistic evidence, detectives were able to confirm there were two shooters who opened fire on campus Tuesday night.
So far, the department, Worley said, has received more than a dozen tips that have assisted them in the investigation. They released surveillance photos Wednesday of several persons of interest. 
The reward for information leading to the arrest of the suspects in the shooting has also been raised to $9,000.
Metro Crime Stoppers is offering $4,000 for a tip and ATF Baltimore is putting up an additional $5,000.
As classes are expected to resume next week, officers from the Morgan State University Police Department will patrol the school grounds. 
Watch the full press conference below: