Man charged in shooting of Missouri teen trying to pick up siblings
KANSAS CITY, Mo. - An 84-year-old white man in Kansas City, Missouri was charged Monday with first-degree assault for shooting a Black teen that mistakenly approached his house while trying to pick up his siblings.
Prosecuting Attorney Zachary Thompson said at a news conference that Andrew Lester shot 16-year-old Ralph Yarl, who is recovering at home after being released from the hospital on Sunday.
When asked if anything was said that made Thompson believe that the case was racially motivated, Thompson said nothing like that is indicated in charging documents.
"We understand how frustrating this has been but I can assure the criminal justice system is working and will continue to work," Thompson said at a news conference.
Yarl was supposed to pick up his two younger brothers last week when he approached the wrong house. Lester came to the door and shot Yarl in the head -- then shot him again.
The assault charge carries a penalty of up to life in prison. Lester was also charged with armed criminal action, which has a penalty range of three to 15 years in prison. Thompson said Missouri's hate crime law, a violation of which is not part of the charge, is considered a lesser felony than first-degree assault, and carries a less severe penalty.
Missouri is among roughly 30 states with "Stand Your Ground" laws, which allow for the use of deadly force in self-defense, but the prosecutor determined the shooting was not in self defense.
On April 13, the day of the shooting, officers were called to the reported shooting just before 10 p.m. local time at a home in Kansas City, authorities said. Yarl was picking up his siblings at a house on N.E. 115th Terrace, but mistakenly went to a house on N.E. 115th Street, according to FOX4KC, citing police.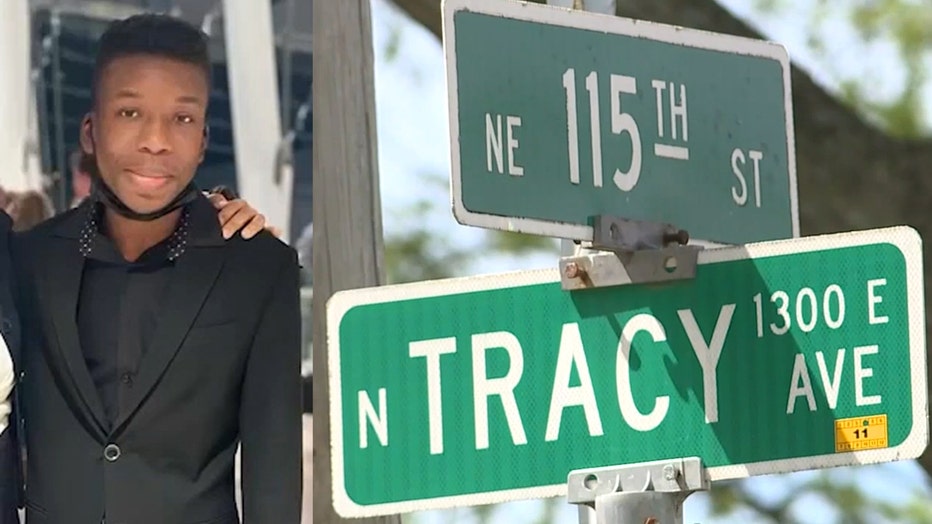 Ralph Yarl, 16, is pictured in a family handout via FOX4KC WDAF-TV, alongside an image of an intersection near where he was shot.
Yarl was taken to a local hospital and said to be in "stable condition" as of Sunday afternoon, authorities said. 
Lester was taken to the police station and later released. 
"After consulting with the Clay County Prosecutor's Office, the homeowner was released pending further investigation due to the need to obtain a formal statement from the victim," Kansas City Police Chief Stacey Graves said on Sunday.
"Despite the severity of his injuries and the seriousness of his condition, Ralph is alive and recovering," according to a joint statement from civil rights attorneys S. Lee Merritt and Benjamin Crump.
The Kansas City Police Department said upon completion of the investigation, the case would be forwarded to the prosecutor's office to determine if charges are warranted.
"We want the community to know that we are committed to justice in this case and every case, and work every day to seek that justice for all victims of the crime," Graves added.
Meanwhile, nearly 1,000 people gathered on Sunday to march near the home where the shooting happened in support of the teen. 
"Ralph is quiet, he loves to play video games, play the saxophone, and he's just a good kid, a smart kid, you know," Paul Yarl, Ralph's father, told FOX4KC.
"Our message for the prosecutor: we want charges, that's what we want," Paul added. "If he goes free, the next Black kid that rings that doorbell could get shot again. We don't want that."
The Associated Press contributed to this report. This story was reported from Cincinnati.