Miranda Lambert unapologetic as she breaks silence on controversial concert selfie video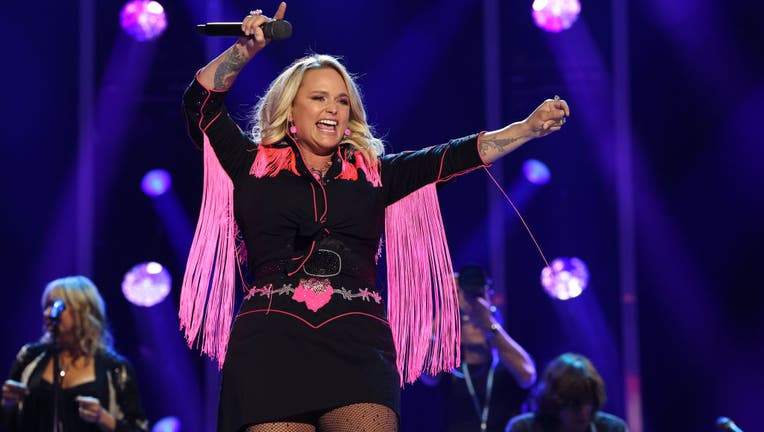 article

Miranda Lambert shot down fans for taking a selfie at her concert, and now fans have shared a video that shows the singer touching on the controversial moment.
During another concert at her Velvet Rodeo residency in Las Vegas, the country star spotted someone in the audience who was wearing a T-shirt that read "Shoot Tequila, Not Selfies." Lambert appeared to enjoy the reference, telling the fan, "That's bada--."
She pointed at the fan as she read the text on the shirt to the audience, who reacted with loud applause.
MIRANDA LAMBERT LASHES OUT AT FAN DURING CONCERT, CAUSING PEOPLE TO WALK OUT: 'IT'S P---ING ME OFF'
"She did it, I didn't," she laughed, apparently acknowledging the controversy that has surrounded the original incident.
Lambert leaned down a bit to tell the person in the shirt, "That's bad--" before leaning in further to take a shot-sized bottle of tequila that was offered to her. She drank a sip, grimaced, then handed the rest of the shot off to her guitarist, Ethan Ballinger, who went on to share the fan's video on his Instagram story.
This appears to be the first time she has publicly referenced the July 15 concert that ruffled so many feathers.
During that performance, only a few bars into her hit track "Tin Man," Lambert told the audience, "I'm gonna stop right here for a second.… These girls are worried about their selfie and not listening to the song. It's p---ing me off a little bit," she said motioning to an area in the crowd.
"I don't like it, at all," she said to many cheers. "We're here to hear some country music tonight, I'm singing some country damn music."
MIRANDA LAMBERT DESTROYING FAN'S BEACH BALL MID-CONCERT RESURFACES AS SINGER IS LABELED 'ENTITLED'
"Sit down," she told the group, motioning for them to take a seat. "Shall we start again?" she then asked the crowd, before beginning the song.
While she continued to sing, Lambert received mixed reactions from the crowd. Some began to holler, cheer and whistle for the 39-year-old, while others left the arena in protest.
In a fan-recorded video, a person can be heard saying to those around her, "Let's go. C'mon. You don't do that to fans." 
In a conversation with NBC News, one of those selfie-taking fans, Adela Calin, claimed that she and her friends had only stood up for a few seconds to take the photo and were about to sit back down when Lambert called them out.
"It felt like I was back at school with the teacher scolding me for doing something wrong and telling me to sit down back in my place," she said. "I feel like she was determined to make us look like we were young, immature and vain. But we were just grown women in our 30s to 60s trying to take a picture."
Lambert's move has turned some fans off – in her most recent Instagram post, a series of photos she shared last night to mark the end of this phase of her Las Vegas residency before she returns in the fall, she received a number of angry comments.
CLICK HERE TO SIGN UP FOR THE ENTERTAINMENT NEWSLETTER
"I wouldn't pay 10 cents to see you after what you did to your fans for taking a selfie with you in background," one person wrote.
A former fan wrote, "She definitely turned me against here for the way she treated her fans. Selfishly rude!!! No thanks!"
However, she has also received quite a bit of support, as one of her followers told her, "Nothing wrong with expecting manners from fans," along with a "Go Miranda" hashtag.
CLICK HERE TO GET THE FOX NEWS APP
"Real fans watch the concert," another argued. "They don't give a s--- about a selfie with your buddies to brag to your friends who couldn't afford the concert tickets! Don't like her, unfollow her, and just go away!"
Fox News Digital's Caroline Thayer contributed to this report. Read more of this from FOX News.