Michelin Guide releases list of affordable NYC restaurant picks for 2020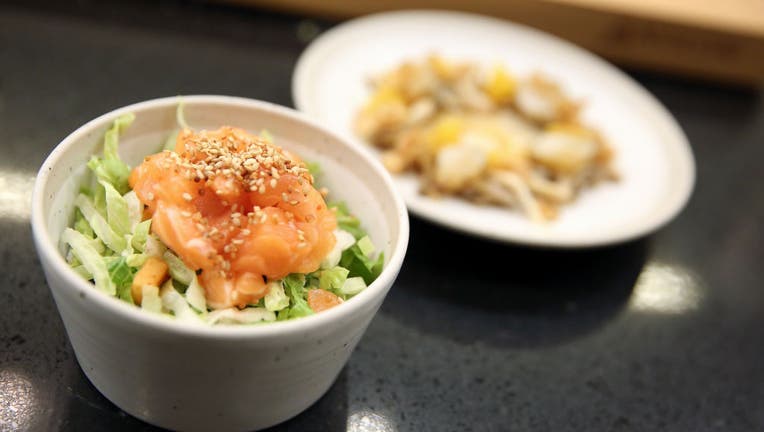 NEW YORK - The famed Michelin Guide has announced the 133 restaurants in the New York City area that have received its Bib Gourmand distinction, an honor given to restaurants that offer affordable and remarkable dining experiences for around $40 or less.
The restaurants chosen showcase New York City's famed diversity, featuring cuisine from South Asia, Italy, Korea and much more. 
This year, the Michelin Guide expanded its coverage to Westchester County, where eight restaurants earned Bib Gourmand distinctions. 
Here's the full list of restaurants:
Alley 41

Amelie

Ammazzacaffè (NEW)

Angkor

Atla

Atlas Kitchen (NEW)

Atoboy

Baker & Co.

Bar Primi

Beatstro (NEW)

Bellwether

Bohemian Spirit (NEW)

Bunker

Buttermilk Channel

Café Alaia (NEW)

Café China (NEW)

Cho Dang Gol

Chuan Tian Xia (NEW)

Ciccio

Congee Village

Convivium Osteria

The Cookery (NEW)

Cotenna

Dim Sum Go Go 

DOMODOMO

Don Antonio by Starita

Double Zero

Dubrovnik (NEW)

Dumpling Galaxy

East Harbor Seafood Palace

Egg

El Molcajete

Enoteca Maria

Enzo's

Eugene's Diner & Bar (NEW)

Falansai

The Flower Shop

Frankies 457 Spuntino

Georgian Cuisine

Glady's

Glasserie

Gran Eléctrica

Gregory's 26 Corner Taverna

Haenyeo (NEW)

Hahm Ji Bach

HanGawi

Hao Noodle and Tea

High Street on Hudson

Hometown Bar-B-Que

Houdini Kitchen Laboratory

Hunan Bistro

Hunan Café 

Hwa Yuan

J.G. Melon

Jin Ramen

Katz's

Khe-Yo

Kiki's

Klein's (NEW)

Kubeh

Kung Fu Little Steamed Buns Ramen

La Morada

Lea

Legend of Taste

Little Alley

Llama Inn

Lokanta (NEW)

Luzzo's

Maison Yaki (NEW)

MáLà Project

Maria Restaurant (NEW)

Mar's

Memories of Shanghai (NEW)

Mexicosina

Mile End

Miss Ada

Miss Mamie's Spoonbread Too

Momofuku Noodle Bar

Momofuku Ssäm Bar

Mu Ramen

New Malaysia

Nonna Beppa (NEW)

Norma Gastronomia Siciliana

Nyonya

O:N˚ (NEW)

Olmsted

Oso

Paet Rio

Pata Café

Pinch Chinese

Pippali

Prune

Purple Yam

RaaSa (NEW)

Ribalta

Roberta's

Rubirosa

Ruffian (NEW)

Runner & Stone

Russ & Daughters Cafe

Sagara (NEW)

Saint Julivert Fisherie (NEW)

San Matteo

Shalom Japan

Shiraz Kitchen (NEW)

Sip Sak

Soba-Ya

Somtum Der

Sottocasa

Southern Table (NEW)

Speedy Romeo

Spy C Cuisine (NEW)

Suyo Gastrofusion (NEW)

Sweet Yummy House

Tang Hot Pot

Tanoreen

Tomiño

Tonchin

Tong Sam Gyup Goo Yi

Tra Di Noi

Turkish Kitchen

21 Greenpoint

Ugly Baby

Ulivo

Una Pizza Napoletana

Van Đa (NEW)

Vida

Vinum

Violet (NEW)

Win Son (NEW)

Xixa

zero otto nove

Zoma