Multiple people shot during French Montana music video shoot outside Miami Gardens restaurant
MIAMI GARDENS, FL - As many as people 10 were wounded in a shooting outside a Miami Gardens restaurant.
The police did not release an official number of how many people were hit by gunfire Thursday night, but local media reported that 10 people were wounded in the shooting outside a soul food restaurant called The Licking.
Investigators were looking into reports that a video was being shot involving rappers French Montana and Rob49.
Miami Gardens Police Chief Delma Noel-Pratt said, "We believe it's an isolated incident."
Miami Gardens police spokesperson Diana Gourgue told reporters, "right now it is just multiple victims that were injured."
She said the condition of those hurt was unknown, but there were not any fatalities.
She said a large crowd had gathered outside the restaurant.  The shooting took place just before 8 p.m.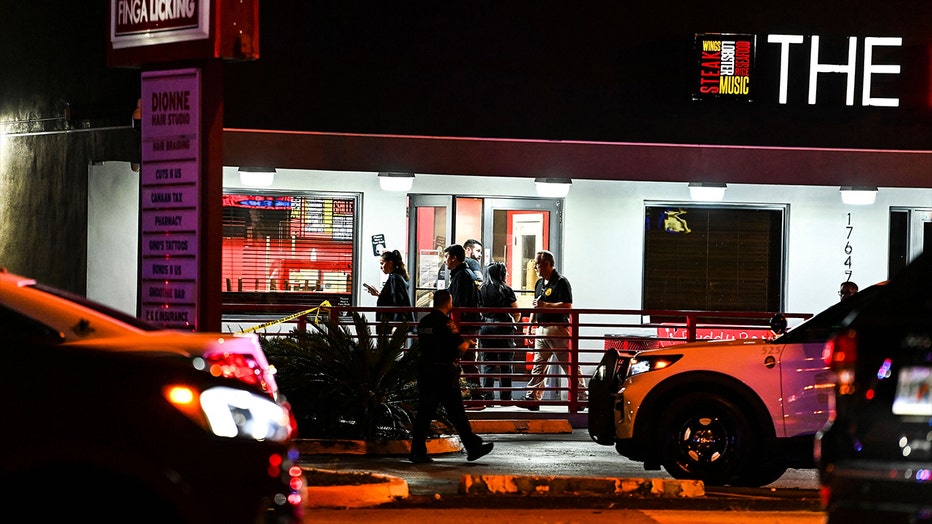 Miami Gardens Police officers walk out of the The Licking restaurant on January 5, 2023. - Multiple people were shot during a video shoot for rappers French Montana and Rob49. (Photo by CHANDAN KHANNA/AFP via Getty Images)
Witnesses recalled hearing 10-15 gunshots.
Witness Ced Mogul told WSVN he came out to watch the rapper shoot the video, when at some point a person in the crowd watching the production was robbed of his watch and wallet, which caused the situation to escalate.
Mogul said, "It was like at least 13, 14, 15 gunshots. It was very rapid, it sounded like an assault rifle. I took off running."
Police have not provided information on a possible suspect or suspects.