Met Opera marks 1st year of Ukraine war with concert
NEW YORK - Numerous events are being held across New York City this weekend, highlighting the city's solidarity with Ukraine and celebrating the country's resilience, including a concert at the Met Opera.
Friday marked the somber anniversary of the Russian invasion that upended the lives of Ukrainians and upset Europe's security.
The Empire State Building, the Eiffel Tower, and Sydney Opera House gleamed in yellow and blue in solemn remembrance of the outbreak of the war on Feb. 24, 2022.
At the Ukrainian Institute of America, artist Olga Rondiak created a collection of motankas to provide a circle of healing for visitors.
"The lives that are lost, we hope to commemorate them and give them full meaning and purpose as the heroes that they are because they've committed the ultimate sacrifice," said Rondiak, a Ukrainian-American artist.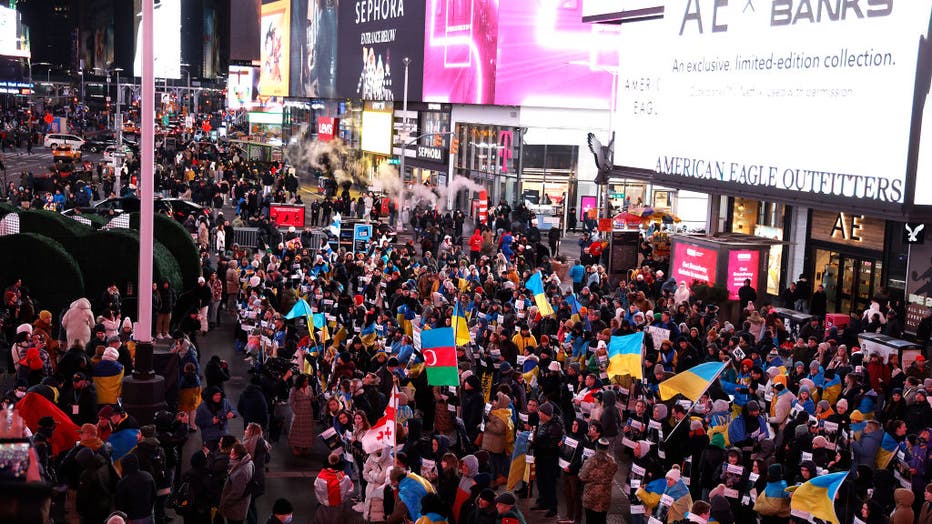 Demonstrators opposed to Russia's occupation of Ukraine rally with flags and signs in Times Square on February 24, 2023 in New York City. (Photo by John Lamparski/Getty Images)
The day the war broke out, Rondiak remembers calling her husband in Kyiv, begging him to leave quickly. Leaving Ukraine is how Rondiak was born here — her grandmother was sent to a Russian gulag when her mother was 11. During World War II, her parents were forced to emigrate from the Soviet Union to the US.
"They were terrified of the Soviet Union Russoifying Ukraine, and trying to get rid of our Ukrainian identity, which is happening again," Rondiak said.
Keeping the Ukrainian identity and culture strong has been a goal of the Metropolitan Opera since the start of the war last February, which can point to numerous exhibits and performances showing solidarity, including the creation of the Ukrainian Freedom Orchestra.
"Since Russia values culture so much, and Putin has made a point of saying he wants to destroy not only Ukraine, but eliminate its cultural legacy. And great cultural institutions needed to rise to its defense" said Peter Gelb, the general manager of the Metropolitan Opera.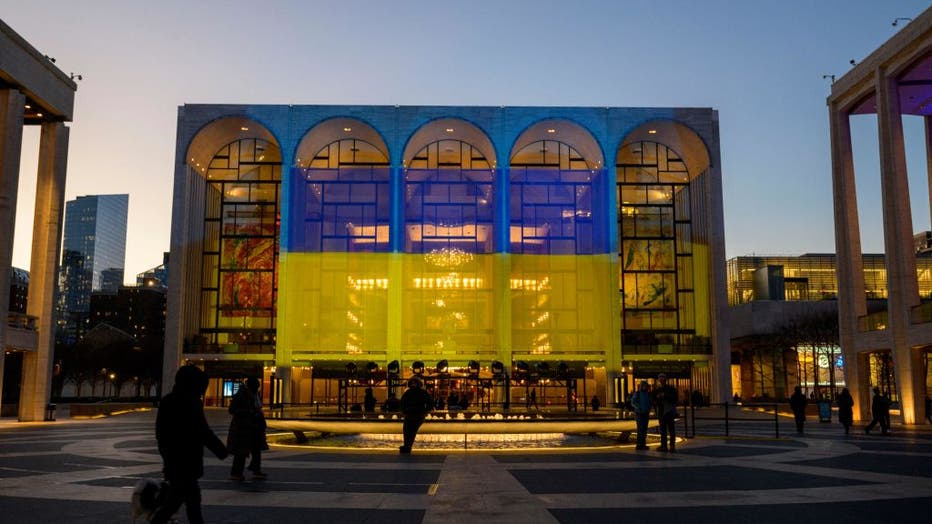 People arrive to attend "For Ukraine: A Concert of Remembrance and Hope" to mark one year since Russia's invasion of Ukraine, at the Metropolitan Opera at Lincoln Center in New York City on February 24, 2023. (Photo by ANGELA WEISS / AFP) 
Met music director Yannick Nézet-Séguin conducted what was titled "For Ukraine: A Concert of Remembrance and Hope," that also featured Ukrainian tenor Dmytro Popov and bass-baritone Vladyslav Buialskyi and South African soprano Golda Schultz. With the Metropolitan Opera House bathed in the yellow and blue colors on Ukraine's flag, and an actual flag hung above the stage, they opened with Ukraine's anthem, followed with the Mozart Requiem and Beethoven's Symphony No. 5 and ended with Valentin Silvestrov' hymn "Prayer for Ukraine."
"The Metropolitan Opera," Kyslytsya said, "adopted Ukrainian culture, adopted me, adopted my mission."
Ukraine First Lady Olena Zelenska addressed the crowd at the start of the evening in a prerecorded video speech.
"You have proven that art can help and save, literally," she said. "I hope that it is on this stage that we will soon be able to celebrate the victory of humanity, of art, of Ukraine, and it will be our common victory."
The Ukrainian singers wrapped themselves in flags during the curtain calls. Tickets were priced at $50, with the Met saying it held the amount lower than its usual prices in the hope audience members would donate large amounts to supporting Ukraine's war effort.
Gelb dropped Russian artists who refused to distance themselves from Putin from the Met's roster, most famously star soprano Anna Netrebko.
"It's a small price to pay," he said. "To be on the side of right was what's important. I wouldn't be able to look at myself in the mirror and have known Putin supporters performing on our stage."
Russian bass Ildar Abdrazakov, who withdrew from a new production of Verdi's "La Forza del Destino" at the Met next season, was quoted recently as saying artists should remain neutral.
"My response is they chose a side and they chose the wrong side," Gelb said. "I feel sorry that he like many other Russians are so misinformed and don't really understand what's going on in the world."
At the Ukrainian Institute of America's open house on Friday, Rondiak shared her country's folklore in her art, the Motankas, protectresses of the Ukrainian people. Although her art grieves the tens of thousands of lives lost, she has already seen the resiliency of the Ukrainian people who know, this war is far from over.
"We realize there isn't any time to cry, or be depressed because it doesn't help us so we stand on our feet and get strong, and everybody does what we can" Rondiak said.
People are encouraged to celebrate Ukraine, even in their own home or by donating to relief funds.
With the Associated Press.