Mayor Adams' 'cubicles to condos' plan still needs lawmakers' approval
NEW YORK - New York City Mayor Eric Adams toured one of the latest office buildings to be converted into residential housing. But his strategy to create thousands of new homes is not only ambitious but requires the cooperation of Albany.
The city's post-pandemic economic recovery is still pushing forward, except for its 136 million square feet of office space, much of which still sits empty. 
"We have too much unused office space, and not enough housing," said New York City Council member Justin Brannan.
RELATED: Number of millionaire renters in NYC jumps 171% in just five years
It's why Mayor Adams, with the expertise of a city-led task force, is working to convert old cubicles into new condos that could potentially create as much as 500,000 homes over the next decade. But first — the need to get legislators in Albany to get on board.
On Water Street in the Financial District Monday, Adams and his team tour an office building, currently being converted into market-rate residential housing, with 588 units, starting at $3000 a month.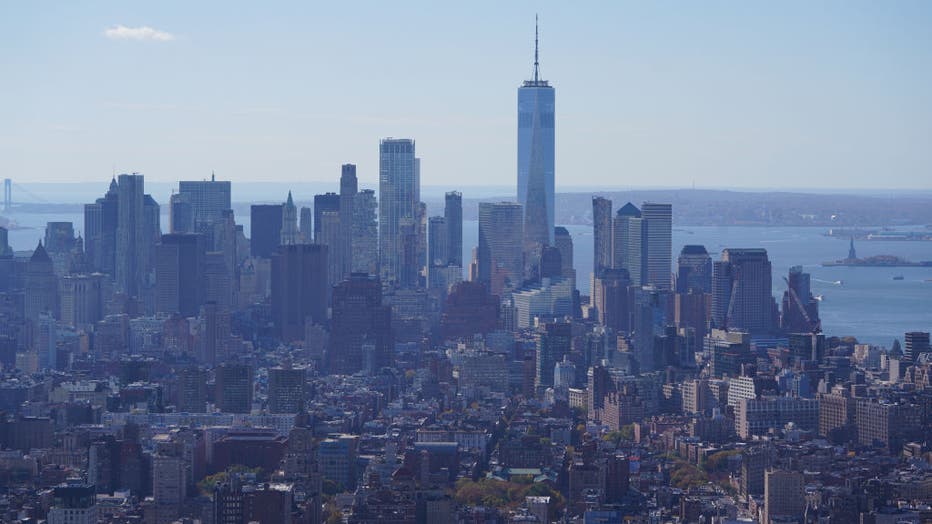 An aerial view of One World Trade Center in New York, United States on November 07, 2022. (Photo by Lokman Vural Elibol/Anadolu Agency via Getty Images)
The cost of conversion means a developer must buy out the tenants, then gut out the building. But right now, only certain buildings, in certain areas can be converted.
RELATED: Housing affordability is at the lowest level in over a decade
"The game is to make sure we get the zoning to get out of the way so that we can use the creativity to address the housing crisis," Adams said.
Zoning regulations in the city's Central business districts must be loosened to expand the pool of office buildings. But even then, developers have every incentive to jack up the rent to get their money's worth. 
"People have to recognize that without some level of government subsidy," said Valerie Campbell, a partner at Kramer Levin, "the amount of affordable housing that can be created through these conversions is probably quite limited."
The city is hoping to encourage property owners to build affordable units, by giving them a big tax break, what's known as 421A. It expired in June, but Governor Hochul backs it, she just needs state legislators to approve it.
So, while the old office space takes place at 160 Water Street, morphs into new apartments, the mayor, residents, and real estate developers know large-scale conversion of the city's skyline—
From places of work to places where you can work from home—requires Albany to change the rules. 
"We must remain a city where every day people can find housing," Adams said.