'The trauma is real': Maui fire survivors recount harrowing stories amid rebuilding efforts
MAUI, Hawaii - It's been more than two months since a series of wildfires broke out across Hawaii, particularly on the island of Maui. 
At least 98 people were killed, and more than a dozen people remain missing in the West Maui town of Lahaina. Over 2,000 structures were destroyed – many of them homes and apartments. 
In total, fire burned more than 17,000 acres, costing around $5.5 billion in estimated damage.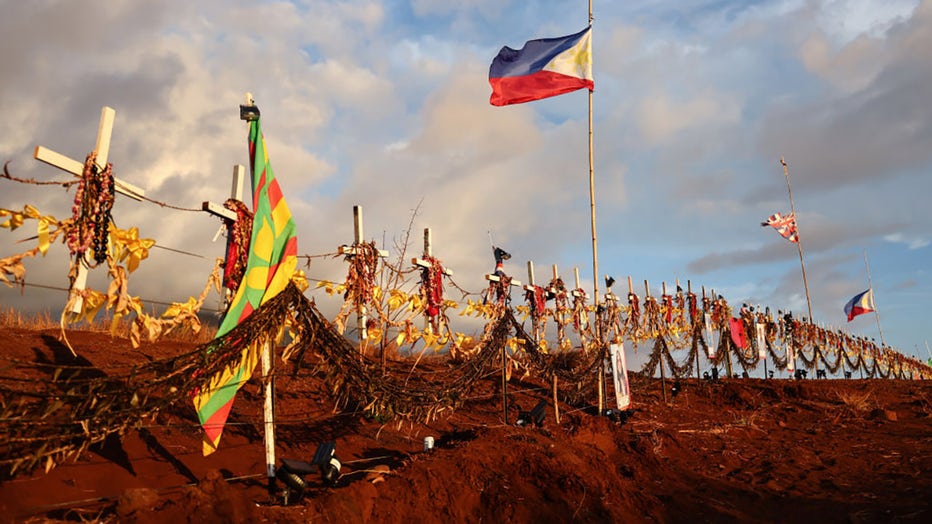 Crosses are displayed at a public memorial to wildfire victims on Oct. 5, 2023, in Lahaina, Hawaii. (Photo by Mario Tama/Getty Images)
The findings of a cause are not expected for months. However, a finger has been pointed to an overgrown gully beneath Hawaiian Electric Co. power lines and something that harbored smoldering embers.
Hawaiian Electric has acknowledged its downed lines caused the initial fire but has argued in court filings it couldn't be responsible for the later flare-up because its lines had been turned off for hours by the time the fire reignited and spread through the town. The utility instead sought to shift the blame to Maui County fire officials for what it believes was their premature, false claim that they had extinguished the first fire. The county denies firefighters were negligent.
"You can't even describe what people are going through," State Rep. Lauren Mastumoto told LiveNOW from FOX's Josh Breslow. "We're getting better, but it's still absolute chaos. People are displaced. They're currently in hotels." 
"We're going to need the support of the entire nation to move us forward," Mastumoto continued. 
Several residents are returning to their homes, as survivors recount their harrowing tales.
Steff Kirkman: 'Lahaina is gone, and it will never be the same' 
Steff and Kimo James Kirkman, residents of Lahaina for 20 years, were in the process of moving to California when the fires broke out. Their home was packed up for the move and the Kirkmans were in the Bay Area at the time. 
Tragically, they returned to their worst nightmare: their home in Hawaii burned to the ground and two dogs and a cat were all killed.
Two months later, the Kirkman family is now living in California and still processing the trauma that unfolded. 
"Today, and the last couple of days, have been a good, good day," Steff Kirkman told LiveNOW from FOX. "I had to get into therapy. There is some PTSD and some trauma that we have to deal with, but the last couple of days have been really good days."
Steff Kirkman got tattoos in honor of her late pets, depicting the dogs smiling. 
"So that way, when I do look at them, I always see them smiling and don't think of the last visions that I have of them," she explained. 
Steff Kirkman's tattoos in memory of the family's  pets killed in the fire are pictured in provided images. 
The couple also recently adopted an Aussiedoodle puppy named "Tomo."
"I waited for about 45 days, and we got, as someone told me, 'my rainbow puppy,'" Steff Kirkman said, adding how the couple plans to get a second puppy in the coming weeks.
As residents in Maui are left grieving the loss of their loved ones and processing the destruction of their homes, some tourism has restarted in an effort to boost the local economy. But not all are supportive of the move so soon, with many objecting to the effort and not wanting travelers asking about their traumatic experiences. 
More than 3,500 Lahaina-area residents recently signed a petition asking Hawaii Gov. Josh Green to delay the restart. But Green said doing so would help Maui's tourism-driven economy get on a path to recovery.
For Steff Kirkman, it's important to give those in Lahaina the time they need to recover.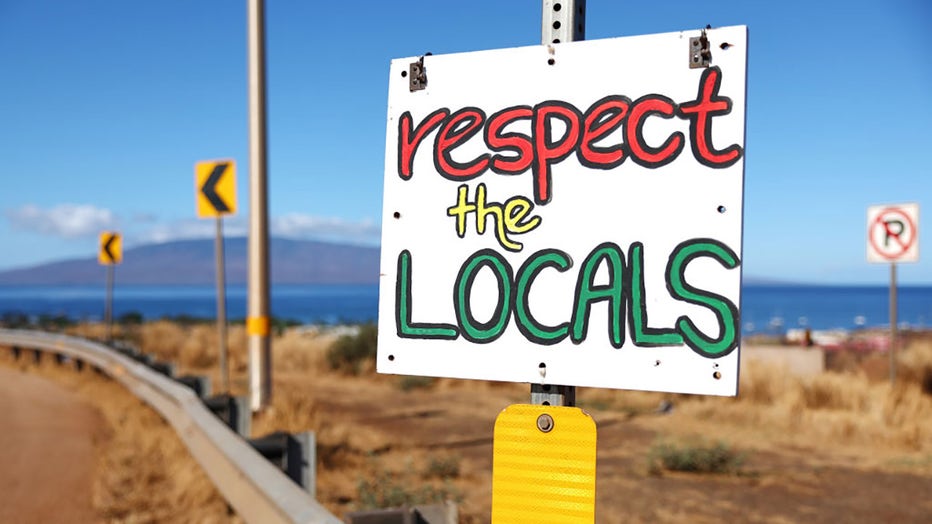 A sign reads "Respect the Locals" nearly two months after a devastating wildfire on Oct. 7, 2023, in Lahaina, Hawaii. (Photo by Mario Tama/Getty Images)
"Not all of Maui is destroyed, of course. So please, there are people that are in the tourist industry that need to work, and those that want to come to Hawaii," she said. But Kirkman noted how "you can't really do anything in Lahaina right now… Give people the space."
"Lahaina is gone, and it will never be the same. It just won't be, so we have to hold it in our hearts," she said. 
Jonathan Shirmoma lost 4 family members
Lahaina native Jonathan Masaki Shiroma lost four family members, and said another was still missing at that time.
"It's like a gut punch," he told LiveNOW from FOX back in August. 
"You hear the words of devastation and then you realize that the hometown that, as a child, (you were) playing in the cane fields and near what was the Pioneer Mill, you know, and then the hearing that family members lost their lives as they tried to leave the flames that just engulfed so quickly, and one still remained missing – it becomes so personal." 
The retired Lt. Col. with the U.S. Army has been deployed to numerous fires during his time working with the California National Guard to help provide critical updates to media, and now his hometown has been virtually destroyed. 
Shiroma also remains hopeful that the spirit of "ohana" – a Hawaiian term meaning family – is alive and well on the island in the midst of tragedy. 
"It's amazing that in Hawaii, even in the midst of just everyday life, there's always a sense of ohana. So you may not necessarily know someone very well, but if you see someone on the street that is hungry and (you say), 'Auntie, sister, you know, uncle, come; come eat,' – I know that's going on over there. I know that the extension of that extended family (is happening) because family is so big on the island."
Shiroma urged everyone to think of the warm and good memories they may have of Hawaii, and to donate to the Lahaina community if they can. 
Returning Maui residents should be aware of silent killer
As families return to their homes and businesses, experts have warned residents to be situationally aware of certain hazards during cleanup, including structural damage, electrical issues and even toxic substances.   
"What's also going to need to be top of mind is asbestos, or the lead, or the arsenic that's in the ash, in the smoke and in the dust that's still at these sites," Sean Marchese with the Mesothelioma Center told LiveNOW from FOX. 
The first stage of cleanup started in late August, with around 200 Environmental Protection Agency workers in white protective gear removing toxic household debris from Upper Kula and Lahaina including gas cylinders, pesticides, fertilizers and battery packs used in solar power. They have monitored the air quality and sampled for heavy metals and asbestos.
The EPA said it expects to hand over responsibility later in October or in November to the U.S. Army Corps of Engineers, which will oversee removing the remaining debris over the next six to 12 months. About $400 million has been budgeted, but the cost could go higher to remove an estimated 400,000 to 700,000 tons of building debris from about 1,600 parcels that once had homes and businesses.
Many homes and commercial buildings constructed prior to the 1980s, like those in historic Lahaina, were built with asbestos materials that were considered safe at the time, according to the Mesothelioma Center. As those materials age – or burn – they release toxic asbestos fibers into the air and out to sea. 
Experts warn that breathing in those fibers could later cause serious health conditions, particularly lung diseases. 
"You need to protect and cover your skin, your hair, your clothes," Marchese explained. "So that means wearing either rubber boots, rubber gloves or shoe coverings. You need to wear eye protection, hair protection, or some kind of hair cap, and again, disposable clothes or some kind of gown or covering."
Marchese added that exposed clothes should be properly disposed of in a watertight bag or container and labeled as asbestos waste. Then it must be taken to a landfill that is equipped to dispose of such waste. 
For families hoping to dig out family photos or other sentimental items from the ashes, Marchese said county officials have recommended washing these items thoroughly with some kind of detergent or soap to make sure the ash is completely removed, "preferably before bringing them into your house or exposing them to any other people."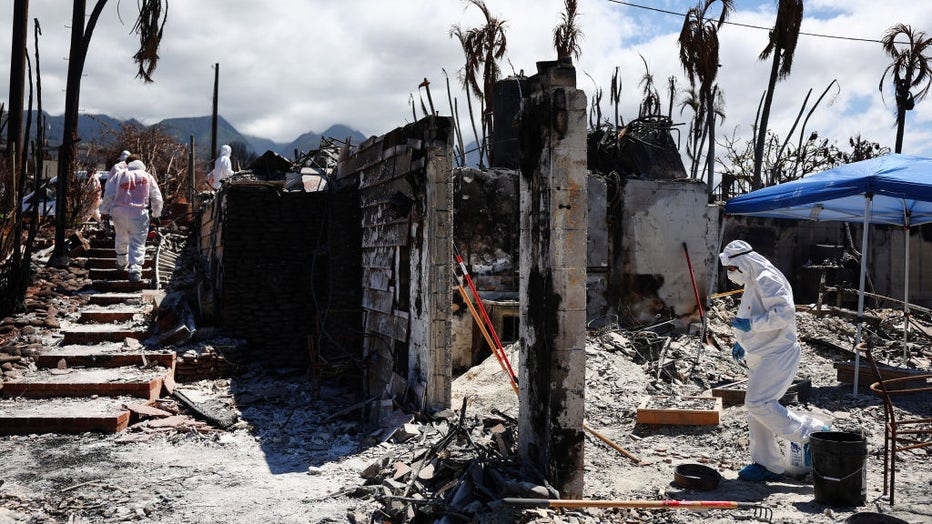 A displaced resident (R) walks while searching for personal items in the rubble of the wildfire destroyed home where she lived, as volunteers from Samaritan's Purse assist (L) on Oct. 5, 2023, in Lahaina, Hawaii. (Photo by Mario Tama/Getty Images)
"They should also avoid disturbing the site as much as possible," Marchese told LiveNOW from FOX. "So I know going back home, it's a devastating situation where they want to go through their house materials and try to find things that they can bring back from the site."
Marchese continued: "But stirring up dirt, dust and debris means those asbestos fibers are going to get back up into the air where they can be breathed in. And any kind of exposure like that is going to be dangerous."
This story was reported from Los Angeles, Phoenix, and Cincinnati. The Associated Press contributed.