Matthew Perry, star of 'Friends,' dies after apparent drowning
LOS ANGELES - Matthew Perry, star of the hit show "Friends," died after an apparent drowning, according to FOX News. 
Law enforcement sources confirmed to FOX News that Perry was found dead Saturday in what appeared to be a drowning at a home in the Pacific Palisades area of Los Angeles.
According to TMZ, emergency personnel first responded to a call reporting cardiac arrest at the house. No drugs were found on the scene and no foul play is suspected, per the outlet. 
Perry was 54 years old.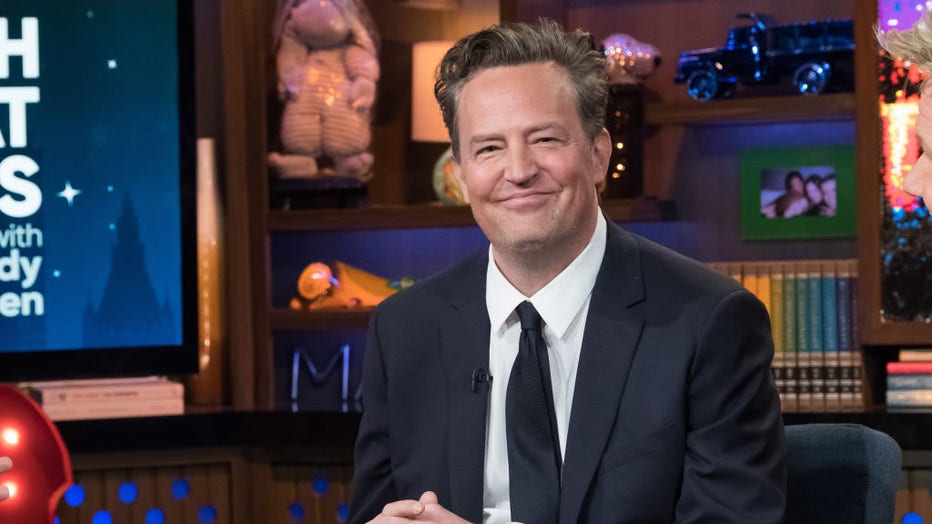 WATCH WHAT HAPPENS LIVE WITH ANDY COHEN -- Pictured: Matthew Perry -- (Photo by: Charles Sykes/Bravo/NBCU Photo Bank/NBCUniversal via Getty Images)
Perry's 10 seasons on "Friends" made him one of Hollywood's most recognizable actors, starring opposite Jennifer Aniston, Courteney Cox, Matt LeBlanc, Lisa Kudrow and David Schwimmer as a friend group in New York.
RELATED: Matthew Perry: Fans, industry react to death of 'Friends' star
As Chandler, he played the quick-witted, insecure and neurotic roommate of LeBlanc's Joey and a close friend of Schwimmer's Ross. By the series' end, Chandler is married to Cox's Monica and they have a family, reflecting the journey of the core cast from single New Yorkers to married and starting families.
The series was one of television's biggest hits and has taken on a new life — and found surprising popularity with younger fans — in recent years on streaming services.
Friends and fellow actors paid tribute to Perry following news of his death Saturday night. 
Canadian Prime Minister Justin Trudeau knew Perry through his mother Suzanne, who served as press secretary to Trudeau's father. 
The official "Friends" account on Instagram also posted about the loss, calling Perry "a true gift to us all."
Actor Selma Blair posted a photo of her and Perry on Instagram. 
"Friends" ran from 1994 until 2004, and the cast notably banded together for later seasons to obtain a salary of $1 million per episode for each.
SkyFOX captured aerial views of Perry's home in Los Angeles.  (KTTV)
Unknown at the time was the struggle Perry had with addiction and an intense desire to please audiences.
"'Friends' was huge. I couldn't jeopardize that. I loved the script. I loved my co-actors. I loved the scripts. I loved everything about the show but I was struggling with my addictions which only added to my sense of shame," he wrote in his memoir, "Friends, Lovers and the Big Terrible Thing." "I had a secret and no one could know."
"I felt like I was gonna die if the live audience didn't laugh, and that's not healthy for sure. But I could sometimes say a line and the audience wouldn't laugh and I would sweat and sometimes go into convulsions," Perry wrote. "If I didn't get the laugh I was supposed to get I would freak out. I felt that every single night. This pressure left me in a bad place. I also knew of the six people making that show, only one of them was sick."
An HBO Max reunion special in 2021 was hosted by James Corden and fed into huge interest in seeing the cast together again, although the program consisted of the actors discussing the show and was not a continuation of their characters' storylines.
FRIENDS -- Season 10 -- Pictured: Courteney Cox as Monica Geller, Matt LeBlanc as Joey Tribbiani, Lisa Kudrow as Phoebe Buffay, Matthew Perry as Chandler Bing, Jennifer Aniston as Rachel Green, David Schwimmer as Dr. Ross Geller  (Photo by NBCU Photo Bank/NBCUniversal via Getty Images via Getty Images)
Perry received one Emmy nomination for his "Friends" role and two more for appearances as an associate White House counsel on "The West Wing."
Perry also had several notable film roles, starring opposite Salma Hayek in the rom-com "Fools Rush In" and Bruce Willis in the the crime comedy "The Whole Nine Yards."
The Associated Press contributed to this report.