Man indicted for stealing 'Wizard of Oz' ruby slippers from Minnesota museum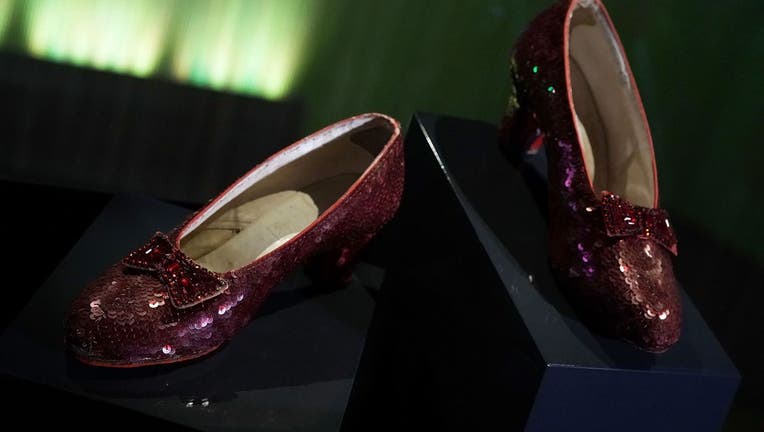 article
(AP) - A man has been indicted by a grand jury on charges of stealing a pair of ruby red slippers worn by Judy Garland in "The Wizard of Oz," federal prosecutors in North Dakota say. The shoes were stolen in 2005 and recovered by a 2018 FBI sting operation, but no arrests were made at the time.
Terry Martin was indicted Tuesday with one count of theft of a major artwork, prosecutors announced Wednesday. The indictment did not provide any further information about Martin and online records do not list an attorney for him.
Garland wore several pairs of the ruby slippers during production of the 1939 musical, but only four authentic pairs remain. When they were stolen, the slippers were insured from $1 million but the current market value is about $3.5 million, federal prosecutors said in a news release.
The slippers were on loan to the Judy Garland Museum in the late actor's hometown of Grand Rapids, Minnesota, when someone climbed through a window and broke the display case, prosecutors said when they were recovered.
Over the years, several enticing rewards were offered in hopes that the slippers would turn up. Law enforcement offered $250,000 early in the case, and an anonymous donor from Arizona put up $1 million in 2015.
The road to the missing slippers began when a man told the shoes' insurer in 2017 that he could help get them back. After a nearly year-long investigation, the FBI nabbed the shoes in Minneapolis in July 2018. At the time, the bureau said no one has been arrested or charged in the case.
On Wednesday, a summons was issued for Martin. An initial court appearance was set for June 1, and it will be via video. Terry Van Horn, spokesman for the U.S. Justice Department in North Dakota, said he could not provide any information beyond what was included in the indictment.
The shoes are famously associated with one of the iconic lines in "The Wizard of Oz," as Garland's character Dorothy clicks her heels and repeats the phrase, "There's no place like home."
The shoes are made from about a dozen different materials, including wood pulp, silk thread, gelatin, plastic and glass. Most of the ruby color comes from sequins but the bows of the shoes contain red glass beads.
When they were stolen, the slippers were on loan from Hollywood memorabilia collector Michael Shaw. The three remaining pairs Garland wore in the movie were held by the Academy of Motion Picture Arts and Sciences, the Smithsonian, and a private collector.