Major US airlines find unapproved jet engine parts in some aircraft
Major U.S. airlines have found that some jet engines installed in aircraft were built with parts that had forged safety certificates, leading to a lawsuit against a London-based parts supplier.
The unapproved parts, which include compressor stator vane seals and low-pressure turbine blades, were found in engines belonging to Delta Air Lines, United, Southwest Airlines and American Airlines. The most affected engine model is reported to be the CFM56.
The alleged supplier of these parts is AOG Technics, a firm that acquires parts before selling them to maintenance and repair organizations.
Delta told Fox News Digital on Tuesday the parts were discovered in "a small number" of aircraft engines during a recent overhaul.
SPIRIT AIRLINES PARTNERS WITH LIBERTY UNIVERSITY FLIGHT SCHOOL, LOOKS TO ADDRESS PILOT SHORTAGE
"Delta has been informed by one of our engine service providers that a small number of engines they overhauled for us contain certain parts that do not meet documentation requirements," Delta said in a statement. "Working with the overhaul provider, we are in the process of replacing those parts and remain in compliance with all FAA guidelines because safety is always our priority."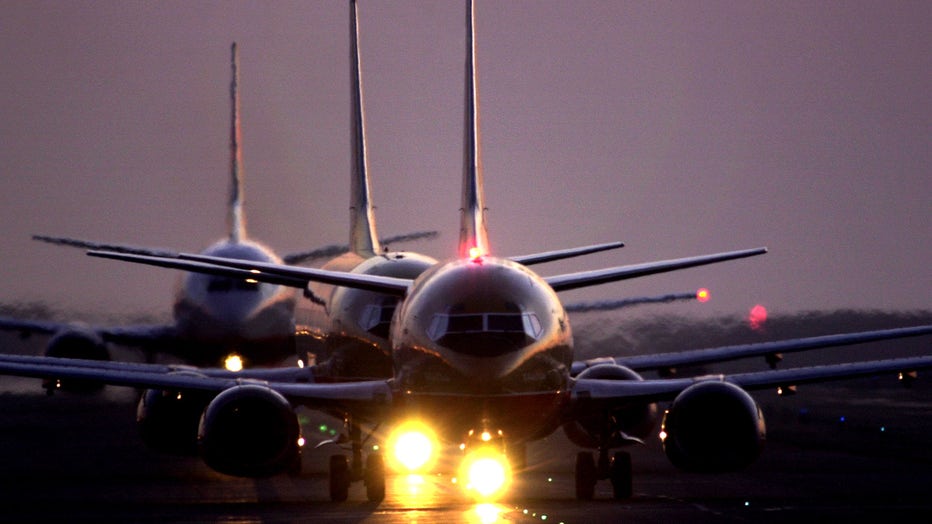 Jets taxi after sunset June 21, 2001 at Los Angeles International Airport. (Credit: David McNew/Getty Images)
While the exact number of affected engines was unclear, a company spokesperson said they made up less than 1% of Delta's more than 2,100 engines in its mainline fleet.
No aircraft are flying with unapproved engine parts, according to the spokesperson, and the discovery of the issue has not impacted Delta's scheduled flying operations.
United told Fox News Digital on Thursday the airline discovered unapproved parts on two aircraft in its fleet.
"As we investigated this matter, we learned that compressor stator vane seals from this supplier had been installed on a single engine on each of two aircraft, including one that was already undergoing routine maintenance," United said in a statement. "We are replacing the affected engines on both aircraft before they are returned to service, and we'll continue to investigate as new information becomes available from our suppliers."
FRONTIER AIRLINES CEO SAYS WORKFORCE GOT 'LAZY' DURING PANDEMIC
Southwest Airlines also told Fox News Digital on Thursday the issue had no impact on its flight operations, and only one aircraft engine in its fleet of more than 800 Boeing 737s had unapproved parts. 
"We became aware of the issue in early August and took necessary steps to ensure we do not have any parts in our fleet from AOG," Southwest Airlines said in a statement. "Our suppliers conducted a review of Southwest parts and identified one engine that contained two low-pressure turbine blades from this vendor. In an abundance of caution, we made an immediate decision to promptly replace those parts on that single engine."
American Airlines did not immediately respond to Fox News Digital's request for comment.
So far, unapproved parts have been found on 126 engines, according to The Wall Street Journal.
General Electric and engine partner Safran filed a lawsuit against AOG, claiming the company falsified documents to sell jet engine parts to airlines, the report said. The companies said they became aware of the issue in June. 
Attempts to reach AOG Technics were unsuccessful.