Shocking video shows Florida driver swinging machete during 'road rage incident'
MIAMI SPRINGS, Fla. - A man has been arrested in Florida after being captured on video swinging a machete during what police described as a "road rage incident." 
Luis Ruiz-Herrera was taken into custody on Monday after the attack that unfolded at the intersection of NW 42 Avenue and NW 36 Street, according to the Miami Springs Police Department. 
Investigators say Ruiz-Herrera, who was "armed with a machete," exited his vehicle and approached the victim who was riding a motor scooter.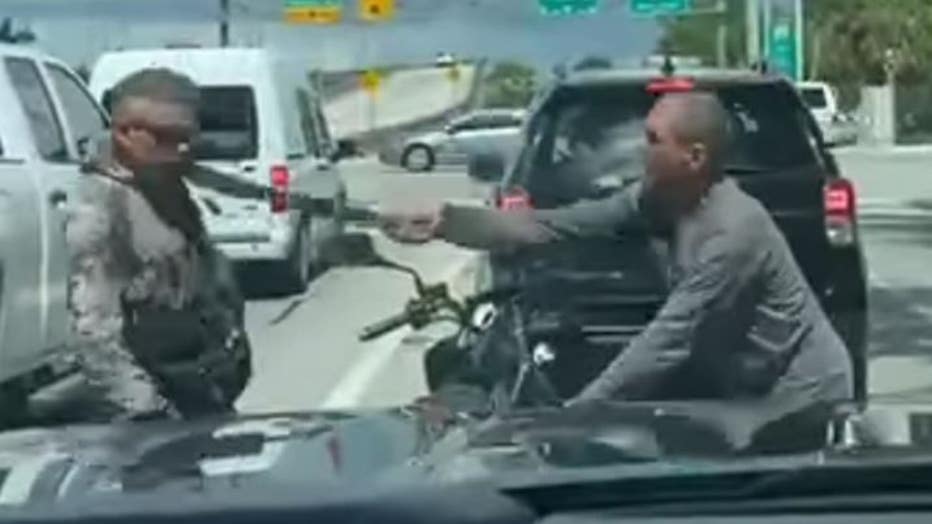 The victim is seen being struck with a machete in Miami Springs, Florida. (Miami Springs Police Department)
"The victim was able to dismount his motor scooter in time and retreat backwards as Ruiz-Herrera closed the gap between them. Ruiz-Herrera swung the machete at the victim, making contact with the left side of his face," the Miami Springs Police Department said in a statement. 
"The crime stemmed from a road rage incident and was caught on video by a third-party motorist who was also in traffic, directly behind the scooter," it added. 
Police say Ruiz-Herrera then fled the scene. 
"The Miami Springs Detective Bureau was able to identify and locate Ruiz-Herrera shortly after the incident," it said. "He was arrested and charged with aggravated battery with a deadly weapon."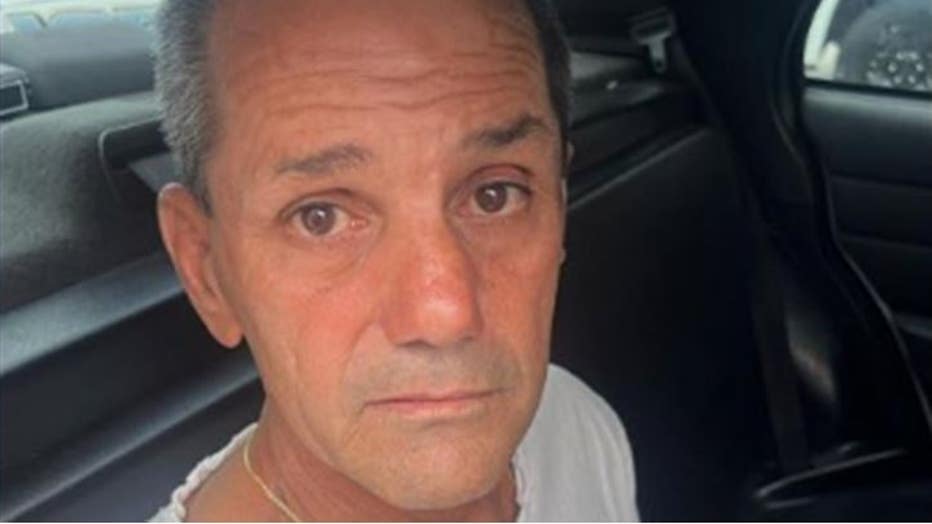 Luis Ruiz-Herrera is pictured following his arrest by the Miami Springs Police Department. (Miami Springs Police Department)
MORE FLORIDA NEWS:
In another recent road rage incident in Florida, a man was arrested after he hurled a rock through another car's window, hitting another driver in the face, the Flagler County Sheriff's Office said. 
Police said in a social media statement in mid-August that a man contacted officials while traveling eastbound on State Road 100, saying that a man in his mid-30s, driving a Ford F-150 pickup truck, had pelted a rock at his vehicle. 
The golf-ball-sized rock sailed in through the victim's open window, hitting the windshield before bouncing off the dash and hitting the other driver square in the face. 
"Even though it may seem relatively minor, the rock could have caused significant injury," Flagler County Sheriff Rick Staly said at the time. "Drivers need to remember to control their anger and don't escalate incidents. Call us instead and let our deputies investigate the situation." 
Fox News' Sarah Rumpf-Whitten contributed to this report.