Louisville bank shooting body cam video released by police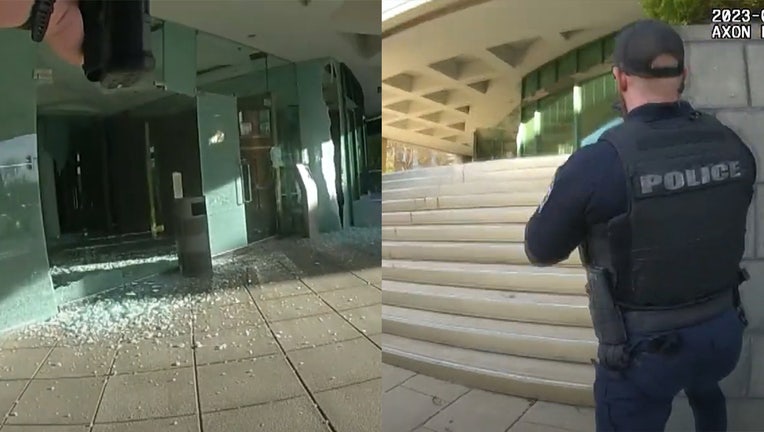 article
Body cam footage from a mass shooting at a bank in Louisville, Kentucky, was released on Tuesday, just one day after the incident. 
The footage, which was shown during a news conference, showed different perspectives from several officers and a bystander near the scene.  
According to a timeline that was shown before the initial body cam footage, Louisville Metro police officers arrived at the bank at 8:41 a.m. local time.  
Upon arrival, the gunman began to shoot at officers.  
Just five minutes after officers initially arrived at the scene, the gunman was taken down by Officer Corey Galloway, according to the department's timeline.  
Galloway's body camera shows him perched behind a stairway outside the building after rookie Officer Nickolas Wilt was wounded. He waits and as other officers arrive, more gunshots are heard and Galloway fires then shouts that he thinks the shooter is down. 
Editor's note: Warning, video may contain graphic content. Viewer discretion is advised. 
Louisville Mayor Craig Greenberg said it was crucial to release the 9-minute video because "transparency is important — even more so in a time of crisis." 
Earlier on Tuesday, Louisville Metro Police Department Chief Jacquelyn Gwinn-Villaroel said Wilt, who was shot in the head while responding to the mass shooting, remained in critical but stable condition Tuesday morning. 
"It's looking hopeful," Gwinn-Villaroel told WDRB-TV about Wilt, who had graduated from training just 10 days earlier. 
RELATED: "I just swore him in": Officer injured in Louisville bank shooting had just graduated from police academy 
She said Wilt and other officers "unflinchingly" engaged the shooter, 25-year-old Connor Sturgeon, at Old National Bank and stopped him from killing more people. 
The body cam video release comes one day after Sturgeon, who worked at the Old National Bank, opened fire on employees on April 10.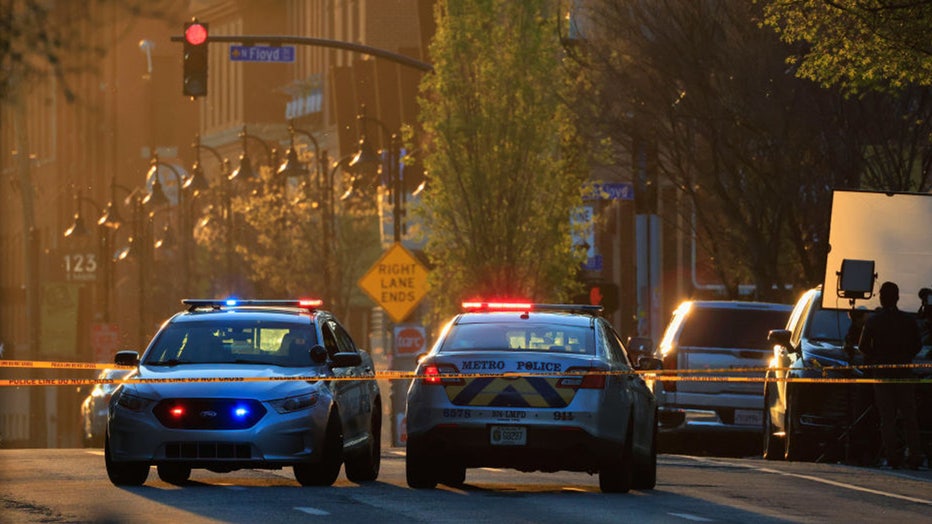 FILE - Police cars and cordon tape block Main Street near the Old National Bank after a mass shooting in Louisville, Kentucky. (Jeremy Hogan/SOPA Images/LightRocket via Getty Images)
Armed with a rifle, Sturgeon killed five people — including a close friend of Kentucky's governor — while livestreaming the attack on Instagram, authorities said. Another eight people were wounded. 
Sturgeon bought the AR-15 rifle legally on April 4 and targeted certain people in the attack, according to officials. 
Four of the injured remained hospitalized Tuesday — one in critical condition and three in stable but fair condition, University of Louisville Hospital said in a statement. 
RELATED: Louisville bank shooting: What we know about the victims 
Kentucky Gov. Andy Beshear said he lost one of his closest friends in the shooting. 
"Tommy Elliott helped me build my law career, helped me become governor, gave me advice on being a good dad," said Beshear, his voice shaking with emotion. "He's one of the people I talked to most in the world, and very rarely were we talking about my job. He was an incredible friend." 
Also killed in the shooting were Josh Barrick, Jim Tutt, Juliana Farmer and Deana Eckert, police said.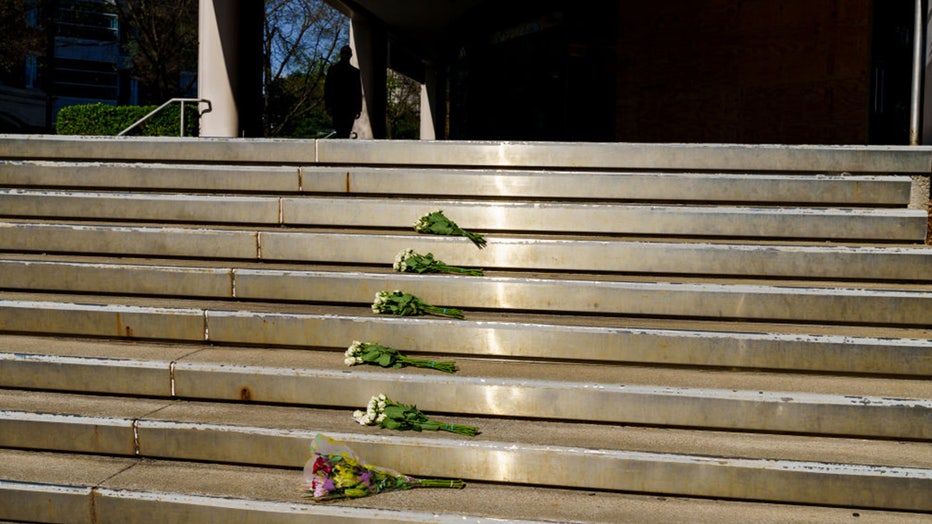 FILE - Bouquets of flowers lay at the entrance of the Old National Bank for the victims of the mass shooting on April 11, 2023 in Louisville, Kentucky.  (Michael Swensen/Getty Images)
"There are no words to adequately describe the sadness and devastation that our Old National family is experiencing as we grieve the tragic loss of our team members and pray for the recovery of all those who were injured," Old National Bank CEO Jim Ryan said in a statement. 
Greenberg told WDRB-TV that his focus moving forward would be on trying to unify residents in the city. 
"We can't let the targeted acts of evil violence that we saw yesterday in our city deter us from continuing on the path to make our city the vibrant, safe, strong healthy city that we all know it can be and all want it to be," he said. 
The shooting, the 15th mass killing in the country this year, comes just two weeks after a former student killed three children and three adults at a Christian elementary school in Nashville, Tennessee, about 160 miles to the south. That state's governor and his wife also had friends killed in that shooting. 
The Associated Press contributed to this report. This story was reported from Los Angeles.