FDNY: Lithium battery caused fatal fire in Queens that killed a 93-year-old woman
QUEENS - The FDNY said the fire that killed a 93-year-old woman in Ozone Park, Queens on Friday, was caused by a lithium-ion battery.
Officials said the fire broke out just after 1:30 p.m. at a two-story building on 101st Avenue.
Two others were injured, including a firefighter who is now in stable condition.
Officials said a lithium battery was also the cause of a sperate fire that broke out in the Bronx on Friday. 
RELATED: Feds consider cracking down on e-bikes after battery explosions cause deadly fires
RELATED: Company recalls 190,000 portable chargers following fire on plane
Lithium-ion battery safety
So many fires are started by lithium-ion batteries that the FDNY has a PSA with safety tips. 
Here is a summary of the tips:
Don't charge a device under your pillow, on your bed, or near a couch
Always use the manufacturer's cord and power adapter
Keep batteries and devices at room temperature; don't place them in direct sunlight
Store batteries away from anything flammable
Stop using a battery if it overheats, leaks, emits an odor, or changes shape or color
Don't leave e-bikes/e-scooters unattended while charging
Don't charge e-bikes/e-scooters overnight
Don't throw rechargeable batteries in the trash or recycling; you must dispose of them at a facility that handles batteries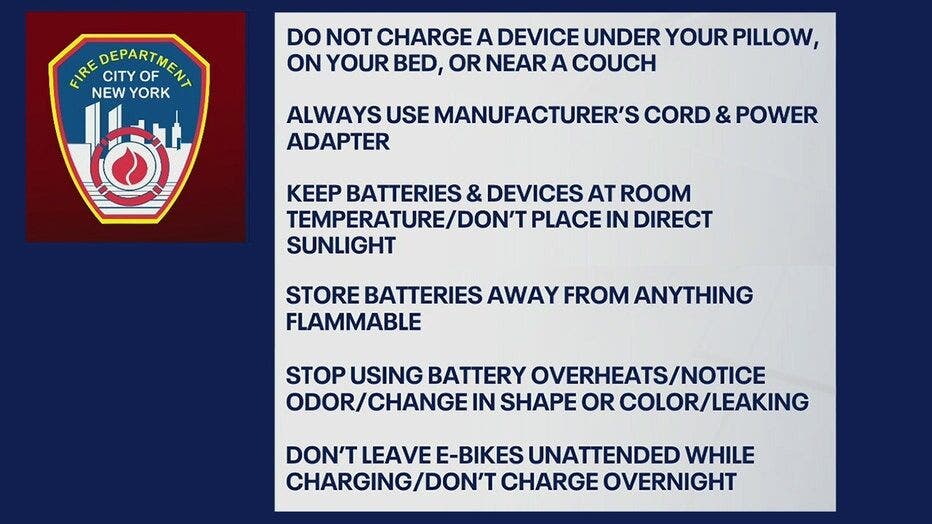 The FDNY and FDNY Foundation safety tips for handling and using lithium-ion batteries.