Lifeguard shortage has parents and beachgoers on edge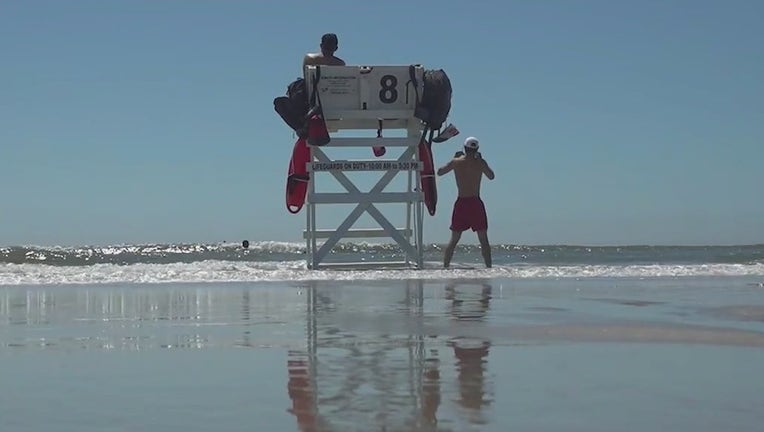 article
NEW YORK - New York's public beaches are officially open. 
But beware -- the city only has about a third of the lifeguards needed to safeguard the 14 miles of sand and surf.  
Rockaway Beach just opened this Memorial Day Weekend. But already parent Chris Westcott has a plan.  
"We're a group of families that live out here all summer," Westcott said. "We look after our own kids." 
On this Sunday, with the heat hovering around 70 degrees, keeping an eye on the kids is still easy. But Westcott admits, once summer hits, and the crowds come-- relaxation will be out of the equation.
"The more people that come out, the harder it is because there's so many kids," Westcott said. 
But there's not enough of them. The Parks and Rec Department has less than 500 lifeguards right now. 
They're hoping to get to at least 900, the number they had last year which allowed them to open all pools and beaches,  with minor cut backs.
"I remember when I was a kid, I was like 6. And it was the first time I got tumbled by a wave," said Alex Moyano, a former NYC lifeguard.  
Moyano's own frightening experience with the waves compelled her to become a strong swimmer. 
"It was crazy," Moyano said. "I still remember to this day. I managed to get out of the wave. And I looked around and no one saw what was happening. Not my parents, no lifeguards, I was like damn, I could have died." 
She knows the additional eyes safeguarding the shoreline is vital. But post-pandemic, the pool of applicants dried up. And nationwide cities are still finding them hard to replenish.  
"Increase the pay a little bit so that people have more of an incentive to do it," Westcott said.
The Parks and Rec Department has already raised the hourly rate from $16 to $21. But not everyone can apply, you have to be able to pass a written and physical test beforehand.