Fat Joe reflects on the life and legacy of the late rapper Big L
NEW YORK - All this year, FOX 5 is commemorating 50 years of hip-hop. Now, we're shedding light on a Harlem-bred rap legend whose life was tragically short-lived. 
Big L, the rapper renowned as 'the favorite rapper of your favorite rapper', had a short but promising career, before dying in a fatal shooting in Harlem.
Big L, born Lamont Coleman, was the embodiment of lyrical prowess in the chronicles of hip-hop history. His artistry shone brightest during the 90s - the golden era of East Coast rap, characterized by intricate and complex wordplay.
With his debut album 'Lifestyles ov da Poor and Dangerous' and the iconic track 'Put it On,' Big L was swiftly rising to the pinnacle of the industry.
Rap legend Fat Joe vividly recalls Big L's first-ever stage performance saying: "The crowd went wild. He was witty…his lyrics were incredible."
Alongside Fat Joe, Big L was a key component of the hip-hop collective, 'Diggin in the Crates Crew.' Their collaboration, 'Da Enemy,' remains etched in the memories of hip-hop aficionados.
Fat Joe shares an inside story: "He asked me to jump on some tracks with him, but he had a condition. He wanted me to pen the lyrics in his presence, joking that he'd 'take all your fans.' He was my little brother - always funny. I did write in front of him, and that record is probably my favorite."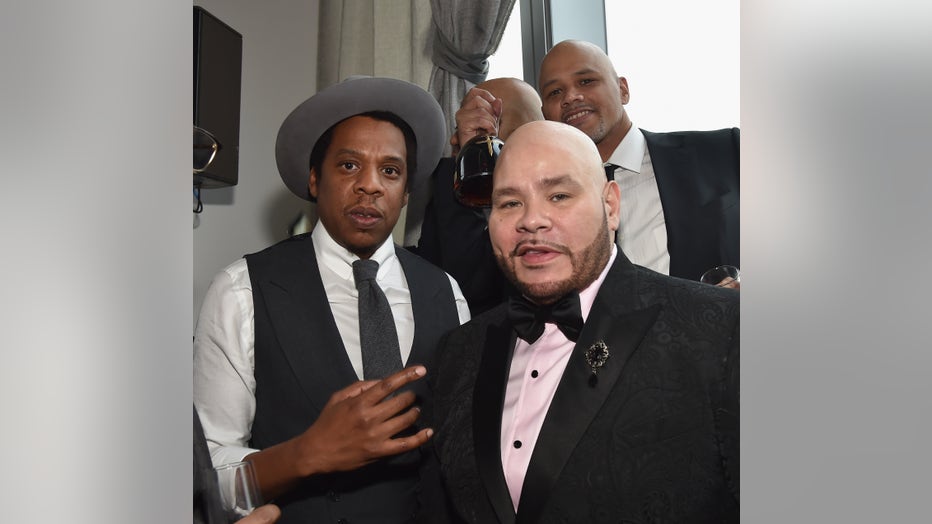 Jay-Z and Fat Joe attend Roc Nation THE BRUNCH at One World Observatory on January 27, 2018 in New York City. (Photo by Kevin Mazur/Getty Images for Roc Nation)
Big L's legendary freestyle battle with Jay-Z was another career highlight, with Fat Joe encouraging viewers to look it up: "He and Jay-Z freestyled for an hour straight on the Stretch and Bobbito Show."
Tragically, Big L's ascent to stardom was abruptly halted. On February 15, 1999, he was shot nine times in a drive-by shooting on the very streets he grew up on. 
His legacy remains irreplaceable. 
To honor him, West 140th Street and Lenox Avenue in Harlem was renamed after the late rapper last summer, remembered fondly by fans, family, and friends, including fellow rapper Herb McGruff.
Big L's story also tragically underscores the rampant gun violence in the city. His niece, Laniqua Phinazee, laments the tragedy that has struck their family.
"My uncle lost his life to gun violence. Three years later, my father was murdered, then two years ago, my brother was murdered - all on the same block," she shares, a poignant reminder of the stark realities faced by too many in NYC.
The man long suspected of in the fatal shooting of Big L was Gerard Woodley. 
Ironically, Woodley himself was killed in a shooting incident in Harlem. Woodley, 46 at the time of his death, was shot in the head and back in front of his home on W. 139th St., near Malcolm X Blvd. 
Woodley had been accused of three separate murders during the 1990s, including the murder of Big L, but was never convicted in that particular case.
In the face of such immense loss, Big L's legacy continues to resonate in the community he called home. 
The street renaming serves as a beacon of inspiration, a potent reminder of his profound influence on the world of hip hop and beyond. 
Fat Joe, reflecting on the significance of this gesture, speaks to its potential to motivate the youth of Harlem.
"I think it just offers hope and inspiration to young kids that pass that corner sign every day... they could look at it and know he came from that same neighborhood. And he could rise to stardom, and they can too in any way—it doesn't have to just be rap or shooting hoops. It could be an entrepreneur, it could be a president, a CEO," Fat Joe said.
His life was cut tragically short, but Big L's voice remains unforgotten, his story echoing through the long arc of hip-hop history.