Maine shooting victims: 'Hero' bar manager, volunteer youth bowling coach among deaths
The 18 people killed in two mass shootings in Lewiston, Maine, included a 14-year-old bowler, a shipbuilder who loved playing the game of cornhole and a sign language interpreter.
According to Maine State Police, seven people died Wednesday night at Just-In-Time Recreation bowling alley. Six were male and one was female. Eight more people, all male, died at Schemengees Bar and Grille. Three others died after being taken to hospitals.
A police roadblock is set up on the road leading towards Sparetime Recreation in Lewiston, ME, Thursday, October 26, 2023. The establishment was the scene of a mass shooting last night. (David McGlynn for Fox News Digital)
BILL AND AARON YOUNG
Bill Young, 44, of Winthrop, had taken his 14-year-old son, Aaron, to play in a youth bowling league at Just-in-Time Recreation. Both died.
"Bill was a man dedicated to his family," his cousin, Kim McConville, told The Associated Press via social media. "He was a master auto mechanic. Always trying to be a funny guy."
Aaron was an avid bowler who had received recognition from the youth league.
In a statement, the superintendent of Winthrop Public Schools confirmed that a high school freshman and his dad were among those killed. Jim Hodgkin's statement said an uncle of another high school student was also killed.
"This is tremendous tragedy for our area, our town, our students, and everyone. This is uncharted territory," Hodgkin said.
PEYTON BREWER-ROSS
Peyton Brewer-Ross was a dedicated pipefitter at Bath Iron Works who left behind a partner, young daughter and friends, members of his union said.
Brewer-Ross, of Bath, was doing something he loved — playing cornhole and enjoying friends — when he was shot to death, his brother said.
"He was a character. He didn't meet anyone he didn't like," Wellman Brewer said of his younger brother.
Brewer-Ross loved the game of cornhole so much that he brought out the angled boards and beanbags at family gatherings, his brother said.
He said his fun-loving brother, a shipbuilder at Bath Iron Works, was the life of the party.
"He has a Randy 'Macho Man' Savage Slim Jim jacket that he wore," Brewer said, noting the apparel choice that originated with a flamboyant professional wrestler. "Not too many people could pull that off."
Brewer-Ross and his fiancé, Rachael, had just celebrated the second birthday of their daughter, Elle, two weeks earlier.
"There's a hole in our family now where he used to be. And it's going to hurt for a while," Wellman Brewer said.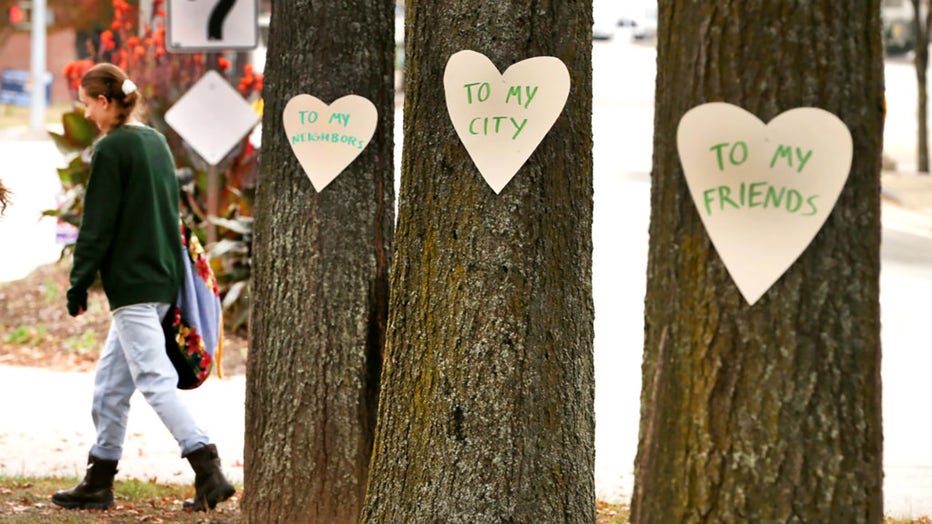 Lewiston, ME - October 26: Artist Miia Zellner walks away after nailing hearts she made to trees on Main Street the day after a mass shooting took place in the city. (Photo by John Tlumacki/The Boston Globe via Getty Images)
JOSHUA SEAL
Joshua Seal, a sign language interpreter, was shot and killed while playing in a cornhole tournament at Schemengees Bar with other members of the deaf community.
His wife, Elizabeth Seal, said in a Facebook post that he was "a wonderful husband, my best friend, and my soulmate. He was also a wonderful boss, an incredible interpreter, a great friend, a loving son, brother, uncle, and grandson."
"It is with a heavy heart that I share with you all that Joshua Seal has passed away… no, he was murdered, in the 10/25 shooting in Lewiston. It still feels surreal," she wrote.
ROBERT AND LUCEILLE VIOLETTE
Retiree Bob Violette, 76, and his wife Luceille, 73, died in the shootings. Bob devoted himself to his volunteer job coaching the youth bowling league that was practicing that night, said Patrick Poulin, whose teenage son has been a member for three years.
"He's taught so many people over the years how to bowl, and he wasn't getting paid," he said. "We've really been focused on trying to keep the sport alive, and Bob was really an integral part of that."
Poulin described him as unfailingly approachable and caring.
"Sometimes kids are having a hard time for whatever reason, discouraged or something," he said. "He was great at picking them up and getting them to move along from that issue and get things going in the right direction."
Two weeks ago, Poulin was at the bowling center with his son and offered him some tips. His son resisted, but eventually took the advice and bowled a great game.
"You gave him some good instructions, so when are you going to get out here and coach with me?" Violette asked him.
Poulin replied that he'd have to think about it. Asked Thursday if he'd consider it now, he said, "Someone's got to step back in."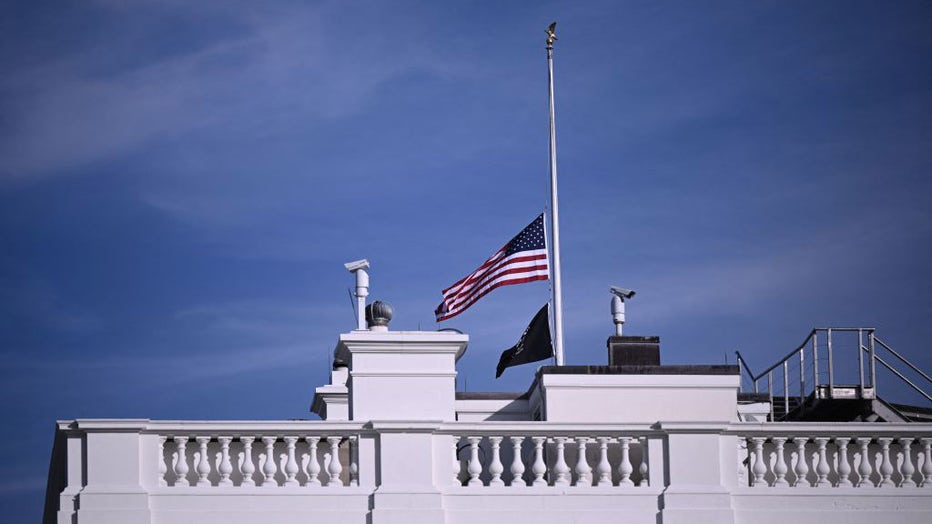 The US flag flies at half-staff atop the White House in Washington, DC, on October 26, 2023, after a gunman killed 18 people in Lewiston, Maine. (Photo by BRENDAN SMIALOWSKI/AFP via Getty Images)
MICHAEL DESLAURIERS
Michael Deslauriers' father told CBS News that his son was one of those killed at Just-In-Time Recreation. His father, who shares the same name, said his son and a friend both were killed as they charged at the shooter after making sure their wives and several children were safe.
JOE WALKER
Joe Walker was the bar manager at Schemengees Bar and Grille. His father, Auburn City Councilor Leroy Walker, told NBC News on Thursday that his son was shot twice in the stomach as he went after the shooter with a butcher knife.
"He died as a hero," he said.
Waiting for confirmation of his worst fears Wednesday night, Walker told the network he felt like his guts and neck were being "squashed."
"And I don't know, telling you the truth, what kind of night this is going to be from now until tomorrow when I wake up to the true facts that my son is dead — and I know he's dead," he said. "I know it as well as I know I'm standing here telling you because he's not here and he's not at any other hospital and he's not running the streets or he would have called us, because he manages Schemengees, so I know he was there."
TRICIA ASSELIN
Tricia Asselin worked part time at the Just-in-Time Recreation bowling alley. She had Wednesday night off, but went bowling with her sister.
When she realized shots were being fired inside the bowling alley, Asselin, 53, went to call 911, but was shot and killed, relatives said.
Asselin "had a great passion for life," and was a loving mother, "the most caring person there was," her mother, Alicia Lachance, told NBC News.
Asselin's cousin, Tammy Asselin, was at the bowling alley with her own daughter, Toni, who played in a youth bowling league on Wednesdays. They knew Tricia worked there, but they hadn't seen her yet that night.
When she heard the gunfire, Tammy Asselin couldn't find her daughter and then tripped on some bowling bags and fell. Tammy and others tried to hide, getting a table to flip over and act as a wall near a corner booth. Her daughter had gotten to an exit and was safe, she found later.
"I never prayed so hard in my life as I did that night," she said.
She was later told that Tricia didn't make it. She remembered her cousin as "the most fun person. She was always happy-go-lucky," according to ABC News.
ARTHUR STROUT
Arthur Strout was playing pool with his father at the bar. His son wanted to stay and play a couple more games, but his father, Arthur Barnard, left shortly before the shooting.
"I said, 'OK,' and he said 'I love you,' because all my kids tell me that every time we see each other," Barnard told CBS News. "Ten minutes later, I get a phone call."
Strout, 42, and his wife, Kristy, had a blended family of five children.
"He's helped me raise my children since they were very, very little," Kristy Strout told CBS. "His daughter's only 13 and without a dad because of all of this. Because of one man's choices, my daughter has to grow up without a father."
Strout was a family-oriented person who loved playing pool and cooking Italian food, Bonnie Caron, the mother of his 23-year-old son, told the AP.
"He was murdered doing something he loved," Caron said. "He was just all about having fun."
RELATED: Maine mass shooting personal for Bates College community, students recount experiences
___
Associated Press writers Alana Durkin Richer, Rhonda Shafner and Robert Bumstead contributed to this report.