Large crack in Iceland slices through Grindavik roads as volcanic eruption chances remain high
GRINDAVIK, Iceland – More residents of the evacuated seaside town of Grindavík are being allowed to quickly return to their homes to gather belongings on Tuesday, although the situation remains dangerous amid continued earthquake activity and a volcanic eruption is still considered to be likely, according to information from Iceland's Department of Civil Protection and Emergency Management.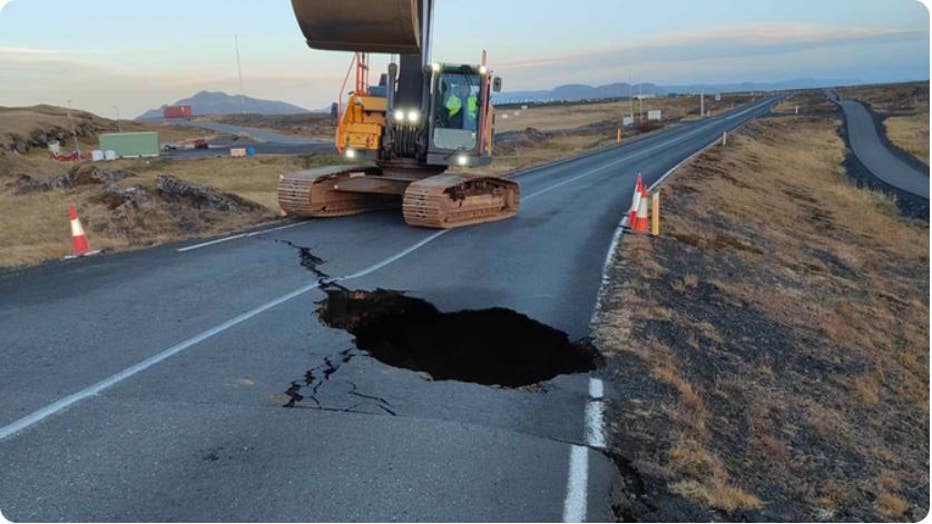 Fears of a volcanic eruption in Iceland remain amid thousands of earthquakes reported in the Grindavick area. (Facebook.com/Vegagerdin)
In Facebook posts, the department said that large cracks, as well as fire breaks, could form at any time, and under no circumstances will residents be allowed to enter dangerous zones in private vehicles. Instead, those who do reenter Grindavík will be accompanied by first responders.
Video and photos from the area show large cracks that have already formed across roads in and around Grindavík.
In addition, residents who returned to gather belongings and pets previously will not be allowed to reenter, and only those who have not previously gone back into town will be given the green light to return for 5 minutes before being escorted back to safety.
ICELAND RESIDENT DESCRIBED RELENTLESS EARTHQUAKES, MOMENTS OF PANICKED EVACUATION
Chance of volcanic eruption in Iceland remains high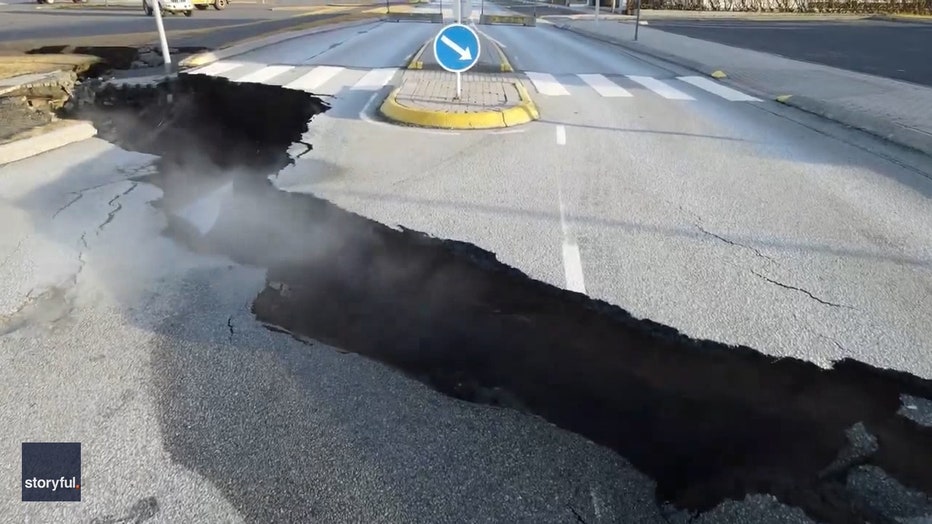 A large crack is seen cutting across a road in Grindavik, Iceland, amid fears that a volcano could erupt at any time. (Ragnar Visage via Storyful)
The Icelandic Meteorological Office (IMO) said on its website Tuesday that about 700 earthquakes have been reported in the region since midnight, with the largest a magnitude 3.1 at Hagafell. A magnitude 3.8 was recorded at Kleifarvatn late Monday night.
The IMO said most of the earthquake activity has been reported along the magma tunnel at a depth of about 1.86 miles to 3.1 miles.
Data shows that land deformation continues in the area – more than 3 feet in some spots – which is consistent with magma still flowing beneath the earth's surface.
WHAT HAPPENS BEFORE A VOLCANO ERUPTS?
Footage filmed by Ragnar Visage shows steam rising from a crack in the street and a nearby parking lot at the intersection of Austervegur and Stamphólsvegur streets in Grindavik. (Ragnar Visage via Storyful)
The IMO said that between Nov. 12-13, magma flow was measured at about 75 cubic meters per second and the depth was about a half-mile.
However, the IMO said those numbers were based on calculations and some uncertainty remains.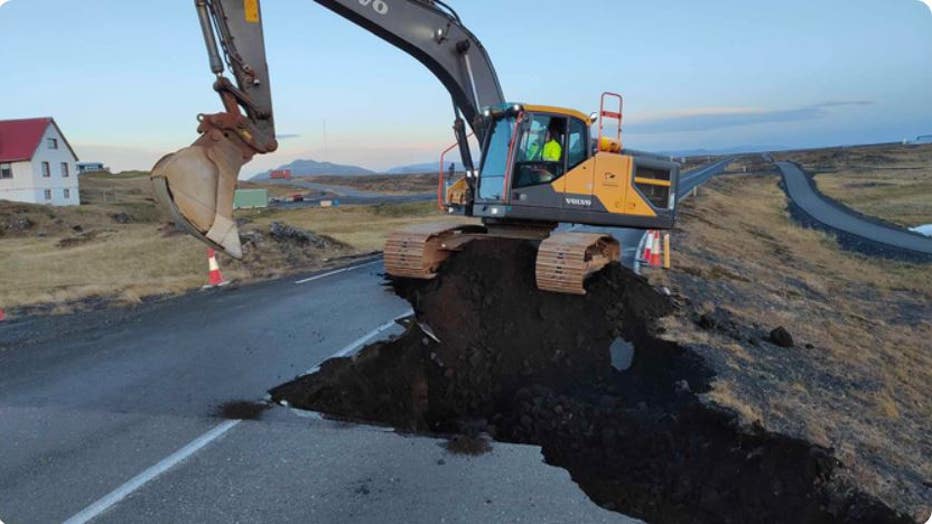 Several roads in and around Grindavik, Iceland, have been damaged due to large cracks that have formed. (Facebook.com/Vegagerdin)
"The probability of an eruption is therefore still high," the IMO said. "In the event of an eruption, the most likely location is at the magma tunnel. There is no evidence otherwise in the data."
New data also suggests that if the volcano does erupt in the Grindavík area, it is no longer thought to be explosive – which is good news for international air travel as toxic ash and smoke won't be released as high into the atmosphere.
CAN ONE VOLCANO'S ERUPTION TRIGGER AN ERUPTION AT ANOTHER VOLCANO?
Defense walls being built to protect infrastructure
National public service broadcaster RÚV reports crews have been gathering material from gravel quarries since Friday in preparation for the construction of defense walls that will surround important infrastructure to protect against threats of a likely volcanic eruption like lava flows.
Plans were approved overnight, and construction of defense walls surrounding the geothermal power plant in Svartsengi is expected to begin on Tuesday.
The excess water from the Svartsengi power plant is used to fill the popular tourist destination Blue Lagoon, which shut down operations on Nov. 9 due to fears of a volcanic eruption in the area.