LAPD: No evidence that man busted with cache of weapons, ammo in Hollywood was plotting mass shooting
LOS ANGELES - A 25-year-old man is behind bars after police say he had a sniper rifle and a cache of other weapons in his Hollywood high-rise apartment. 
When the Los Angeles Police Department first found a sniper rifle, two assault rifles and a "thousand of rounds" of ammo from the home of Braxton Johnson, both the public – and the police – initially feared Johnson may have been plotting a possible mass shooting. But after a series of investigation, LAPD announced Thursday night that there were "no indications that any persons were threatened with a firearm nor have [LAPD] identified any intent by Johnson to plan a mass shooting incident."
LAPD's revelation comes a day after officials thanked the public and security staff for preventing a possible mass shooting from taking place.
On Wednesday, the Los Angeles Police Department initially responded to a call of a man possibly suffering from a mental health crisis, saying the security guards at the high-rise building located at Sunset Boulevard and Gordon Avenue reported a resident had been making threats. Officers then searched the 25-year-old suspect's Hollywood home and found all the aforementioned weapons on the 18th floor – where he lives.
The apartment had large windows with a non-obstructed view of the Gordon Street Park downstairs, and some of the rifles were pointed down, outside the windows, LAPD Lt. Leonid Tsap said during a press conference Wednesday. 
One neighbor said Johnson had mentioned he had a military background and that Johnson believed the CIA was after him.
In addition to the sniper rifle and the assault rifles, LAPD also found a shotgun and three pistols. All the guns were unregistered. Johnson was arrested after the search. 
A day before LAPD walked back the possible mass shooting plot allegations, Tsap gave the public kudos for alerting police that something felt off when the 25-year-old suspect had allegedly suffered a mental health crisis.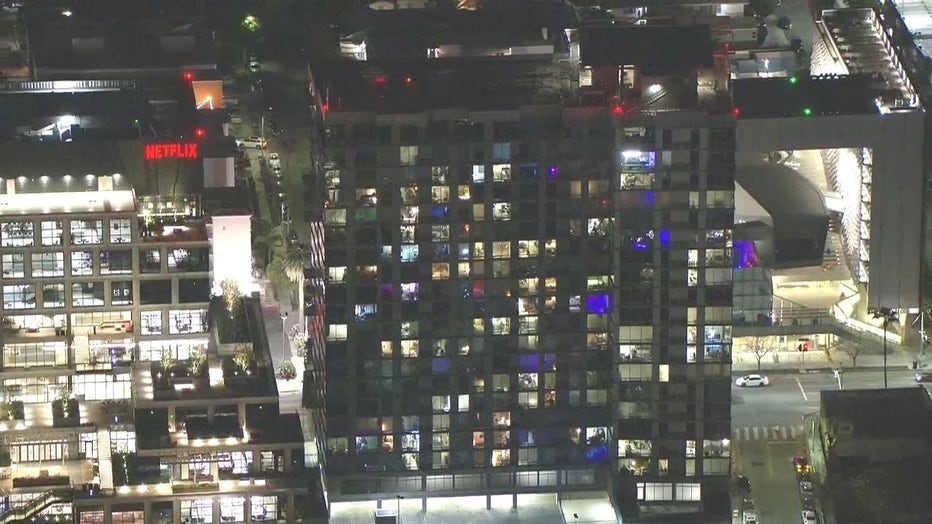 "They notified us and worked together with the police to bring this to a safe conclusion. It's a great police work and a great teamwork by community members and our police officers to take the suspect off the streets and possibly prevent something of a heinous crime like a mass shooting," Tsap said.
Johnson's bail was set at $500,000.
If you're in distress due to recent incidents of mass violence, please know that there is help is available. Talk to experienced counselors at the Disaster Distress Helpline for 24/7 emotional support. Call or text 1-800-985-5990. Click here for additional resources.