Lamar Odom has 'a lot of regrets' over relationship with Khloe Kardashian, TMZ's Harvey Levin reveals
LOS ANGELES - He became a legendary basketball star. He married a Kardashian. He divorced a Kardashian. He almost died. 
Lamar Odom, who has been in the spotlight for more than two decades, recently sat down with TMZ's Harvey Levin in an exclusive interview, where he opened up about his former, turbulent marriage to Khloé Kardashian, his sex and drug addiction, and the highly-publicized overdose that landed him in a coma. 
In the special, "TMZ Presents: Lamar Odom: Sex, Drugs & Kardashians," airing Monday night, Levin told FOX Television Stations that Odom wanted to open up due to the negative narrative surrounding the 43-year-old. 
"He has a lot of regret and introspection," Levin told FOX. "He wanted to open up about that, so we can move on, and people could understand him better."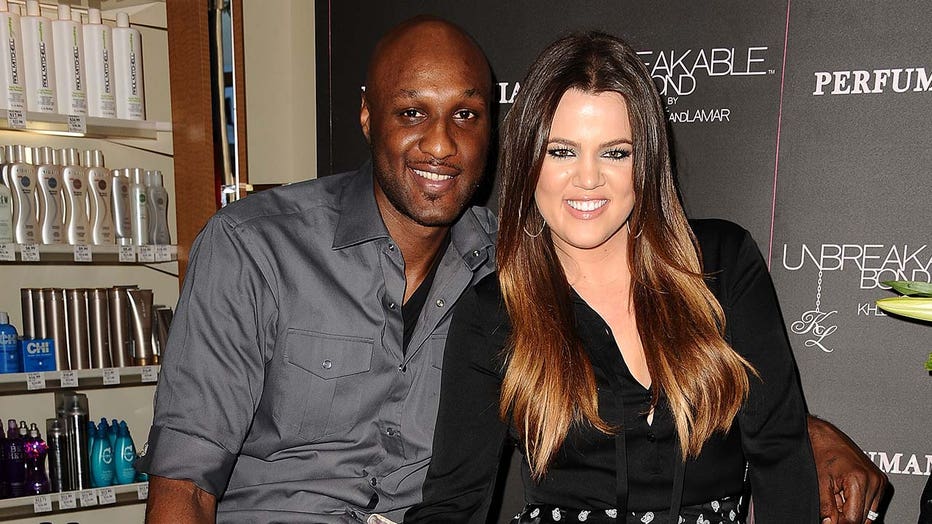 Lamar Odom and Khloe Kardashian make a personal appearance at Perfumania on June 7, 2012 in Orange, California. (Photo by Jason LaVeris/FilmMagic)
The former NBA basketball player, who previously battled substance abuse, married Kardashian in 2009 but split from her in 2015.
"Khloé was the love of his life and he has a lot of regrets about what he did," Lamar shared, adding that Odom would be in a relationship with her if she took him back.
Levin noted that Odom hasn't "really" had any contact with Kardashian since their divorce but "would like to." The former couple finalized their divorce in Dec. 2016.
Former NBA player Lamar Odom at Nickelodeon's 2017 Kids' Choice Awards at USC Galen Center on March 11, 2017 in Los Angeles, California. (Photo by Emma McIntyre/Getty Images)
After their split, Odom famously went on a four-day bender and was found unresponsive at a Nevada brothel, suffering numerous strokes, seizures and two instances of his heart stopping.
"He insists that the day he almost died by overdosing at that brothel, he did not consume those drugs voluntarily. He believes somebody tried to murder him," Levin revealed. 
Odom has previously alleged that the brothel's owner Dennis Hof — or someone working for Hof — was responsible for his hospitalization.
Although he didn't name Love Ranch brothel, where he overdosed, during the interview, he has previously alleged that owner Dennis Hof — or someone working for Hof — was responsible for his hospitalization.
"I think Dennis Hof… I don't know what he had against me, but I didn't do drugs that night, to be honest with you," he claimed on "The View" in 2019. "So I don't know if he tried to poison me, or … I don't know what he had against me. He tried to kill me."
RELATED: Harvey Levin discusses documentary 'Lamar Odom: Sex, Drugs & Kardashians'
Hoff died of a heart attack in 2019. 
Levin said he was surprised by Odom's honesty during his interview, adding that he has rebounded in a spectacular way. 
"He was as honest as anybody I've ever interviewed. It was stunning to me," Levin continued.
The special premieres Monday, Jan. 2 (9:00-10:00PM ET/PT) on FOX.
This station is owned by the FOX Corporation.
About the writer: Stephanie Weaver is a Los Angeles-based journalist. She is a host of the national streaming show, LiveNOW from FOX, and is a digital reporter for FOX TV. Find her on Facebook and Instagram at @StephWeaverTV.