Key Super Bowl party food will be cheaper than last year
This year's Super Bowl party will not be cheap by any means with inflation for food at home up 11.8%. However, football fans may be delightfully surprised that "key Super Bowl food" costs are down compared to a year ago, according to a new report from economists at Wells Fargo.
"Between expanding supply in some key areas and weaker demand, retail prices are moderating faster than many expected. Transportation costs in particular have dropped from their peak prices which is a big part of food costs," Dr. Michael Swanson, led author of the Wells Fargo report, told FOX Business. 
For instance, wings which have almost become synonymous with Super Bowl parties, are down 22% from last January. This is due in part because of poultry producers ramped up supply significantly even in the fact of higher feed costs, according to the Wells Fargo report.
The USDA weekly report pegged whole chicken wing prices at $3.38 a pound during the week of the Super Bowl last year, the report continued.  As of Jan. 6, the price is hovering at $2.65 per pound, which Swanson says is "a nice pickup from the price of a year ago."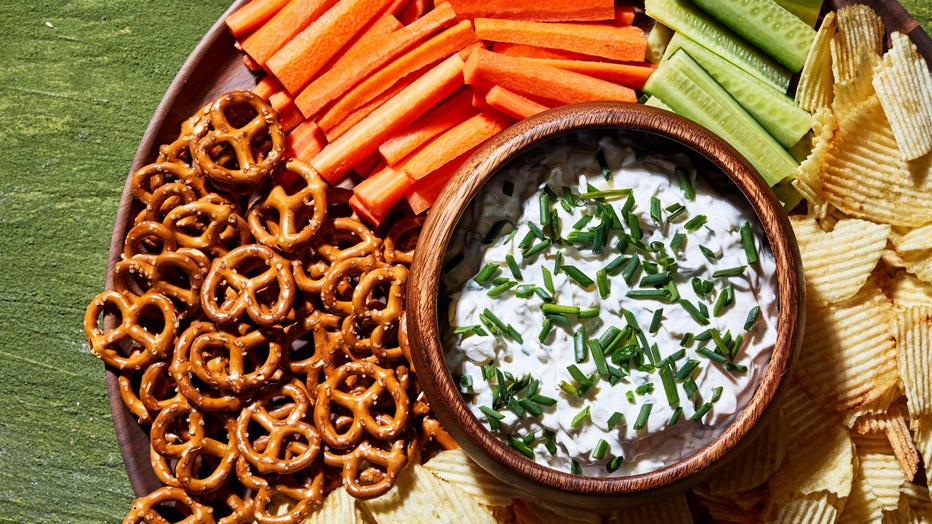 WASHINGTON, DC-JANUARY 24 2019: Super bowl party recipes; Sweet onion and chive dip, La Brea Tar pit chicken wings, and seafood chowder photographed for Voraciously at The Washington Post via Getty Images in Washington, DC. (Photo by Stacy Zarin Gold
Meanwhile, avocados were down 20% in December compared to a year earlier, the report continued. 
"At last year's Super Bowl, avocados saw a last-minute setback with a Mexican supply kerfuffle blocking them at the border," Swanson said. "This year a strong crop due to increased plantings and excellent management has improved their supply." 
Additionally, Swanson noted that sirloin, ground beef and pork chops also "remain good buys." 
Prices for sirloin steak also dropped nearly a $1 per pound in December compared to a year earlier, Swanson reported, citing recent retail data. 
Although hamburgers are slightly more expensive than this time last year, prices are still lower from their high point during the Fourth of July, according to the report. 
INFLATION GAUGE CLOSELY WATCHED BY THE FED COOLED IN DECEMBER, BUT PRICES REMAIN HIGH
Shrimp is also a good buy for the game given the fact that low demand has dampened prices, according to Swanson. 
"Last year's higher prices pushed consumers to be less enthusiastic about buying shrimp," Swanson said. "With demand down, wholesalers find themselves with full freezers and coolers." 
To help, they have started to drop prices. 
RELATED: Super Bowl Snackday: 70 percent of fans stick to appetizers on gameday
"The retail prices have certainly felt the downside pressure, but they haven't passed all the savings along just yet.," he added.  
Beverages are going to add up quickly, however, with beer jumping 11% in December from a year earlier. Meanwhile, wine and spirits were up 4% and 2%, respectively. 
"The biggest price increase in the cooler actually comes from the soft drink section," Swanson said, citing an uptick in ingredients and shipping costs. 
For its report, Swanson used recent data from the Bureau Labor Statistics Consumer Price Indices, the USDA Agriculture Marketing Service and Federal Reserve Economic Data.