Stolen Kia high-speed chase ends with crash off bridge in Minneapolis
MINNEAPOLIS (FOX 9) - A dramatic chase with law enforcement ended after a stolen Kia went over a bridge on Interstate 94 Friday morning. 
The Minnesota State Patrol said the chase began just before 7 a.m. when a trooper saw a driver in a stolen Kia going 94 miles per hour northbound on I-94 near Broadway Avenue in Minneapolis. 
The trooper attempted to make a traffic stop, but the driver accelerated and drove away from the trooper. The driver then exited 49th Avenue from northbound I-94 and lost control of the vehicle.
The vehicle flipped over the overpass bridge and then rolled once, landing on all four wheels. One person can be seen on video exiting the vehicle door, and the other person climbs through the broken windshield. Both people then ran away from the crash scene.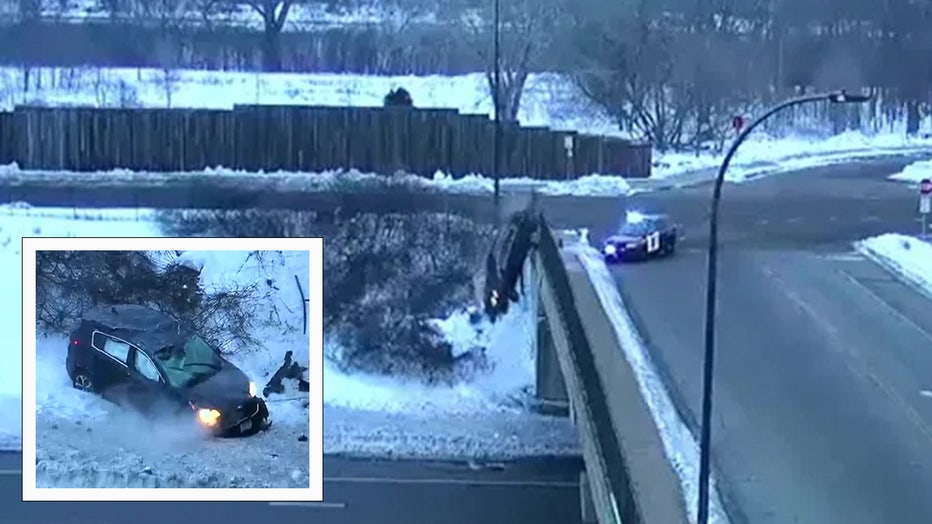 MnDOT traffic cameras caught a chase ending in a vehicle going over a bridge on I-94 near Broadway Avenue. Two juveniles were taken into custody. (MnDOT)
Law enforcement assisted in the search and located the two juveniles. They were taken into custody without incident.
The Minnesota State Patrol said the injuries in the crash were non-life threatening. They did not specify who was injured or the extent of the injuries. 
The crash remains under investigation. 
The Twin Cities had 3,293 reported Kia or Hyundai thefts in 2022. Minneapolis had an 893% theft increase in Kia and Hyundai, while St. Paul had a 611% increase over the last year. 
In Minneapolis stolen Kia or Hyundai vehicles were connected to five homicides, 13 shootings, 36 robberies and 356 accidents in 2022.