John Legend calls for regulation on AI-generated music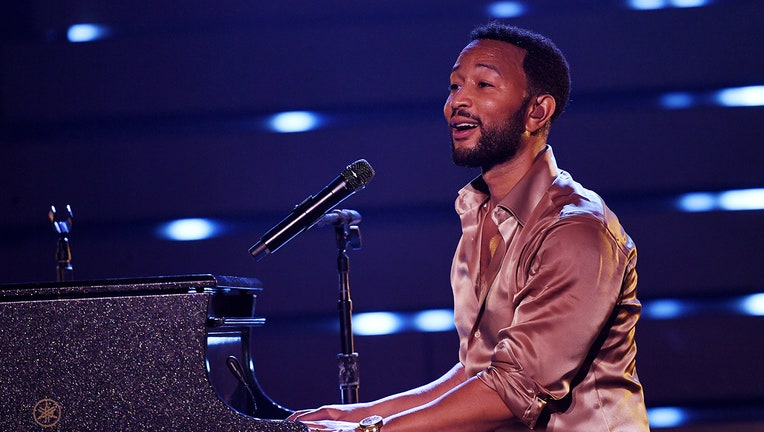 article
Grammy Award-winning singer, songwriter and producer John Legend is calling for regulation on artificial intelligence in the music industry after a duped Drake and The Weeknd song using AI tools went viral. 
During The TIME100 Summit in New York City on Tuesday, Legend, who has collected numerous accolades and achieved EGOT status – winning an Emmy, Oscar, Tony Award and several Grammys – spoke candidly about AI saying that although the technology will undoubtedly be a part of people's lives, there "needs to be some regulation when it comes to how this works." 
"I believe that our voices are our voices, and we should have control on how our voices are used out in the world," Legend told Time senior correspondent Charlotte Alter who specifically asked about the recent AI-generated track "Heart On My Sleeve." 
OPENAI SAYS CHATGPT FEATURE LETTING USERS DISABLE CHAT HISTORY NOW AVAILABLE
The song utilized artificial intelligence tools to dupe vocals from popular artists Drake and The Weeknd. The two never collaborated on the song.
The release of the song, which has reportedly been removed from social media and streaming platforms amid an uproar from label owner Universal Music Group, stirred up discussions about how the technology be responsibly used in the space. 
For one, Legend noted that no one should be able to make money off an artist's voice without their permission and no one should be using their voices to create content without their permission.   
"AI's going to be a part of our lives, and it's going to be something that kind of augments our own intelligence, our own collective intelligence. And that's fine," Legend said. "But when it comes to using someone's likeness, using their intellectual property, I believe our rights should still be protected."  
Not every artist is in agreement. Musician Grimes tweeted earlier this week that creators are free to use AI-generated versions of her voice "without penalty." 
"I'll split 50% royalties on any successful AI generated song that uses my voice," she tweeted. "Same deal as I would with any artist i collab with. Feel free to use my voice without penalty. I have no label and no legal bindings."
SPOTIFY'S DANIEL EK WEIGHS IN ON ARTIFICIAL INTELLIGENCE
However, after the "fake Drake" song hit the internet, Universal Music Group, the label of both artists, pushed back against this type of content creation. 
According to the Financial Times, UMG emailed streaming services including Spotify and Apple Music in March that it was aware that certain AI services were trained on copyrighted music "without obtaining the required consents" of the owner's permission. 
AI MUSIC WILL BRING UNCHAINED MELODIES TO YOUR EAR
Universal told FOX Business that its "success has been, in part, due to embracing new technology and putting it to work for our artists–as we have been doing with our own innovation around AI for some time already." 
Still, "the training of generative AI using our artists' music (which represents both a breach of our agreements and a violation of copyright law) as well as the availability of infringing content created with generative AI on DSPs [demand side platforms], begs the question as to which side of history all stakeholders in the music ecosystem want to be on," UMG said. "The side of artists, fans and human creative expression, or on the side of deep fakes, fraud and denying artists their due compensation." 
Legend is hoping that "regulatory bodies will catch up with the technology and do what is right to protect our intellectual property and our decision-making around how we use our image and our likeness." 
However, Legend noted that the one thing AI can't do is connect with audiences in the same way as artists can. 
GET FOX BUSINESS ON THE GO BY CLICKING HERE
"What makes you fall in love with a song? What makes you fall in love with an artist? And a lot of it is a personal connection," he said.
For example, Legend said Taylor Swift fans are buying tickets to her concert because they connect to her as an individual. 
"She's writing a song that they feel like relates to their lives and it makes them want to go experience the joy of being in a stadium with a bunch of other people that feel the same way. AI can't really do that, and I think that'll be job protection for us," Legend laughed.  
Representatives for Spotify and Apple Music did not respond to FOX Business' request for comment.