Sen. Joe Manchin, a West Virginia Democrat, says he won't seek reelection in 2024
WASHINGTON - Democratic Sen. Joe Manchin of West Virginia announced Thursday that he won't seek reelection in 2024, giving Republicans a prime opportunity to pick up a seat in the heavily GOP state.
Manchin, 75, said in a statement that he had made the decision "after months of deliberation and long conversations" with his family.
"I believe in my heart of hearts that I have accomplished what I set out to do for West Virginia," he said. "I have made one of the toughest decisions of my life and decided that I will not be running for re-election to the United States Senate, but what I will be doing is traveling the country and speaking out to see if there is an interest in creating a movement to mobilize the middle and bring Americans together."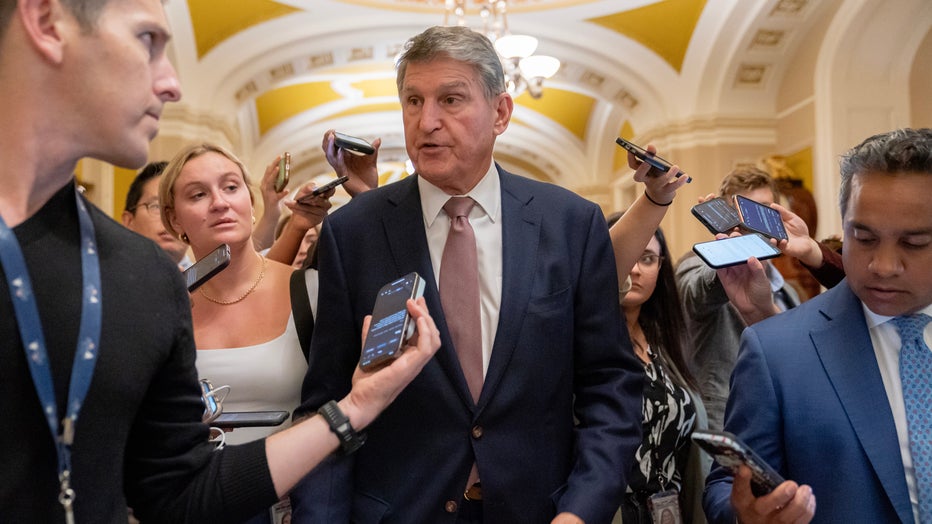 Sen. Joe Manchin (D-WV) speaks to members of the media outside the Senate Chamber on September 30, 2023 in Washington, DC. (Photo by Nathan Howard/Getty Images)
His decision to retire severely hampers Democratic hopes of holding on to the coal-country seat. For the last few years, Manchin has been the only Democrat elected to statewide office in West Virginia, a longtime politician who has served as governor, secretary of state and state legislator.
Republican challengers began clamoring for the Senate seat even before Manchin's announcement, with GOP Rep. Alex Mooney jumping in the race less than two weeks after winning his fifth term in the House in November. Republican state Attorney General Patrick Morrisey, who unsuccessfully challenged Manchin in 2018, has hinted at another Senate run but has yet to make an announcement.