Jimmy Carter turns 99 at home with Rosalynn and other family as tributes come from around the world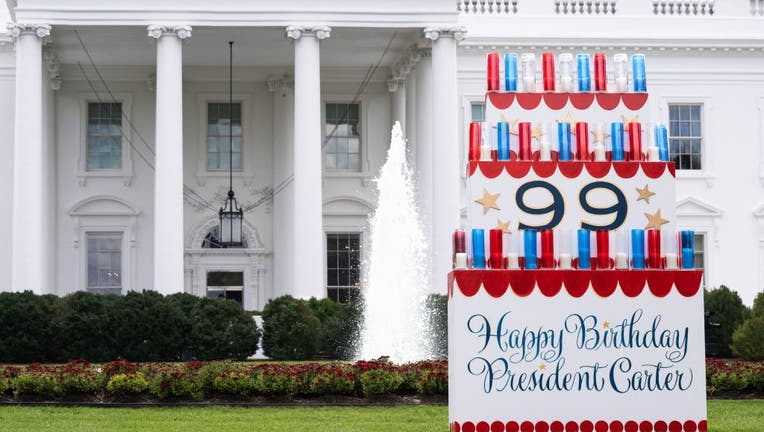 article
PLAINS, Ga. - Jimmy Carter has always been a man of discipline and habit. But the former president broke routine Sunday, putting off his practice of quietly watching church services online to instead celebrate his 99th birthday with his wife, Rosalynn, and their children, grandchildren and great-grandchildren in Plains.
The gathering took place in the same one-story structure where the Carters lived before he was first elected to the Georgia Senate in 1962. As tributes poured in from around the world, it was an opportunity for Carter's family to honor his personal legacy.
"The remarkable piece to me and I think to my family is that while my grandparents have accomplished so much, they have really remained the same sort of South Georgia couple that lives in a 600-person village where they were born," said grandson Jason Carter, who chairs the board at The Carter Center, which his grandparents founded in 1982 after leaving the White House a year earlier.
Despite being global figures, the younger Carter said his grandparents have always "made it easy for us, as a family, to be as normal as we can be."
At The Carter Center in Atlanta, meanwhile, 99 new American citizens, who came from 45 countries, took the oath of allegiance as part of a naturalization ceremony timed for the former president's birthday.
"This is so impressive, and I'm so happy for it to be here," said Tania Martinez after the ceremony. A 53-year-old nurse in Roswell, Martinez was born in Cuba and came to the U.S. from Ghana 12 years ago.
"Now, I will be free forever," she said, tears welling.
Celebrating the longest-lived U.S. president this way was inconceivable not long ago. The Carters announced in February that their patriarch was forgoing further medical treatments and entering home hospice care after a series of hospitalizations. Yet Carter, who overcame cancer diagnosed at age 90 and learned to walk after having his hip replaced at age 94, defied all odds again.
"If Jimmy Carter were a tree, he'd be an towering, old Southern oak," said Donna Brazile, a former Democratic national chairperson and presidential campaign manager who got her start on Carter's campaigns. "He's as good as they come and tough as they come."
Jill Stuckey, a longtime Plains resident who visits the former first couple regularly, cautioned to "never underestimate Jimmy and Rosalynn Carter."
His latest resilience has allowed Carter a rare privilege even for presidents: He's been able to enjoy months of accolades typically reserved for when a former White House resident dies. The latest round includes a flood of messages from world leaders and pop culture figures donning "Jimmy Carter 99" hats, with many of them focusing on Carter's four decades of global humanitarian work after leaving the Oval Office.
Katie Couric, the first woman to anchor a U.S. television network's evening news broadcast, praised Carter in a social media video for his "relentless effort every day to make the world a better place."
She pointed to Carter's work to eradicate Guinea worm disease and river blindness, while advocating for peace and democracy in scores of countries. She noted he has written 32 books and worked for decades with Habitat for Humanity building houses for low-income people.
"Oh, yeah, and you were governor of Georgia. And did I mention president of the United States?" she joked. "When are you going to stop slacking off?"
Bill Clinton, the 42nd president and first Democratic president after Carter's landslide defeat, showed no signs of the chilly relationship the two fellow Southerners once had.
"Jimmy! Happy birthday," Clinton said in his video message. "You only get to be 99 once. It's been a long, good ride, and we thank you for your service and your friendship and the enduring embodiment of the American dream."
Musician Peter Gabriel led concertgoers at Madison Square Garden in a rendition of "Happy Birthday," as did the Indigo Girls at a recent concert.
In Atlanta, the Carter Library & Museum and adjacent Carter Center held a weekend of events, including the citizenship ceremony. The museum offered 99-cent admission Saturday. The commemoration there was able to continue Sunday only because Congress came to an agreement to avoid a partial government shutdown at the start of the federal fiscal year, which coincides with Carter's birthday.
Jason Carter said his grandfather has found it "gratifying" to see reassessments of his presidency. Carter's term often has been broad-brushed as a failure because of inflation, global fuel shortages and the holding of American hostages in Iran, a confluence that led to Republican Ronald Reagan's 1980 romp.
Yet Carter's focus on diplomacy, his emphasis on the environment before the climate crisis was widely acknowledged and his focus on efficient government — his presidency added a relative pittance to the national debt — have garnered second looks from historians.
Indeed, Carter's longevity offers a frame to illuminate both how much the world has changed over his lifetime while still recognizing that certain political and societal challenges endure.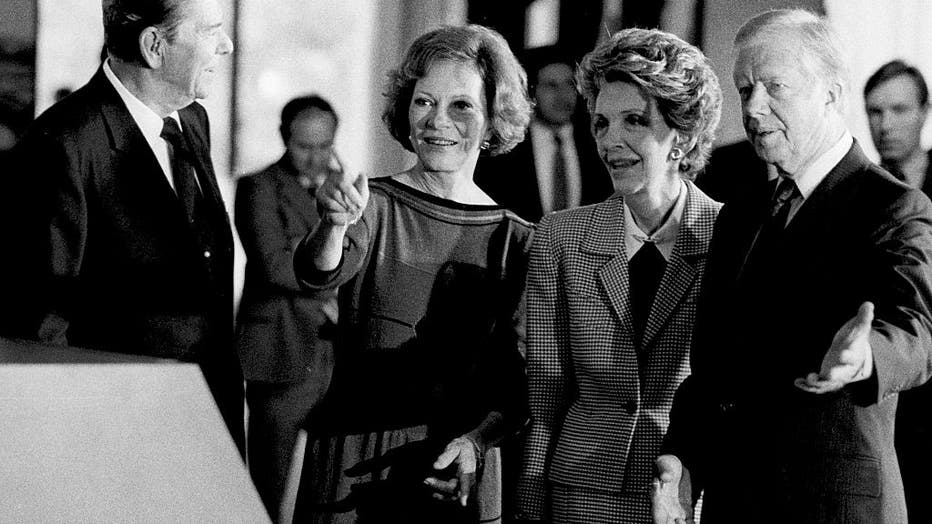 ATLANTA - October 1: President Ronald Reagan and First Lady Nancy Reagan join Former President Jimmy Carter and Former First Lady Rosalynn Carter at the Carter Center Presidential Center Dedication in Atlanta Georgia. October 1, 1986 (Photo By Rick D
The Carter Center's disease-eradication work occurs mostly in developing countries. But Jimmy and Roslaynn Carter were first exposed to river blindness growing up surrounded by the crushing poverty of the rural Deep South during the Great Depression.
The Center's global democracy advocacy has reached countries that were still part of various European empires when Carter was born in 1924 or were under heavy American influence in the decades after World War II. Yet in recent years, Carter has declared his own country to be more of an "oligarchy" than a well-functioning democracy. And the Center has since become involved in monitoring and tracking U.S. elections.
Carter has lived long enough finally to have a genuine friend in the Oval Office again. President Joe Biden was a young Delaware politician in 1976 and became the first U.S. senator to endorse Carter's campaign against better-known Washington figures. Now, as Biden seeks reelection in 2024, he faces the headwinds of inflation that Republicans openly compare to Carter's economy. Biden had a wooden birthday cake display placed on the White House front law to honor Carter.
The year Carter was born, Congress passed sweeping immigration restrictions, sharply curtailing Ellis Island as a portal to the nation. Now, the naturalization ceremony to mark Carter's 99th birthday comes as Washington continues a decades-long fight over immigration policy. Republicans, especially, have moved well to the right of Reagan, who in 1986 signed a sweeping amnesty policy for millions of immigrants who were in the country illegally or had no sure legal path to citizenship.
Carter also was born into Jim Crow segregation, at a time when the Ku Klux Klan marched openly on state capitols and in Washington. As governor and president, Carter set new marks for appointing Black Americans to top government posts. At 99, Carter's Sunday online church circuit includes watching Georgia's first Black U.S. senator, the Rev. Raphael Warnock, preach at Ebenezer Baptist Church in Atlanta. Yet, at the same time, some white state lawmakers in Carter's native region are defying the U.S. Supreme Court in an effort to curtail Black voters' strength at the ballot box.
(Original Caption) 6/4/1980-Washingron, DC- President Carter, at an impromptu news conference at the Oval Office, said he will meet with Senator Edward Kennedy tomorrow at the White House. Carter was asked if Kennedy seemed "conciliatory" in a telephone conversation they had and Carter laughed and said, "I wouldn't say that."
Jason Carter said understanding his grandfather's impact means resisting the urge to assess whether he solved every problem he confronted or won every election. Instead, he said, the takeaway is to recognize a sweeping impact rooted in respecting other people on an individual level and trying to help them.
"You don't get more out of a life than he got, right?" the younger Carter said. "It is a incredible, full rich life with a long marriage, a wonderful partnership with my grandmother, and the ability to see the world and interact with the world in ways that almost nobody else has ever been able to do."