Power outage: JFK Airport's Terminal 1 remains closed: 'It's a nightmare'
NEW YORK - A power outage in a Terminal 1 at John F. Kennedy International Airport stretched into a second day Friday after forcing some flights to be canceled or diverted, including one that was turned around and sent back to New Zealand after nearly making it to the U.S.
The airport operators said in a tweet late Thursday that Terminal 1, which handles some of the airport's international flights, would remain closed Friday "due to electrical issues."
The outage was caused by an electrical panel failure that led to a small fire, which was quickly extinguished, authorities said.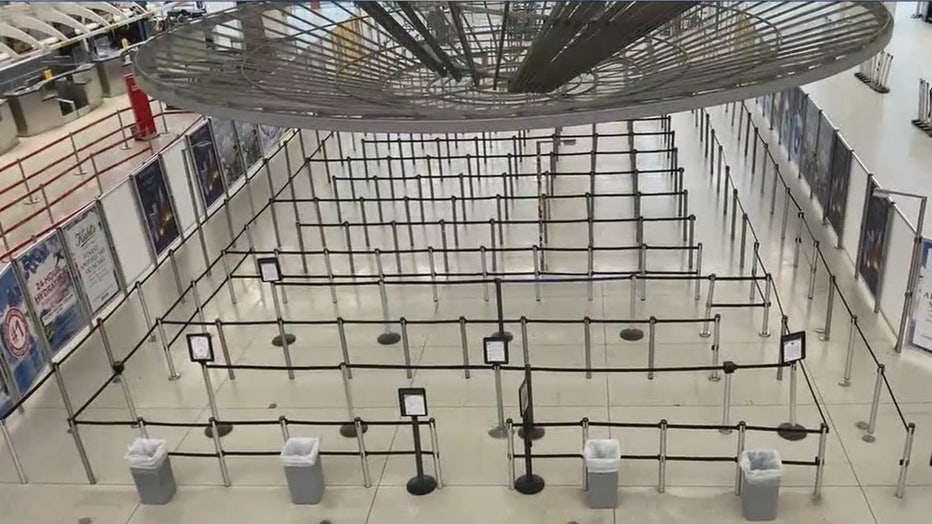 A look at an empty Terminal A at JFK Airport.
The Port Authority of New York and New Jersey, which runs New York's major airports, said it was working to accommodate affected flights at JFK's four other active terminals.
The agency did not provide any estimate of how many flights were canceled or diverted, but thousands of travelers were likely affected.
Yahayra Hunt and her husband were stuck in a hotel near the airport Friday after their flight to Rome was canceled Thursday. They're part of a group of 16 people who booked an 11-day tour to Italy and Israel.
"We actually have another agent trying to see if we can find another airport to fly out of," she said. "It's a nightmare."
Hunt, 46, said they would like to leave the hotel and see the city as they wait. But they don't want to risk missing a rescheduled flight.
"Being stuck in a hotel during your vacation is not fair at all," said Hunt, who owns a beauty salon in North Carolina.
Some planes were forced to return to their points of origin.
An Air New Zealand flight was two-thirds of the way across the Pacific Ocean when it had to make a U-turn and head back to Auckland. The flight landed back in New Zealand after more than 16 hours in the air.
Terminal 1 opened in the late 1990s. It is scheduled to be replaced by a new, $9.5 billion terminal now under construction. Groundbreaking was initially supposed to happen in 2020 but was delayed until last summer by the COVID-19 pandemic.
KAREN MATTHEWS and BEN FINLEY, with the Associated Press wire services, helped contribute to this report.