Columbia University Jewish students report rise in antisemitism, demand accountability
NEW YORK - Jewish students at Columbia University are condemning administrators for failing to provide protection or address what they say is a dangerous rise in antisemitism on campus.
This comes shortly after Cornell University's campus police were dispatched to a Jewish center after threatening statements against Jewish students appeared on an online discussion board.
 "I was once proud to say, 'I attended Columbia Law School,'" said Eli Shmidman, a Columbia law student. "And proud to one day say that I will be an alum of this institution, but no more. I'm embarrassed."
Demonstrations both in support of Israel and in support of Palestinians have roiled U.S. campuses since the war began, and both Jewish and Muslim students have complained of feeling isolated and unsupported by their universities.
Reports of hate crimes against both Jews and Muslims have increased. A 6-year-old Muslim boy was fatally stabbed and his mother was wounded in Illinois earlier this month, and the suspect was charged with a hate crime after police said he singled out the victims because of their faith.
Jewish students at Columbia University said they have been subjected to dozens of antisemitic incidents on campus.
These reports include a physical attack on an Israeli student, a student organization claiming "the Holocaust wasn't special," a swastika painted on a campus building and epithets yelled at students.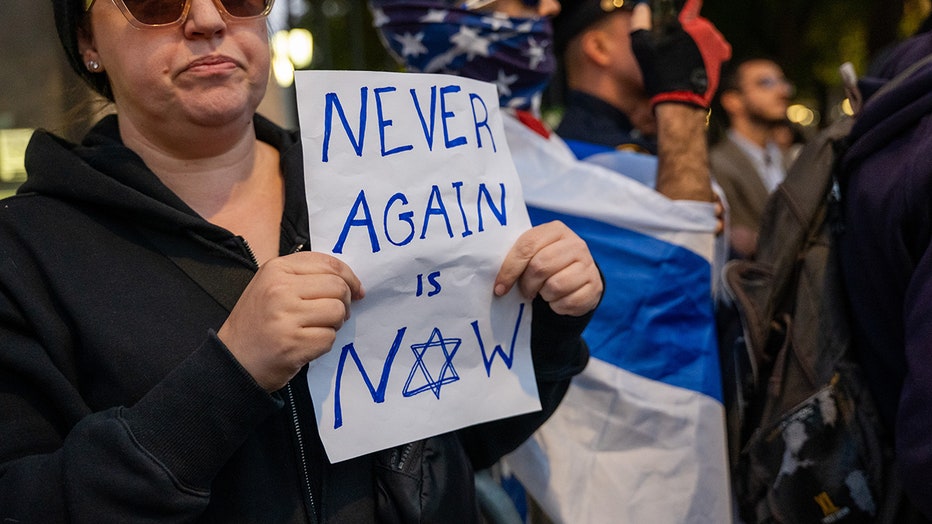 A woman participates in a rally at Columbia University in support of Israel in response to a neighboring student rally in support of Palestine at the university on October 12, 2023 in New York City. (Photo by Spencer Platt/Getty Images)
Shmidman also expressed anger in an open letter signed by professors that critics say did not go far enough to condemn Hamas.
"Really, are you serious? The rape murder and burning of children women in the elderly is a 'military response'?" he said.
New York Gov. Kathy Hochul pledged during a visit to Cornell's Center for Jewish Living on Monday that state police would work to identify anyone making online threats and hold them accountable.
"No one should be afraid to walk from their dorm or their dining hall to a classroom," she said. "When speech crosses over into hate speech and into hate crimes, that's when we have to make sure that students know that we'll step up and protect them."
But according to some of Columbia's Jewish students, the administration has not responded to the threats and intimidation they report, or issued consequences for the perpetrators.
The university responded, saying it's already put out three letters of support, writing Monday that the administration has "consistently made clear that antisemitism or any other form of hate are antithetical to Columbia's values and can lead to acts of harassment or violence."
"Words are not enough at this point," Shmidman said. "To say that they're against antisemitism is now totally irrelevant when you have students that now feel empowered and think that it is."
The Associated Press contributed to this report.