Israel-Hamas war: At least 25 US citizens killed, vital aid blocked ahead of possible ground invasion
JERUSALEM - The Israeli military pulverized the Hamas-ruled Gaza Strip with airstrikes and kept blocking deliveries of food, water, fuel and electricity Thursday ahead of a possible ground invasion as Palestinians tried to stock up on supplies.
Israel said that nothing would be allowed into Gaza until the release of around 150 hostages taken captive by Hamas during an unprecedented surprise attack Saturday into Israel that also left hundreds killed.
U.S. Secretary of State Antony Blinken vowed American support for Israel Thursday in a meeting with Israeli Prime Minister Benjamin Netanyahu.
International aid groups warned of a worsening humanitarian crisis after Israel prevented entry of supplies from Egypt to Gaza's 2.3 million people. The Israel-Hamas war has claimed at least 2,800 lives on both sides.
RELATED: Biden: Hamas attacks in Israel 'deadliest day for Jews since the Holocaust'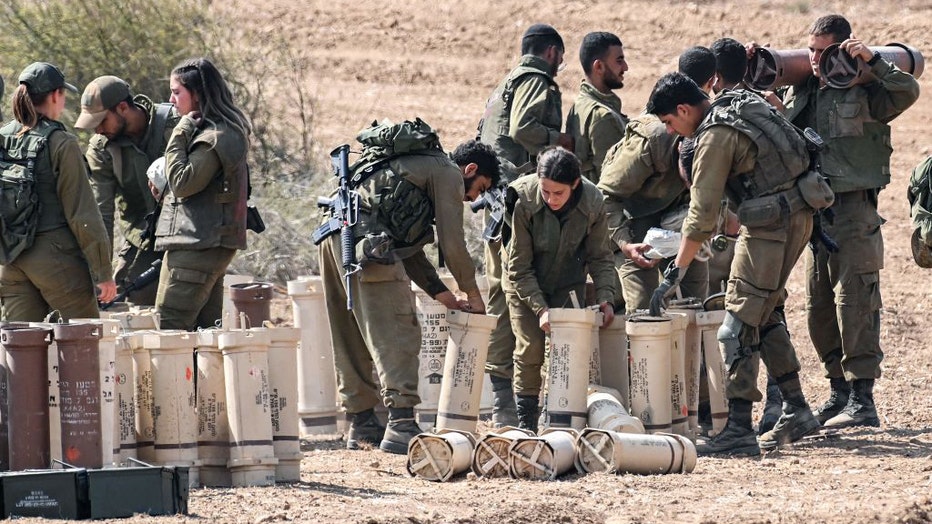 Israeli army soldiers handle artillery shells at a position near the Gaza Strip in southern Israel on October 12, 2023. (Photo by YURI CORTEZ/AFP via Getty Images)
Here are some key takeaways from the war:
What is the situation in Gaza?
The Israeli military is retaliating for the Hamas attack with near-constant airstrikes, forcing 423,000 people to flee their homes, according to the U.N.
Most have crowded into U.N. schools. Others have sought the shrinking number of safe neighborhoods. Gaza is only 40 kilometers (25 miles) long, wedged among Israel, Egypt and the Mediterranean Sea.
While Israel has insisted that it is giving advance notice of its strikes, it is employing a new tactic of leveling whole swaths of neighborhoods, rather than just individual buildings.
Palestinians were in near-total darkness overnight after the only power station ran out of fuel and shut down. Hospitals' supplies of medicine and fuel for emergency generators are also expected to run out within days.
The morgue at Gaza's biggest hospital overflowed Thursday as bodies came in faster than relatives could claim them on the sixth day of Israel's heavy aerial bombardment.
With scores of Palestinians killed each day, medics in the besieged enclave said they have run out of places to put remains pulled from the latest strikes or recovered from the ruins of demolished buildings.
RELATED: As airstrikes devastate Gaza, Israel forms unity government to oversee war sparked by Hamas attack
The morgue at Gaza City's Shifa hospital can only handle some 30 bodies at a time, and workers had to stack corpses three high outside the walk-in cooler and put dozens more, side by side, in the parking lot. Some were placed in a tent, and others were sprawled on the cement, under the sun.
Internet connectivity in Gaza City has been below 20% since Tuesday, according to analyst Doug Madory of the network monitoring firm Kentik Inc., whose data shows outages began Saturday morning.
Madory said an internet provider in Gaza told him that Israeli air strikes had cut fiber optic cables.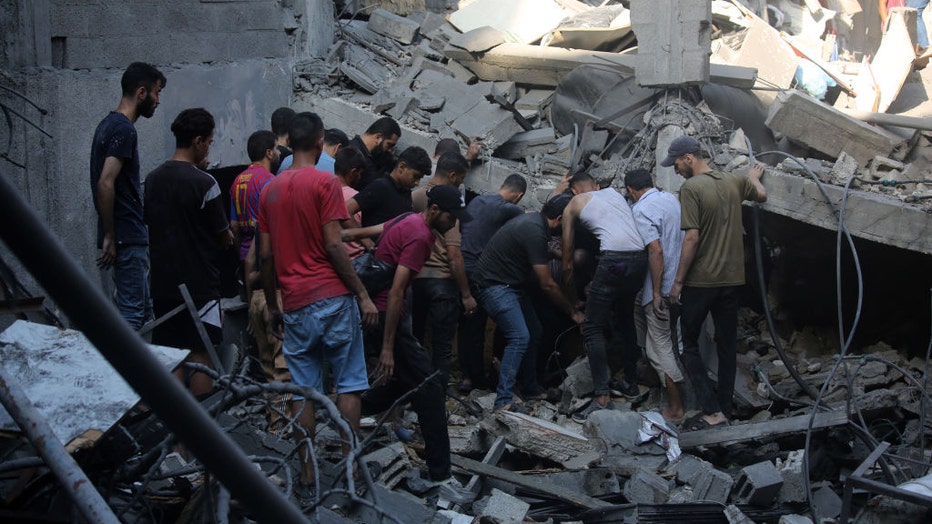 Palestinian citizens inspect damage to their homes caused by Israeli airstrikes on October 12, 2023 in Gaza City, Gaza. (Photo by Ahmad Hasaballah/Getty Images)
Will Israel launch a ground assault?
The Israeli military says it is preparing for a possible ground operation in Gaza but that political leadership has not yet decided on one. Lt. Col. Richard Hecht told reporters Thursday that forces "are preparing for a ground maneuver if decided."
The military has invested tremendous resources for such a scenario, even building a training base in its southern desert meant to replicate Gaza's urban landscape.
A ground offensive would send a strong message, and forces operating inside Gaza might have a better chance of killing top Hamas leaders and rescuing hostages.
Such an assault all but guarantees far higher casualties on both sides. And it would involve street-by-street battles with Hamas militants who've had years to prepare tunnels and traps.
Israel's government is under intense pressure from the public to topple Hamas, which has ruled Gaza since 2007. Israel has called up 360,000 army reservists and has threatened an unprecedented response to Hamas' wide-ranging incursion over the weekend.
The Israeli military said more than 1,300 people, including 222 soldiers, have been killed in Israel — a staggering toll unseen since the 1973 war with Egypt and Syria that lasted weeks.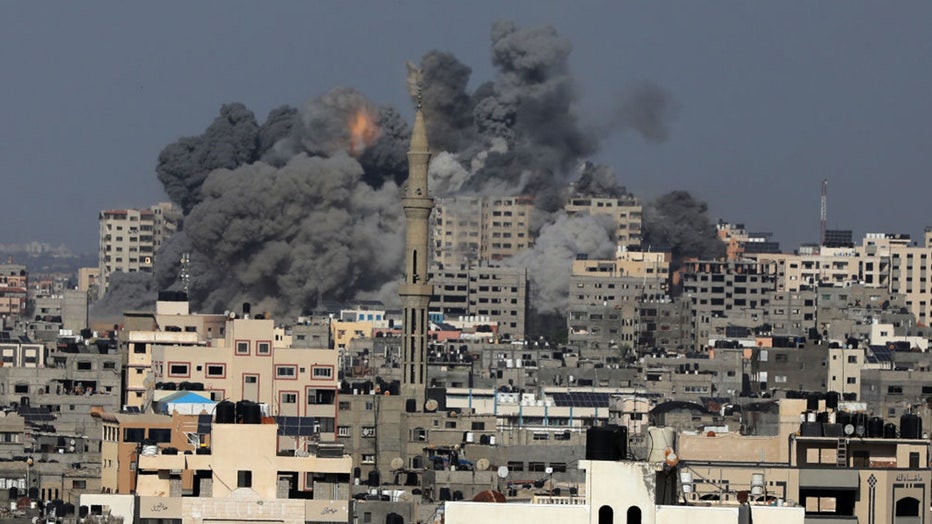 FILE - Smoke billows during Israeli air strikes in Gaza City on Oct. 12, 2023, as raging battles between Israel and the Hamas movement continue for the sixth consecutive day. (Majdi Fathi/NurPhoto via Getty Images)
What are the chances that the war will spread? 
Iranian Minister of Foreign Affairs Hossein Amirabdollahian said Thursday that if Israel's bombardment of Gaza continues, the war may open on "other fronts," an apparent reference to the Lebanese militant group Hezbollah.
Israel is nervously watching Hezbollah on Israel's northern border and has sent troop reinforcements to the area.
Qassim Qassir, a Lebanese analyst close to Hezbollah, said the group "will not allow Hamas' destruction and won't leave Gaza alone to face a ground incursion."
"When the situation requires further escalation, then Hezbollah will do so," he told The Associated Press.
An official with a Lebanese group familiar with the situation, who spoke on condition of anonymity in line with regulations, said Hezbollah fighters have been placed on full alert.
Hezbollah sent a drone over Israel on Thursday, according to an official with a Lebanese group familiar with the situation along the Lebanon-Israel border. The drone was shot down over Israel, the official said, without elaborating further. The official spoke on condition of anonymity because the person was not authorized to comment to the news media.
An Israeli military spokesman wrote on X, formerly known as Twitter, Thursday afternoon that an air-defense missile was fired in northern Israel but it turned out there was no target in the air.
With an eye toward Hezbollah, U.S. President Joe Biden has warned other players in the Middle East not to join the conflict.
Israel is anxious that opening a new front could change the tide of the war, with Hezbollah's military caliber far superior to that of Hamas. But the fighting could be equally devastating for Hezbollah and Lebanon.
Hezbollah and Israel were engaged in a vicious monthlong war in 2006 that ended in a stalemate and a tense detente between the two sides. Lebanon is in the fourth year of a crippling economic crisis and is bitterly divided between Hezbollah and its allies and opponents, paralyzing the political system.
Meanwhile, in Syria on Thursday, state media reported that Israeli airstrikes hit the international airports of the capital, Damascus, and the northern city of Aleppo, damaging their runways and putting them out of service.
What has been the response from the U.S. and other nations?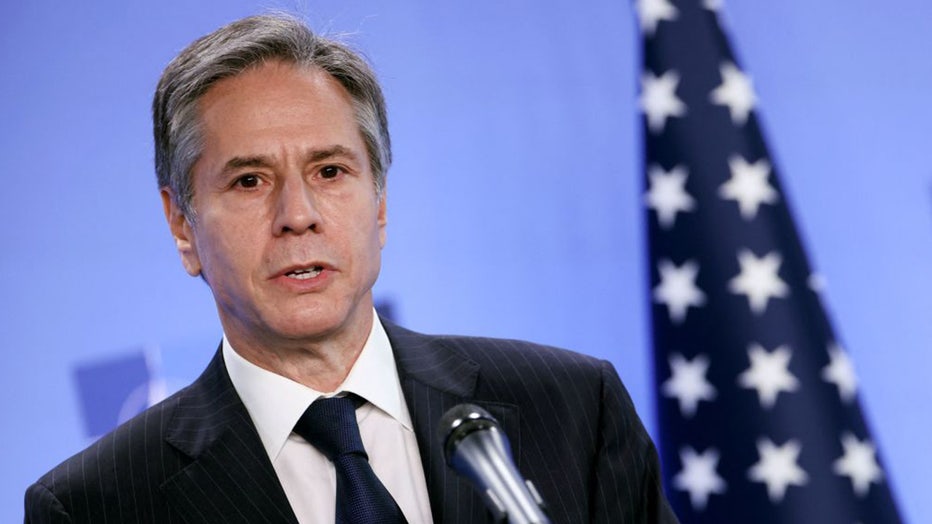 FILE - US Secretary of State Antony Blinken speaks during a press conference with transatlantic alliance NATO's chief on April 14, 2021 at NATO's headquarters in Brussels. (KENZO TRIBOUILLARD/POOL/AFP via Getty Images)
U.S. Secretary of State Antony Blinken told Israeli Prime Minister Benjamin Netanyahu on Thursday that "you may be strong enough on your own to defend yourselves, but as long as America exists you will never have to. ... We will always be there by your side."
Britain's government says it is deploying two Royal Navy ships to the eastern Mediterranean within days to show support for Israel, offer "deterrence and assurance" and support humanitarian efforts.
The government said Thursday that U.K. Royal Air Force surveillance planes will also begin patrols on Friday to help "track threats to regional security, such as the transfer of weapons to terrorist groups."
Malaysian Foreign Minister Zambry Abdul Kadir slammed Israel's "outrageous acts of cruelty" in cutting off food, water and fuel to the Gaza Strip and said Malaysia will provide an emergency fund to help Palestinians.
Egypt has engaged with intensive talks with Israel and the United States to allow the delivery of aid and fuel through its Rafah crossing point. However, it pushed back against proposals to establish escape corridors out of Gaza, saying an exodus of Palestinians from the enclave would have grave consequences on the Palestinian cause.
What is the status of foreign citizens in Israel?
Dozens of citizens of other countries were killed or abducted in Saturday's attack, who were in Israel for reasons ranging from raves to agricultural work.
The number of U.S. citizens confirmed to have been killed in the latest Israel-Hamas war has risen to at least 25, Blinken said Thursday during his visit in Tel Aviv with Netanyahu. The State Department has said at least 17 more Americans remain unaccounted for and China, Brazil, Estonia, France and Turkey have all reported citizens dead or missing.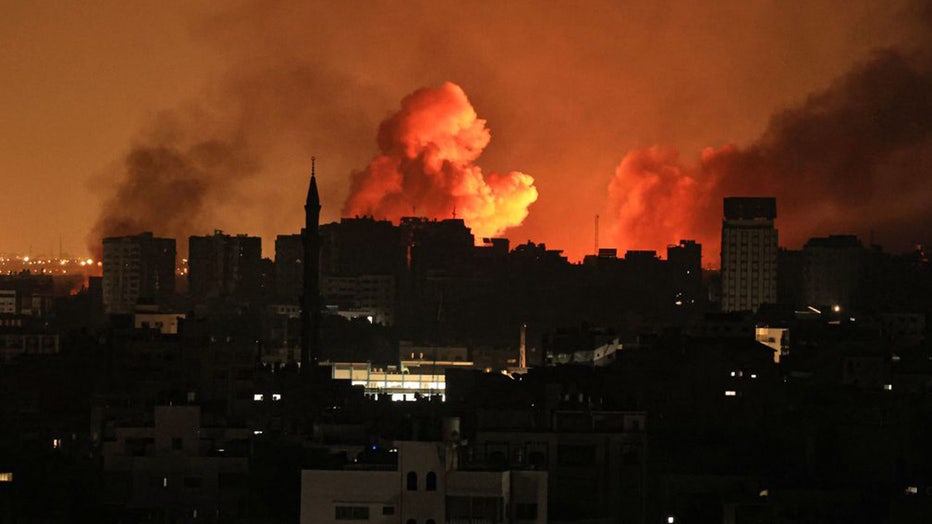 FILE - A ball of fire erupts in Gaza City after an Israeli air strike on Oct. 12, 2023.  (MAHMUD HAMS/AFP via Getty Images)
What prompted Hamas' attack on Israel? 
Hamas, which seeks Israel's destruction, says it is defending Palestinians' right to freedom and self-determination.
But the devastation following Hamas' surprise attack on Saturday has sharpened questions about its strategy and objectives. Hamas officials have said they planned for all possibilities, including a punishing Israeli escalation.
Desperation has grown among Palestinians, many of whom see nothing to lose under unending Israeli control and increasing settlements in the West Bank, the blockade in Gaza and what they see as the world's apathy.
In addition to citing long-simmering tensions, Hamas officials cite a long-running dispute over the sensitive Al-Aqsa Mosque that is sacred to both Muslims and Jews. Competing claims over the site, known to Jews as the Temple Mount, have spilled into violence before, including a bloody 11-day war between Israel and Hamas in 2021.
US and Qatar agree no acting on Iranian funds request
The U.S. and Qatar have agreed not to act on any Iranian request to access $6 billion in funds that were transferred from South Korea after a blanket waiver by President Joe Biden's administration meant to clear the way for the release of five Americans held by Iran, a U.S. official said Thursday.
The move stops short of freezing the funds. Under the terms of the agreement, the funds must be requested by Iran and can go only for humanitarian purposes. The Americans were released last month.
The official was not authorized to speak publicly about the agreement and spoke to The Associated Press on condition of anonymity.
The funding has been a concern as questions mount about Iran's influence or role in the Hamas attack on Israel. Iran is Hamas' principal financial and military sponsor, though the White House says it has not uncovered information that Iran was directly involved in the operation.
___
Associated Press Writers Matthew Lee in Washington and Sam Magdy in Cairo contributed to this report.