'Hundreds of thousands' evacuated from Gaza as aid groups warn of untold human suffering
Palestinians struggled Saturday to flee from areas of Gaza targeted by the Israeli military while grappling with a growing water and medical supply shortage ahead of an expected land offensive a week after Hamas' bloody, wide-ranging attack into Israel.
Israel renewed calls on social media and in leaflets dropped from the air for Gaza residents to move south, while Hamas urged people to stay in their homes. The U.N. and aid groups have said such a rapid exodus along with Israel's siege of the territory would cause untold human suffering.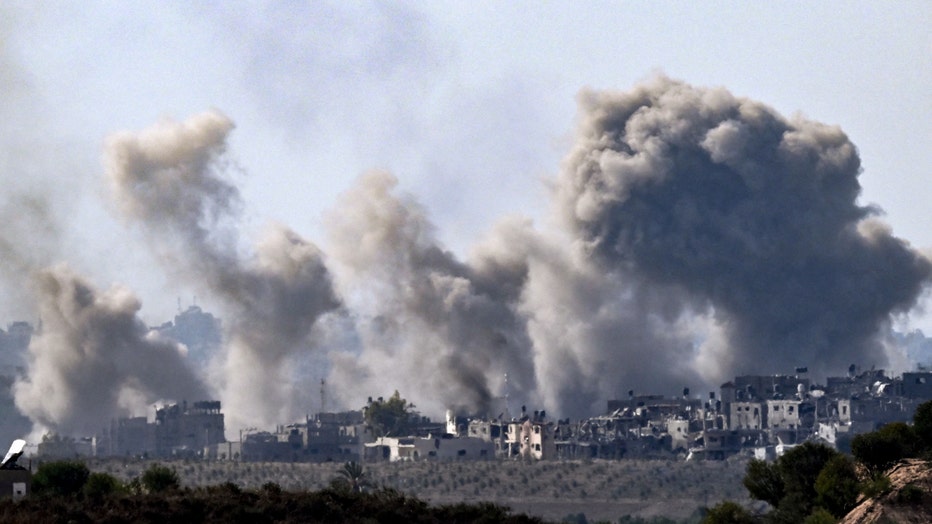 A picture taken from the Israeli side of the border with Gaza shows smoke plumes rising above buildings during an Israeli strike on the Gaza Strip on October 14, 2023. (Photo by ARIS MESSINIS/AFP via Getty Images)
Desperate Palestinians scrambled for escape from northern Gaza Saturday or huddled by the thousands at a hospital in the target zone in hopes it would be spared, as Israel intensified warnings of an imminent offensive by air, ground and sea following Hamas militants' deadly rampage in Israel a week ago.
While workers at an Israeli military base continued efforts through the Jewish Sabbath to identify the more than 1,300 people killed in the Oct. 7 assault, Israel dropped leaflets from the air and redoubled warnings on social media for more than 1 million Gaza residents to move south.
READ MORE: Blinken and Austin bolster US support for Israel amid potential ground attack in Gaza
The U.N. and aid groups say such a rapid exodus along with Israel's siege of the territory would cause untold human suffering. The World Health Organization said the evacuation "could be tantamount to a death sentence" for the more than 2,000 patients in northern hospitals, including newborns in incubators and people in intensive care.
Gaza's humanitarian crisis already was mounting Saturday amid a growing shortage of water and medical supplies under a week-old Israeli blockade, which has also forced electrical plants to shut down without fuel.
In Gaza City, Haifa Khamis al-Shurafa crowded into a car with six family members, fleeing to the south in the darkness.
"We don't deserve this," Shurafa said, before leaving. "We didn't kill anyone."
READ MORE: US raises travel advisory on Israel to second-highest level
The evacuation directive covers an area of 1.1 million residents, or about half the territory's population. The Israeli military said "hundreds of thousands" of Palestinians had heeded the warning and headed south. It gave Palestinians a six-hour window that ended Saturday afternoon to travel safely within Gaza along two main routes.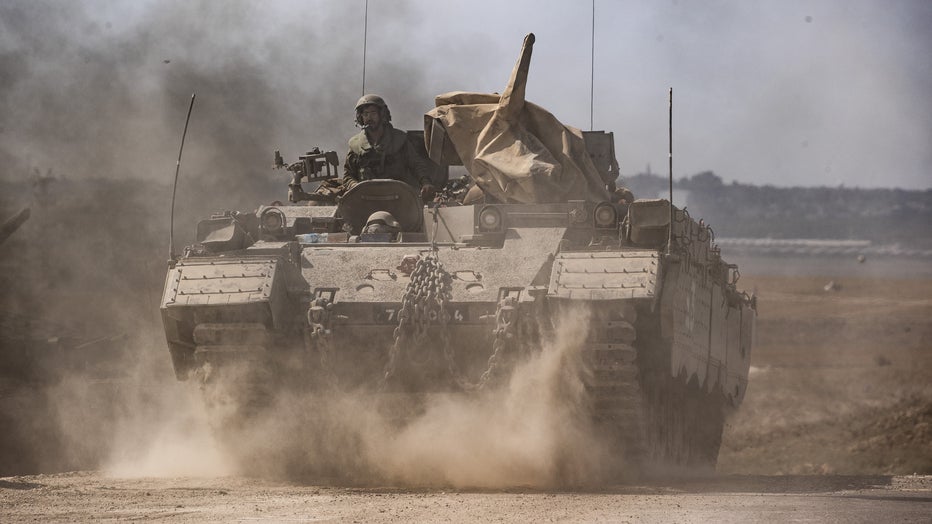 Israel continues to deploy soldiers, tanks and armored vehicles near the Gaza border in Sderot, Israel on October 14, 2023. (Photo by Mostafa Alkharouf/Anadolu via Getty Images)
In Israel, meanwhile, workers at a miIitary base received special rabbinical approval to continue identifying bodies of the more than 1,300 people, most civilians, killed by Hamas. Work is normally halted on Saturday, the Jewish Sabbath.
Prime Minister Benjamin Netanyahu visited Be'eri and Kfar Azza, two southern border communities where Hamas militants slaughtered dozens of Israelis in their initial attack, to meet with soldiers and tour the ruins of bloodied homes. Netanyahu has faced criticism that his government has not done enough to meet with relatives of the victims.
Hundreds of relatives of the scores of Israelis and foreigners captured by Hamas and taken to Gaza gathered outside the Israeli Defense Ministry in Tel Aviv, demanding the release of their loved ones.
"This is my cry out to the world: Please help bring my family, my wife and three kids," said Avihai Brodtz of Kfar Azza. Many expressed anger toward the government, saying they still have no information about their relatives.
In a nationally broadcast address Saturday night, Israel's chief military spokesman, Rear Adm. Daniel Hagari, accused Hamas of trying to use civilians as human shields and issued a new appeal to Gaza residents to move south.
"We are going to attack Gaza City very broadly soon," he said, without giving a timetable for the attack against the 40-kilometer (25-mile) long territory.
"The Palestinian civilians in Gaza are not our enemies," an Israeli military spokesman, John Conricus, said. "We don't assess them as such, and we don't target them as such. We are trying to do the right thing."
Israel has called up some 360,000 military reserves and massed troops and tanks along the border with Gaza.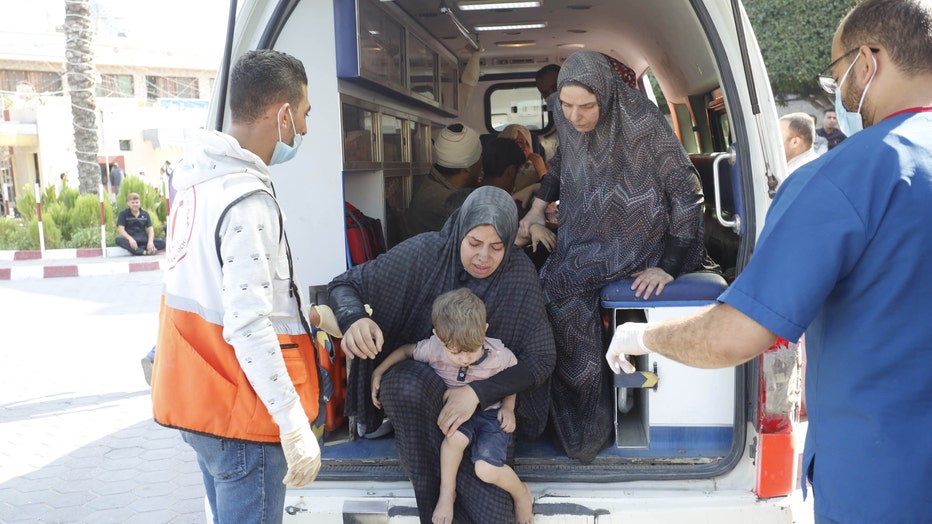 Palestinians are being brought to Al-Aqsa Martyrs Hospital after being found in search and rescue operations launched around buildings that were destroyed or heavily damaged after Israel's attacks in Deir Al Balah, Gaza on October 14, 2023. (Photo by
Palestinian militants have fired more than 5,500 rockets into Israel since the fighting erupted, the Israeli military said.
Hamas remained defiant. In a televised speech Saturday, Ismail Haniyeh, a top Hamas official, said that "all the massacres" will not break the Palestinian people.
Fighting continued in the run-up to the expected offensive, with Hamas launching rockets into Israel and Israel carrying out strikes in Gaza.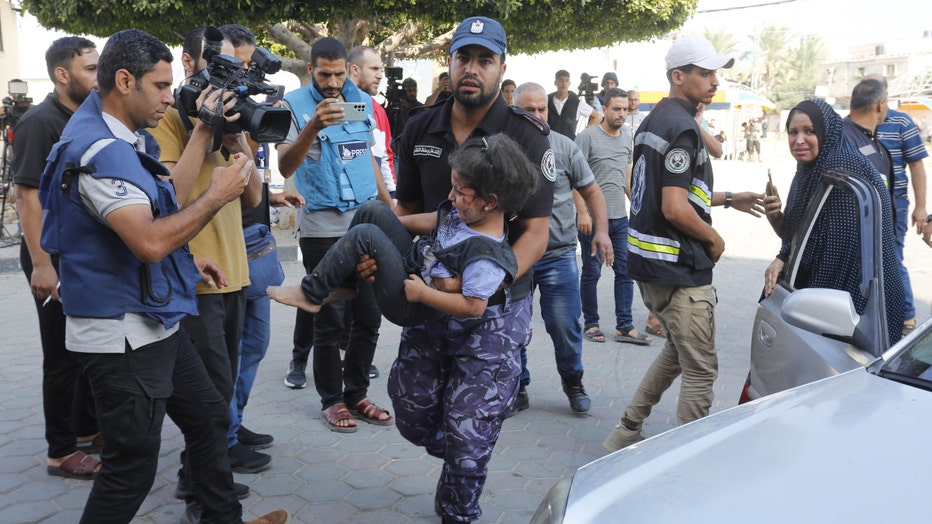 (EDITORS NOTE: Image depicts graphic content) A police officer carries an injured child to the Al-Aqsa Martyr Hospital after being found in search and rescue operations launched around buildings that were destroyed or heavily damaged after Israel's a
An Israeli airstrike near the Jabaliya refugee camp in northern Gaza killed at least 27 people and wounded another 80, Gaza health authorities said.
Most of the victims were women and children, the authorities said. Doctors from Kamal Edwan Hospital shared chaotic footage of charred and disfigured bodies.
It was not clear how many Palestinians remained in northern Gaza by Saturday afternoon, said Juliette Touma, a spokesperson for the U.N. agency for Palestinian refugees. An estimated 1 million people have been displaced in Gaza in one week, she said.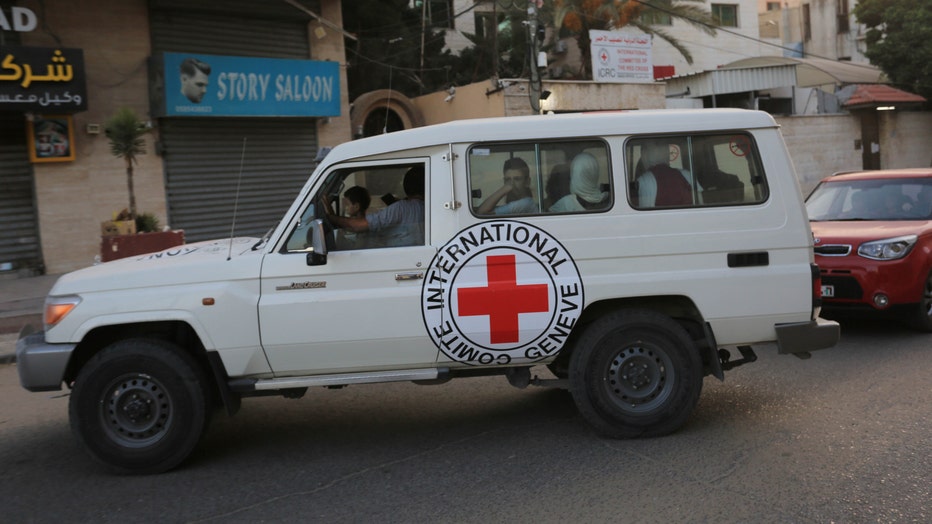 International Committee of the Red Cross (ICRC) vehicles transport Palestinians whose homes were destroyed in the attacks to safe areas following the United Nations (UN) reported that the Israeli army wanted 1.1 million civilians in Gaza to leave the
At Gaza' City's main hospital, al-Shifa, a crowd of men, women and children that medical officials estimated at 35,000 crammed into bloodied hallways and hospital grounds, sitting under trees as well as inside the building's lobby, hoping to be protected from the fighting.
"People think this is the only safe space after their homes were destroyed and they were forced to flee," said Dr. Medhat Abbas, a Health Ministry official.
Basic necessities like food, fuel and drinking water were running out because of the complete Israeli siege.
Water has stopped coming out of taps across the territory. Amal Abu Yahia, a 25-year-old pregnant mother in the Jabaliya refugee camp, said she waited anxiously for the few minutes when contaminated water trickles from the pipes in her basement. She rations it, prioritizing her 5-year-old son and 3-year-old daughter. She said she is drinking so little herself, she only urinates every other day.
Near the coast, the only tap water is contaminated with Mediterranean Sea water because of the lack of sanitation facilities. Mohammed Ibrahim, 28, said his neighbors in Gaza City have taken to drinking the salt water.
"Gaza has been out of water for almost three days, we have no power, no electricity," said Inas Hamdan, a spokesperson for the U.N. agency for Palestinian refugees. "If there is no humanitarian corridor, consequences will be catastrophic."
The Israeli military's evacuation order demands the territory's entire population cram into the southern half of Gaza as Israel continues strikes across the territory, including in the south.
Rami Swailem said he and at least five families in his building decided to stay put in his apartment near Gaza City. "We are rooted in our lands," he said. "We prefer to die in dignity and face our destiny."
Others were looking desperately for ways to evacuate. "We need a number for drivers from Gaza to the south, it is necessary #help," read a post on social media.
The U.N. refugee agency for Palestinians expressed concern for those who could not leave, "particularly pregnant women, children, older persons and persons with disabilities," saying they must be protected. The agency also called for Israel to not target civilians, hospitals, schools, clinics and U.N. locations.
Al-Shifa hospital was receiving hundreds of wounded every hour and had used up 95% of its medical supplies, hospital director Mohammad Abu Selim said. Water is scarce and the fuel powering its generators is dwindling.
"The situation inside the hospital is miserable in every sense of the word," he said. "The operating rooms don't stop."
Thousands of people crammed into U.N.-run schools across Gaza.
"I came here with my children. We slept on the ground. We don't have a mattress, or clothes," said Howeida al-Zaaneen, 63, from the northern town of Beit Hanoun. "I want to go back to my home, even if it is destroyed."
The Gaza Health Ministry said Saturday that over 2,200 people have been killed in the territory, including 724 children and 458 women. The Hamas communications office said Israel has destroyed over 7,000 housing units so far.
At Gaza's Rafah crossing into Egypt, announcement of an agreement to briefly open the closed crossing to allow foreigners to escape brought hopeful crowds to the gates Saturday. But any deal appeared to have fallen through, with the crossing yet to open by nightfall.
Some 1,500 people in Gaza are estimated to hold Western passports, including about 500 Americans, along with citizens from other parts of the world.
A ground assault in densely populated Gaza would likely bring even higher casualties on both sides in brutal house-to-house fighting.
U.S. Secretary of State Antony Blinken met with Saudi Foreign Minister Faisal bin Farhan in Riyadh on Saturday, and both called for Israel to protect civilians in Gaza.
"As Israel pursues its legitimate right to defend its people and to trying to ensure that this never happens again, it is vitally important that all of us look out for civilians," Blinken said.
___
Krauss reported from Jerusalem. Associated Press writers Isabel DeBre and Julia Frankel in Jerusalem, Samya Kullab in Baghdad, Samy Magdy in Cairo, Kareem Chehayeb in Beirut, Ashraf Sweilam in El-Arish, Egypt, and Matthew Lee in Riyadh contributed to this report