Israel-Hamas war: Israeli military orders over 1 million people to evacuate as possible ground attack looms
Some 1.1 million people in northern Gaza have been ordered to evacuate south as the latest Israel-Hamas war entered its seventh day Friday as Israel appeared to be preparing a ground offensive. Hamas, meanwhile, urged residents to stay put.
The orders sent panic through civilians and aid workers already struggling under Israeli airstrikes and a blockade of the Hamas -ruled Gaza Strip. International aid groups warned of a worsening humanitarian crisis after Israel prevented entry of supplies from Egypt to Gaza's 2.3 million people.
The latest Israel-Hamas war has claimed at least 2,800 lives on both sides since Hamas launched an unprecedented surprise attack on Oct. 7.
Some key takeaways from the war:
RELATED: Israel-Hamas war: At least 25 US citizens killed, vital aid blocked ahead of possible ground invasion
Will Israel launch a ground assault?
Israel's military delivered sweeping evacuation orders for almost half of Gaza's 2.3 million people Friday ahead of a feared ground offensive aiming at eradicating the Hamas militant group after its grisly assault into Israel, U.N. officials said. The evacuations could signal an impending ground offensive, though the military said Thursday that no decision had yet been made.
The military has invested tremendous resources for such a scenario, even building a training base in its southern desert meant to replicate Gaza's urban landscape.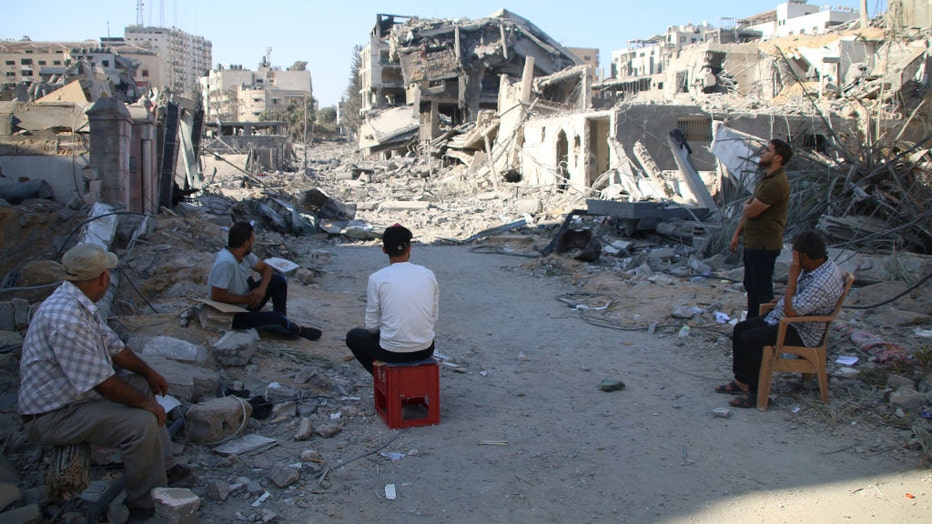 Palestinian citizens inspect damage to their homes caused by Israeli airstrikes on October 13, 2023 in Gaza City, Gaza. (Photo by Ahmad Hasaballah/Getty Images)
RELATED: Blinken vows US support for Israel ahead of a potential ground operation as airstrikes pound Gaza
A ground offensive would send a strong message, and forces operating inside Gaza might have a better chance of killing top Hamas leaders and rescuing hostages.
Such an assault all but guarantees far higher casualties on both sides. And it would involve street-by-street battles with Hamas militants who've had years to prepare tunnels and traps.
Israel's government is under intense pressure from the public to topple Hamas, which has ruled Gaza since 2007. Israel has called up 360,000 army reservists and threatened an unprecedented response to Hamas' wide-ranging incursion that began Oct. 7.
The Israeli military said more than 1,300 people, including 222 soldiers, have been killed in Israel — a staggering toll unseen since the 1973 war with Egypt and Syria that lasted weeks.
What is the situation in Gaza?
People in Gaza woke to chaos Friday under massive evacuation orders for northern Gaza, including Gaza City. The Hamas Authority for Refugee Affairs told residents of the north of the territory to "remain steadfast in your homes and to stand firm in the face of this disgusting psychological war waged by the occupation."
Before the evacuation directives, 423,000 Gaza Strip residents had already fled their homes, according to the United Nations.
RELATED: US, Qatar agree to stop disbursal of recently unfrozen Iranian funds amid Israel-Hamas war
"This is chaos, no one understands what to do," said Inas Hamdan, an officer at the U.N. Palestinian refugee agency in Gaza City, while she grabbed whatever she could throw into her bags amid the panicked shouts of her relatives. She said all the U.N. staff in Gaza City and northern Gaza had been told to evacuate south to Rafah.
Gaza is only 40 kilometers (25 miles) long, wedged among Israel, Egypt and the Mediterranean Sea.
Palestinians were in near-total darkness overnight after the only power station ran out of fuel and shut down. Hospitals' supplies of medicine and fuel for emergency generators are also expected to run out within days.
The morgue at Gaza's biggest hospital overflowed Thursday as bodies came in faster than relatives could claim them on the sixth day of Israel's heavy aerial bombardment. Gaza reported over 1,799 dead and some 7,400 injured.
Internet connectivity in Gaza City has been below 20% since Tuesday, according to analyst Doug Madory of the network monitoring firm Kentik Inc., whose data show outages began Saturday morning. Madory said an internet provider in Gaza told him that Israeli air strikes had cut fiber optic cables.
What are the chances that the war will spread?
Iranian Minister of Foreign Affairs Hossein Amirabdollahian said Thursday that if Israel's bombardment of Gaza continues, the war may open on "other fronts," an apparent reference to the Lebanese militant group Hezbollah.
Israel is nervously watching Hezbollah on Israel's northern border and has sent troop reinforcements to the area.
Qassim Qassir, a Lebanese analyst close to Hezbollah, said the group "will not allow Hamas' destruction and won't leave Gaza alone to face a ground incursion."
"When the situation requires further escalation, then Hezbollah will do so," he told The Associated Press.
With an eye toward Hezbollah, U.S. President Joe Biden warned other players in the Middle East not to join the conflict.
Hezbollah and Israel were engaged in a vicious monthlong war in 2006 that ended in a stalemate and a tense detente between the two sides. Lebanon is in the fourth year of an economic crisis and is bitterly divided between Hezbollah and its allies and opponents, grinding the political system to a standstill.
What has been the response from the U.S. and other nations?
U.S. Defense Secretary Lloyd Austin arrived Friday in the Israeli city of Tel Aviv to meet with senior government leaders and see firsthand some of the U.S. weapons and security assistance that Washington rapidly delivered to Israel in the first week of its war with the militant Hamas group.
A day after visiting Israel to offer the Biden administration's diplomatic support in person, Blinken was in Jordan on Friday for talks with Jordanian King Abdullah II and Palestinian President Mahmoud Abbas who has a home in the Jordanian capital of Amman.
Malaysian Foreign Minister Zambry Abdul Kadir slammed Israel's "outrageous acts of cruelty" in cutting off food, water and fuel to the Gaza Strip and said Malaysia will provide an emergency fund to help Palestinians.
Egypt has engaged with intensive talks with Israel and the United States to allow the delivery of aid and fuel through its Rafah crossing point. However, it pushed back against proposals to establish escape corridors out of Gaza, saying an an exodus of Palestinians from the enclave would have grave consequences on the Palestinian cause.
What is the status of foreign citizens in Israel?
Dozens of citizens of other countries, who were in Israel for reasons ranging from raves to agricultural work, were killed or abducted in Saturday's attack.
The number of U.S. citizens confirmed to have been killed in the latest Israel-Hamas war has risen to at least 27, White House National Security spokesperson John Kirby said Thursday, and at least 14 more Americans remain unaccounted for.
China, Brazil, Estonia, France, Nepal, the Philippines and Turkey have all reported citizens dead or missing.
What prompted Hamas' attack on Israel?
Hamas, which seeks Israel's destruction, says it is defending Palestinians' right to freedom and self-determination. But the devastation following Hamas' surprise attack on Oct. 7 has sharpened questions about its strategy and objectives.
Desperation has grown among Palestinians, many of whom see nothing to lose under unending Israeli control and increasing settlements in the West Bank, the blockade in Gaza, and what they see as the world's apathy.
In addition to citing long-simmering tensions, Hamas officials cite a long-running dispute over the sensitive Al-Aqsa Mosque that is sacred to both Muslims and Jews. Competing claims over the site, known to Jews as the Temple Mount, have spilled into violence before, including a bloody 11-day war between Israel and Hamas in 2021.
Associated Press Writers Matthew Lee in Washington and Samy Magdy in Cairo contributed to this report.