In Arizona first, marijuana dispensary workers go on strike
PHOENIX - In the first-ever labor action of its kind in Arizona, cannabis workers at a marijuana dispensary in Phoenix went on strike.
"Your direct action here today speaks volumes, and when you take brave courageous actions like this to walk off the job, you not only are fighting for yourselves and your coworkers, but for every worker who is taken advantage of by their employer and by corporations," said State Rep. Analise Ortiz. The Democratic Parry state lawmaker represents the state's 24th Legislative District, which covers a portion of Maryvale.
Workers at Curaleaf Midtown, along with elected leaders and community members, protested during the afternoon of Sept. 15 near Central Avenue and Thomas Road.
"People over profit, justice over greed, cannabis for all not just corporate need," said Mario Gonzalez.
Here's what to know about the labor action.
Why are they striking?
The workers at the dispensary voted in favor of unionizing on June 30, 2022, but according to a statement released by officials with UFCW Local 99, the workers still do not have a union contract.
The group is demanding, among other things, better pay, benefits, working conditions, and safety. They also called on Curaleaf Midtown to reinstate a recently fired worker, and start advancing union contract negotiations.
The fired worker, according to the UFCW Local 99 statement, was allegedly fired for her union activity, citing a complaint issued by the National Labor Relations Board (NLRB).
The strike petition was reportedly hand-delivered by workers to their bosses.
"We're demanding that Curaleaf come to the table, and negotiate with us like they were supposed to do when the NLRB ordered them to recognize us," said Nickolas Fredrickson, who works as a Budtender at Curaleaf Midtown. "We've been fighting for almost two years now, and we aren't anywhere close to a contract."
What happened during the protest?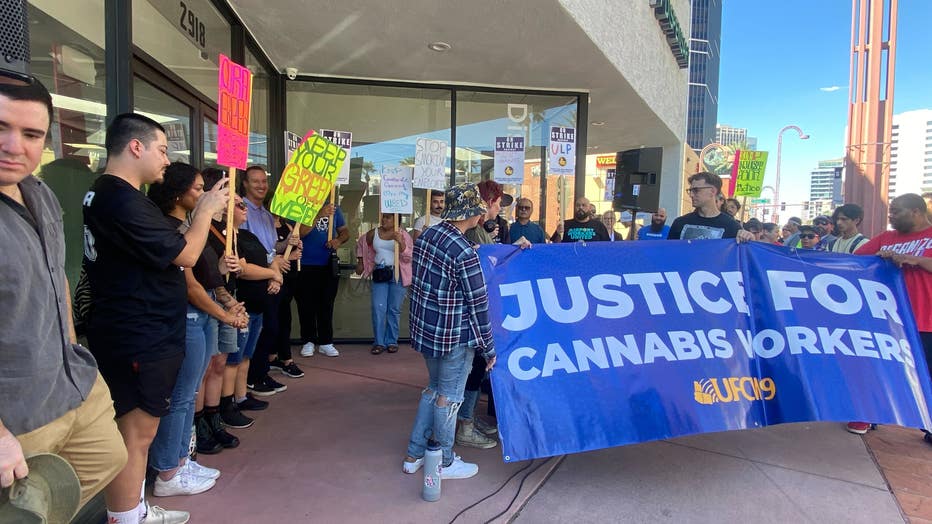 According to reports, there were some heated moments during the Sept. 15 protest. A person who is reportedly a labor organizer was walked out of the premise by police, and staff inside the dispensary tried to cover up the strikers' signs.
What are Curaleaf officials saying about the strike?
In a statement, Curaleaf said:
"As a company, Curaleaf respects the rights of team members who have chosen to be represented by a union. Where team members have chosen such representation, the company will pursue an honest, business-like approach in working with those representatives. While we believe that a direct relationship with our team members is the best route for us to work together, we respect the voices of our team members and will negotiate with union leaders in good faith. We know our team members, our business and our patients and customers depend on a positive work environment, and we are committed to a collaborative culture that allows our team to feel heard, supported and respected."