Hundreds participate in annual Tunnel to Towers Climb
NEW YORK - Hundreds of people hiked the 104 stories to the top of the World Trade Center for the 7th Annual Tunnel to Tower climb.  
There are tower 5K'S, climbs and races everywhere. But few are as emotional as the Tunnel to Towers Foundation's climb inside the stairwell of the One World Trade Center.  
"I always remember 9/11, it's my birthday," said Trisha O'Hara. "My friend called me on my birthday to wish me happy birthday right before the planes hit. And I spent the rest of my day trying to get ahold of my friends in the World Trade Center." 
Since 2015, the Tunnel to Towers climb has required its runners to ascend 104 stories. As they march up each of the 2,226 steps, they're not thinking of medals or rankings, they're remembering 9/11 and the first responders, the men and women of the FDNY and NYPD, who ran into the smoldering Twin Towers to save people.  
RELATED: From Afghan mountains towering heights: Soldiers honor their shared journey
"My best friend his name is Jimmy Richards, he was assigned to Engine Four," said Anthony L. Lacorazza, a Tunnel to Towers board member. "We knew each other, he grew up in Bay Ridge since we were kids. We spent every day together up until adulthood. On that day, he was assigned to Engine Four on South Street, and he died in the North Tower."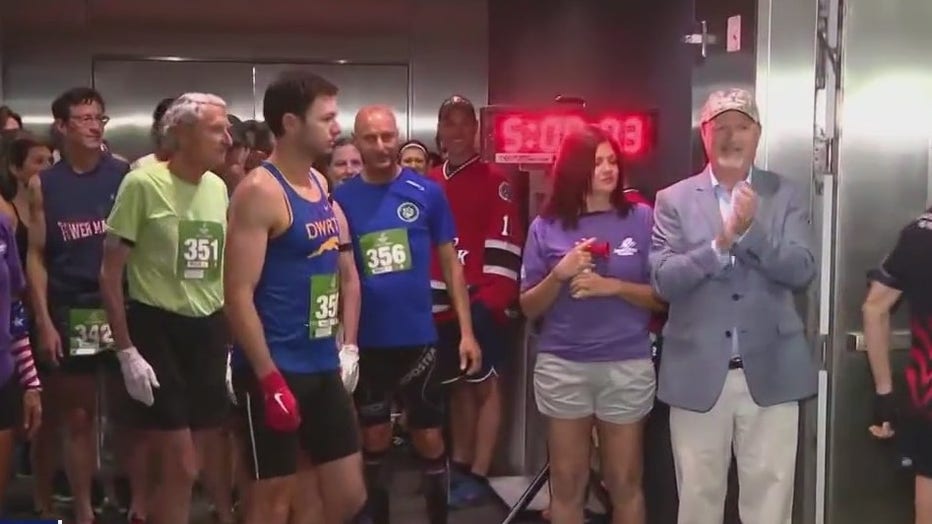 The climb can be accomplished in as fast at 12 minutes. For others, it can take as long as two hours. 
Rob Jones was one of a handful of veterans who complete the climb as amputees, injured while serving in the firefight oversees post-9/11.  
"There's no better thing to do than to come out here and honor people who have sacrificed their lives for us," said Rob Jones, a double amputee.  
RELATED: Children's books ensure Sept. 11th is never forgotten
The foundation's CEO, Frank Siller, clapped for and congratulated the runners, proud of all of them for helping to keep Captain William F. Burke, Jr. and his brother Stephen Siller's memory alive. Siller ran from the Brooklyn Battery Tunnel to the Towers. Burke stayed in the stairwell helping a woman try to escape -- even though he knew there wasn't enough time.  
"There's so many beautiful stories of 9/11 of that day, of heroism and selflessness and sacrifice of life and he's just symbolic of what happened that day," Siller said.
The money raised by the climb goes to the various programs that Tunnel to Towers supports. And one of their biggest ones is providing mortgage-free homes and paying off the mortgages of catastrophically injured and fallen first responders, veterans, and their families.