How UAW President Shawn Fain has changed the rules of standup strike
DETROIT (FOX 2) - UAW President Shawn Fain did not announce any new striking locations on Friday. Instead, he called on all UAW members to join the striking members on the picket line on Saturday, Oc. 14.
Sporting a red Italian Federation of Metalworkers (FIOM) sweatshirt, the leader of the United Auto Workers announced on Friday that there would not be any new striking locations. Additionally, he said the UAW would no longer be calling on striking members on Fridays. 
"We're done waiting until Fridays to escalate our strike," Fain said. "We're entering a new phase of this fight and it demands a new approach."
The announcement came a little more than 48 hours after 8,700 Ford UAW workers joined the picket line. A move that Fain explained was done immediately after a meeting with Ford on Wednesday. 
Read more UAW strike coverage here.
He said Ford wanted to meet over Zoom and were going to pass a similar offer to the union from two weeks ago. But Fain said he insisted they meet in person instead.
"We said if you're going to offer us nothing, you're going to do it to our face with our full national negotiating team in the room. So we went to Ford Headquarters to see what they had to say for themselves. It was not a long meeting. They tried to give us the same deal that we rejected two weeks ago and not a dollar more. At that point, I said 'If that's what you have for us, our member's lives and my handshake are worth more than that. You just cost yourself Kentucky truck plant'," he said.
Fain said the union didn't wait a minute and 8,700 members in Kentucky immediately walked off the job.
The Kentucky truck plant was a strategic move made by the union based on how much money it generates.
"Our labor at Kentucky Truck generates more revenue each minute than thousands of our members make in a year. The revenue generated by our members at Kentucky Truck is so high, if the plant were its own standalone business, it would rank in the Fortune 500," Fain said.
The UAW leader said Ford was going to wait until Friday for an offer as that's when Fain had been previously announcing new plants to strike. He said that Ford wanted to wait until Friday and to 'game the UAW's system' of waiting until Friday's announcement.
"We changed the rules. Pony up," Fain said.
Fain also said the union will go on offense and aim high against Detroit's Big Three.
"No new strikes, but a new phase of negotiations"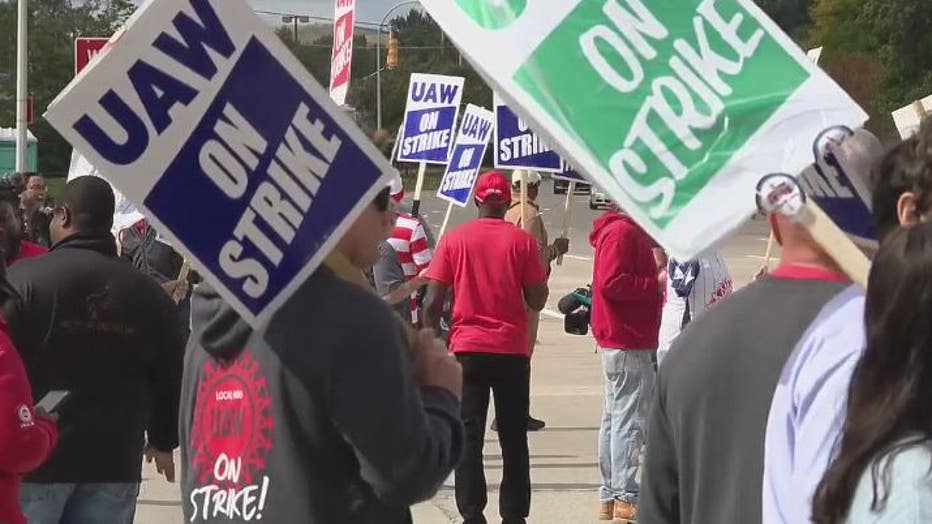 Last week, Fain said members were prepared to walk off the job at a GM facility in Arlington, Texas, but the automaker made a last-minute decision that prevented this from happening. 
GM saved itself from being the strike target by saying it would add its electric vehicle battery plants to the UAW master agreement.