Gerald Williams takes plea deal in road rage shooting of David Castro after Houston Astros game
HOUSTON - The man charged in the death of the teen who was shot after leaving a Houston Astros game has accepted a plea deal.
The trial for Gerald Williams was set to start in a few days, but officials confirm he took a plea deal on Tuesday that will result in a 30-year sentence.
PREVIOUS: Father of slain Houston teen furious at accused shooter's bond release
Williams was accused in the death of 17-year-old David Castro on the night of July 6, 2021.
"It's been 18 months and two weeks. This is the first time I felt a little bit of peace," David's father, Paul Castro, said on Tuesday.
According to police, after the Castro family left the Astros game, Williams opened fire into their pickup truck near McCarty Street and the East Freeway, shooting the teenage passenger. David was taken to the hospital, where he later died.
PREVIOUS: Teen fatally shot leaving Houston Astros game will have his organs donated, father says
On Tuesday, Paul thanked the district attorney's office, police, Crime Stoppers, and the City of Houston for their help with the case.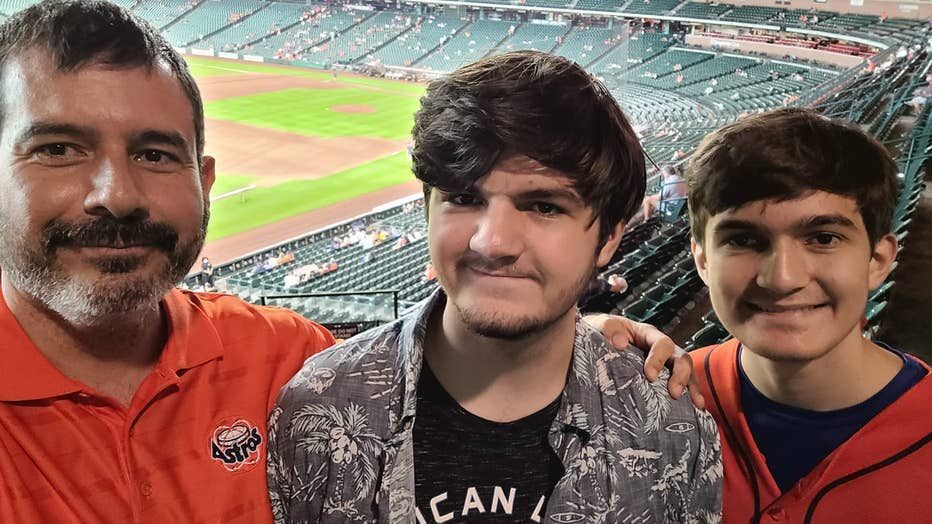 David Castro (center) with his father (Photo courtesy of Paul Castro)
"Over 100 tips came in when this case happened. It was unusual for a person who is a road rage shooter to wind up in prison. And that only happened because the City of Houston came together. They heard David's story, the horror of it, and they wanted to do something to make the city a little better," Paul said.
On July 30, 2021, police announced Williams had been charged with murder in the suspected road rage incident.
PREVIOUS: Exclusive interview with the man charged with murdering 17-year-old after the Astros game
He turned himself in a few days later on Aug. 2 after an exclusive interview with FOX 26 in which he claimed he was nowhere near the scene of the shooting. 
"I cooperated with them and the minute I stopped cooperating with them they want to charge me," Williams said in August 2021. "I have multiple witnesses, multiple people saying where I was and I couldn't be at two places at two times." 

 
However, police said cell phone records put him where the shooting happened.
"I want to state for everybody that the family is fully behind the plea agreement that happened today. We're thankful that it happened. Be able to avoid having to come up and relive the whole thing all over again," Paul said, adding that they didn't want their other son to potentially take the witness stand.
"And there's a price tag in that that we measured in years and we decided this was a good agreement," Paul said. "And so we're very thankful that all parties were able to come to agreement and make the city a little bit safer tonight by having Mr. Williams behind bars."

"The family of David Castro received a measure of justice from the criminal justice system," Prosecutor David Mitcham said. "It pales by comparison to the tragedy this family has endured at the hands of Mr. Willams and this thoughtless tragic incident." 
"Mr. Williams will be going to the penitentiary for a period of 30 years," he continued. "The family will try to get on with their lives, but the tragedy is horrible."
Paul was able to address Williams in court on Tuesday.
"So when I first heard that such a thing was possible, I've been fantasizing about different ways to do it," Paul said after the court hearing. "You know, they show on the news when people lose it and yell and scream, and I had that, I wanted to do that. I want to do a lot of things. But I realized that none of that's going to bring my son back. And so what it felt like was just this deep, deep, immeasurable sense of pain and sadness at knowing that no matter what I said, I don't know if it landed with him, I don't know how he is as a person, but I know that I needed him to know that that night he caused terror in my two sons and one of them didn't make it. I need to tell him. I hope he dreams that every night for the next however many years he lives because every night I go to bed with that image in my head."
Paul asks that when road rage boils up drivers think of people like his son or others who have been killed and that they think about the mother, father, or child who is actually in the car.
"And what I hope is the city comes together and realizes when something like that happens, and you hear something, you say something, and you report these people and get them off our streets, because if they've done it once, they'll do it again. And our community deserves better," Paul said.