Homeless woman who gave bike to 3-year-old boy after his was stolen, gifted $11K in donations
article
A homeless woman in Maine who used what little money she had left to donate a bike to a 3-year-old boy after his was stolen was given over $11,000 in donations following her selfless act. 
Mid-Coast Recovery Coalition partnered with the Rockland Police Department to raise funds to help Darlene Plasse-Young, affectionately nicknamed "bike lady," who was going through some financially difficult times. 
The non-profit organization hoped to raise enough funds to help pay off Plasse-Young's car, which is now her home, so she could eventually afford rent at an apartment. 
On Tuesday, Rockland police, members of Mid-Coast Recovery Coalition and the parents of the 3-year-old boy presented Plasse-Young with a $11,902 check. 
"She just couldn't believe it," Lura Robinson, with Mid-Coast Recovery Coalition, told FOX TV Stations. "She was in tears." 
Plasse-Young's car costs about $19,000 and she and her former daughter-in-law plan to get her car payments refinanced so she doesn't have to struggle so much to afford it. 
"Thankful, so very thankful," Plasse-Young said in a statement. "Today was definitely a weight lifted off my shoulders. Thank you for all who came forward and made this also possible today, still emotional, hard to feel it's so real and how many people reached." 
RELATED: Homeless woman donates brand-new bike to 3-year-old boy after his was stolen 
In late March of this year, Plasse-Young saw a Facebook post published on the Rockland Police Department account, alerting the public about the stolen Spider-Man-themed bike. 
She felt bad for the 3-year-old and decided to take what little money she had and purchased a brand new bike with a matching helmet and a bike lock – all Spider-Man-themed.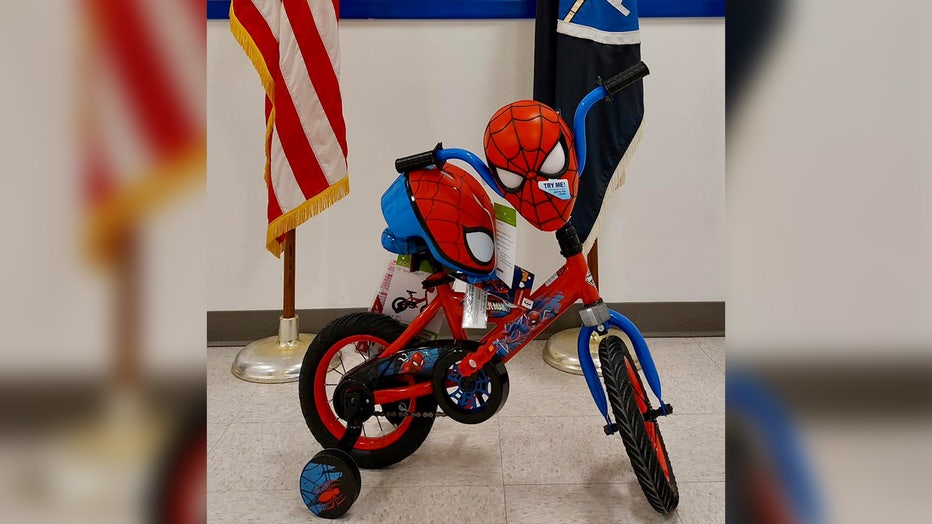 Brand new Spider-Man-themed bike and gear donated by generous anonymous woman. (Rockland Maine Police Department)
Plasse-Young drove her car upwards of two hours out of her way to bring the bike to the police station. 
She said she wanted nothing in return, according to police. However, she did share some of her own struggles she had been dealing with at the time. 
Plasse-Young told police she had to make the difficult decision between making her car payment or her rent payment and said she didn't wish to default on her car loan, so she paid for her car and was forced out of her home. 
"Her own struggles did not deter the woman, however, and she selflessly purchased a new bike, helmet and lock at a local Wal-Mart and made the drive to Rockland. The woman's generosity was contagious and a clerk who heard what she was doing, gave her money to help pay for tolls," police said. 
Because of her story and generosity, police notified Mid-Coast Recovery Coalition, a local non-profit organization, to set up a fundraiser to help Plasse-Young. 
The donation website is still active and the non-profit will continue to give Plasse-Young the funds as they come in, Robinson said. 
For anyone who wishes to donate, they can visit the website or contact Ian Kirkman, director of operations at Mid-Coast Recovery Coalition at 207-975-3762. 
This story was reported from Los Angeles.