Impacts of actors strike goes beyond Hollywood, leaving small businesses struggling
Hollywood writers went on strike in May. Actors in the SAG-AFTRA union joined them in July. But the work stoppage doesn't just affect them, but everyone who works in show business.  
Aileen Diana assists at Helen Uffner Vintage Clothing in Long Island City. Inside the warehouse are thousands of pieces of historic clothing, some dating back to the 1800's, collected by the owner Helen Uffner since 1978.  
"Our earliest shows were "Zelig", "Out of Africa" and "The Color Purple," Uffner said.  
Many of the outfits Helen Uffner designed helped to enhance the ambiance of award-winning movies and TV shows like The Marvelous Mrs. Maisel.  
"Now we're just doing theater, because that's all that's able to be done," Uffner said.  
FEATURED: 'That '70s Show' actor Danny Masterson gets 30 years to life in prison for rapes of 2 women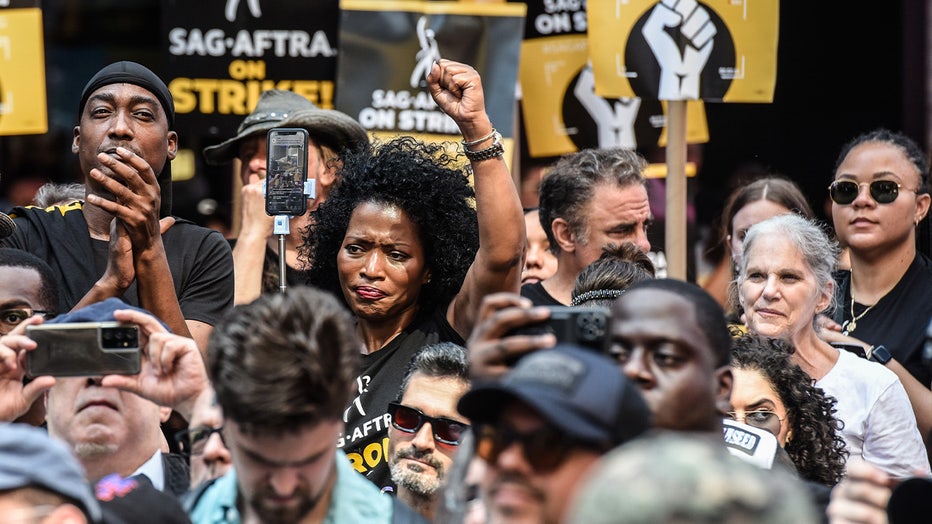 Screen Actors Guild members and supporters during a rally in Times Square in New York, US, on Tuesday, July 25, 2023. Two of the biggest labor unions in Hollywood are now on strike, a once-in-a-generation cataclysm that has brought the entertainment (Getty Images)
The three-room warehouse has been closed for weeks now. Once the actors joined the writers in striking against the studio, the entire entertainment industry, composed of tens of thousands of supporting and peripheral workers, came to a standstill.  
"We didn't realize it would be so large and so long," Uffner said.  
"So, it's a big whammy," Uffner said. "There are a lot of people who are out of work now." 
Cameo, where performances are paid to send personalized messages, have seen a 137 percent increase according to CNN Business, and 2,400 performers have joined or reactivated their accounts, the biggest influx since COVID.  
FEATURED: Summer of strikes: Workers across several industries walk off the job
Whether it's resorting to Cameo appearances, bartending shifts or gig work, workers in the entertainment industry are struggling, some even requesting emergency financial assistance to cover the cost of food, utilities and rent. 
"I know one of our interns, her husband is unemployed," Diana said. "Because he worked advertising for production, so now he's not doing anything, she's not working." 
With no end to the strike in sight, Uffner says many are avoiding high rents and leaving New York City altogether. The tight-knit community willing to collectively suffer in solidarity.  
"And when you think of how much these movies make and how much they make in streaming," Uffner said, "I think that they should be getting some equitable arrangement. And I don't think the writers and sag members should settle for anything less."