Gov. Hochul arrives in Israel to express solidarity, meet with families of hostages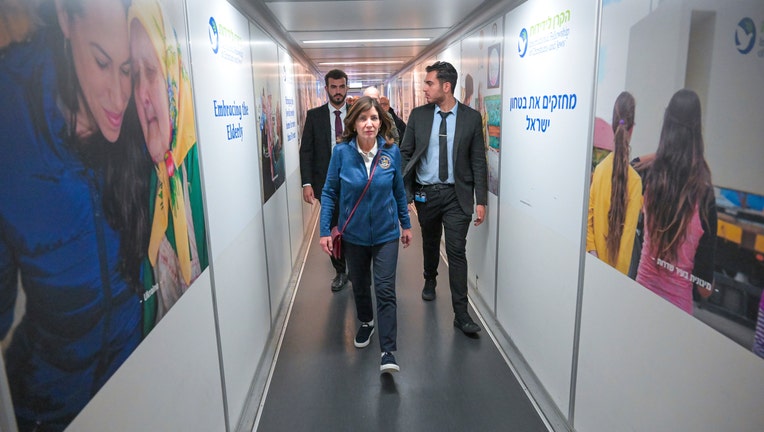 article
TEL AVIV, ISRAEL - New York Gov. Kathy Hochul arrived Israel on Wednesday and met with victims of the deadly Oct. 7 assault and families of hostages as part of a trip intended to show support for the country during its war with Hamas.
The Democratic governor landed at Ben-Gurion International Airport around 5:40 p.m. with a group of state police officers and top aides, according to a pool report. She was met at the airport by Israel's ambassador to the U.S. Michael Herzog.
Hochul received a security briefing then traveled about 30 minutes away to meet with families.
"Today I saw pain, hurt, and mourning — but I also saw the incredible strength of the Jewish people," Hochul said in a message posted on X, formerly Twitter.
She is seen in an online video meeting and embracing volunteers at a food pantry, where the governor helped pack and drop off boxes for people who have had to move because of the conflict. Hochul said it was "extraordinary to see how Israelis are showing up for one another in a time of crisis."
From there, Hochul was scheduled to be taken to Jerusalem, where she was expected stay for the night.
Hochul said her trip is meant to be a gesture of solidarity and support for Israel. New York is home to the largest Jewish population of any U.S. city, according to the American Jewish Population Project at Brandeis University.
A nonprofit organization is funding travel costs for Hochul and her staff, and the state is covering the costs for her security detail, a spokesperson for Hochul said on Wednesday.
"There is a deep, direct connection between New York state and Israel that has always been there, a bond steeled over decades," Hochul said. "And it's easy to go when the sun is shining and everything is fine."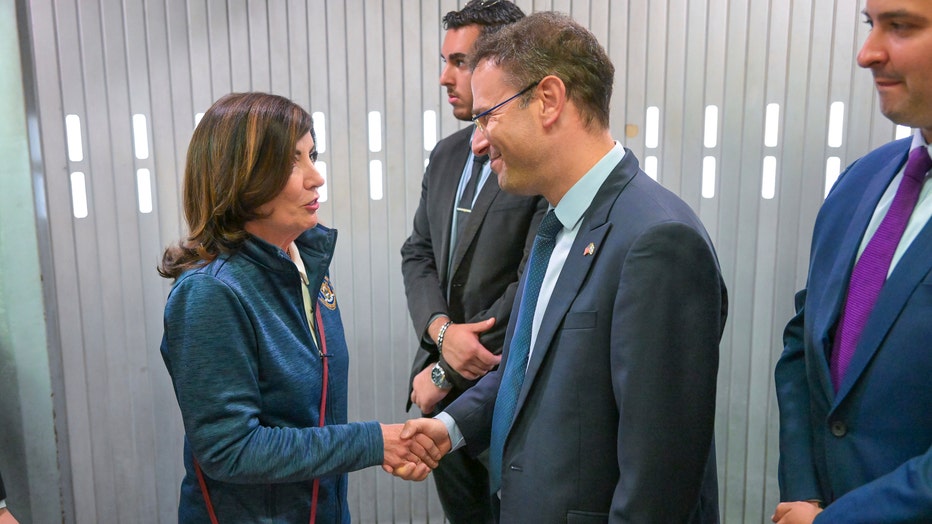 New York Gov. Kathy Hochul, left, arrives in Israel, Wednesday, Oct. 18, 2023, to begin a trip intended to show support for the country during its war with Hamas. (Shlomi Amsalem/Office of Gov. Kathy Hochul via AP)
"The community feels, in Israel and in New York, that my going during these times will be the most significant symbol of their importance to us than anything else we could do," she said.
The war that began Oct. 7 has become the deadliest of five Gaza wars for both sides. The Hamas-run Gaza Health Ministry said Wednesday that 3,478 Palestinians have been killed and more than 12,000 injured in the past 11 days.
More than 1,400 people in Israel have been killed, and at least 199 others, including children, were captured by Hamas and taken into Gaza, according to Israeli authorities
The start of Hochul's visit comes a day after a massive blast at a Gaza City hospital killed hundreds of people.
Hochul has said she wanted to ensure Israel has the resources to protect their citizens, while also allowing Gazan civilians to get the humanitarian assistance they need, as long as it would not benefit Hamas.
"It is still my strong position that Israel must defend itself against terrorism, or else terrorism will know no boundaries, and we have seen what terrorism looks and feels like in our own city streets," she said during a press briefing Tuesday.
A spokesperson for Hochul said Wednesday that they don't have an exact number on how many New Yorkers are stuck in either Israel or Palestine because of the conflict.
The Associated Press contributed to this report.