Harper, Schwarber, Castellanos power Phillies past Diamondbacks 5-3 in Game 1 of NLCS
PHILADELPHIA (AP) — Bryce Harper smashed the first pitch he saw on his 31st birthday into the seats, Kyle Schwarber hit his first homer of the postseason and Nick Castellanos also went deep again to power the Philadelphia Phillies past the Arizona Diamondbacks 5-3 in Game 1 of the NL Championship Series on Monday night.
Harper held up three fingers on his left hand and one on his right and pretended to blow them out like candles on a cake as he crossed the plate. Harper, who also walked, scored twice and knocked in two runs, hit his 10th homer in two postseasons with the Phillies.
Zack Wheeler struck out eight in six innings to help the defending National League champions win their seventh Game 1 of the last two postseasons. Wheeler sawed two bats in half during the first two innings, leaving the Diamondbacks with more pieces of busted lumber than hits through five.
José Alvarado got four big outs on 15 pitches and Craig Kimbrel worked a scoreless ninth for the save.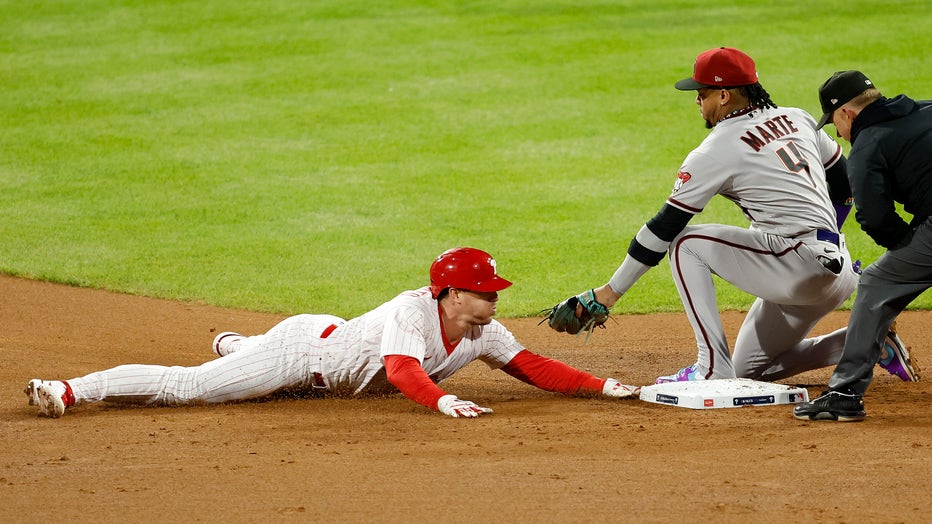 PHILADELPHIA, PENNSYLVANIA - OCTOBER 16: J.T. Realmuto #10 of the Philadelphia Phillies reaches second base for a double in the fifth inning against the Arizona Diamondbacks during Game One of the Championship Series at Citizens Bank Park on October
Arizona was stuck with its first loss of the postseason after ripping off five straight wins against the Brewers and Dodgers.
The Diamondbacks were simply the latest team to unravel under the red storm of 45,396 towel-waving, deliriously-cheering fans at Citizens Bank Park. The Phillies never gave fans a reason to stop — or a chance for Arizona to catch its breath until it was too late.
Schwarber started the home run derby when he launched Zac Gallen's first pitch 420 feet into the right-field seats. There was some minor consternation that Schwarber — with 47 homers this season and 93 over the last two — had yet to go deep through six playoff games. How easy it was to forget that Schwarber didn't hit any in the Wild Card Series or NLDS last season before he launched six in the NLCS and World Series. So those Schwarbombs might just be getting started.
Four pitches later, Harper homered — the first time in 127 postseason games Philadelphia went deep twice in the first inning.
When Castellanos lined his fifth homer of the playoffs in the third — all in the past three games — it gave the Phillies 32 home runs in 13 postseason games at Citizens Bank Park over the last two years.
The Kelce Bros approved. Chiefs tight end Travis Kelce — minus celebrity friend Taylor Swift — and Eagles center Jason Kelce went wild. Travis pointed to his brother as Jason pounded a beer in their suite.
Gallen, a South Jersey native, had his name derisively drawn out to "Galll-ennnn" by Phillies fans each time the 17-game winner got into a jam. Too many times, for Arizona.
Trea Turner hit a one-double in the third, leaving first base open. Gallen pitched to Harper instead of walking him and got burned by an RBI single for a 4-0 lead.
J.T. Realmuto added an RBI single in the fifth.
Those runs proved crucial for the Phillies. Geraldo Perdomo hit a two-run homer off Wheeler in the fifth that made it 5-2.
Seranthony Domínguez opened the door in the seventh for the Diamondbacks when his throwing error on a comebacker led to an unearned run. Alvarado retired pinch-hitter Emmanuel Rivera on a groundout to keep it 5-3 and tossed a scoreless eighth.
Cold Diamondbacks
The wild-card Diamondbacks, who at 84-78 squeezed into the playoffs as the final NL team, were held to four hits.
Going deep
Schwarber's fourth leadoff homer in the postseason moved him past Jimmy Rollins and Derek Jeter for most in baseball history.
Harper joined St. Louis' Kolten Wong, Tampa Bay's Evan Longoria and Kansas City's Willie Aikens as the only players in postseason history to homer on his birthday.
Castellanos' five homers in his last three postseason game — he hit two in consecutive games against Atlanta — made him the second player to hit those marks. New York Yankees slugger Reggie Jackson did it in the 1977 World Series.
Up next
Arizona sends RHP Merrill Kelly (1-0 postseason, 0.00 ERA) to the mound for Game 2.
RHP Aaron Nola (2-0 postseason, 1.42 ERA) pitches for the Phillies. Nola is eligible for free agency after the World Series after he tabled contract extension talks with the team in spring training. Nola made $16 million this year on the club option that was part of the $45 million, four-year deal he signed ahead of the 2019 season. Nola said he wanted to stay in Philadelphia.
"I hope so. I really do," Nola said before the game. "I love it here. Obviously, it's the only place I've been. I came up through some special times in the rebuilding era ask and getting to witness and be a part of a lot of different type of teams."